Seeking alpha? Seeking value? If so, then why do so many Seeking Alpha Contributors focus on large American banks with a litany of issues, litigation and a track record of poor investment performance, when other opportunities exist that should be considered by investors requiring exposure to financial stocks?
Seeking Alpha contributor Caiman Valores and I discussed this issue recently and seek to present some alternative banking investments to American Banks. In a bank-on-bank comparison, Caiman first analyzed the performance of Citigroup (C) to determine its fair value, while this article will stand as a comparative analysis of Australia and New Zealand Bank Group (ANZBY.PK) as an alternative investment opportunity to Citigroup, and Caiman's article will analyze the suitability of Canadian financial entity Bank of Nova Scotia (BNS).
Company Overview
ANZ Bank's history dates back over 175 years and has customers, shareholders and communities in 32 countries in Australia, New Zealand, across Asia Pacific, the Middle East, Europe and America. The bank provides a range of banking and financial products and services to around 8 million customers, and employs 48,000 people worldwide.
ANZ's New York office was opened in December 1968 and today operates as a branch of Australia and New Zealand Banking Group Limited. Its business is concentrated on corporate and investment banking services and international trade finance.
The main focus of the investment banking activity is to provide specialist strategic and financial advisory services to major companies, institutions and governments. Working as an offshore partner with ANZ's key clients, the New York-based team supports trade and investment flows between clients in America with Australia, New Zealand and Asia.
Current Financial Performance
ANZ Bank (ASX code (ANZ)) recently reported its fourth quarter 2012 and full year results on 27 October 2012. CEO Mike Smith reported:
Underlying EPS of AUD$2.25 per share (3% increase).
Revenue was AUD$17.7 Billion (5% increase).
Statutory profit was AUD$5.6 billion (6% increase).
Underlying net profit after-tax of AUD$6.01 billion (6% increase).
Management were able to reduce provisions by 3%.
21% of revenue generated offshore.
Final annual dividend of AUD$1.45 per share (3.57% increase).
For comparison purposes, Citigroup recently reported its third quarter 2012 results on 15 October 2012, just prior to CEO Vikram Pandit's resignation being announced. A more detailed analysis of the results is contained within Caiman's article, but key performance statistics are:
Earnings for the quarter of $3.3 Billion or $1.06 per share (25% increase on the year prior).
3% increase on revenue on the year prior at $19.4 Billion (although revenue for the quarter fell by 33%).
Credit Losses of $4 Billion were 12% less on the year prior.
Final annual dividend of $0.04 per share (0% increase).
Key financial performance statistics as at 14 November 2012 are detailed below with all data (less dividend growth) taken from the Yahoo Finance website. Feedback from some Seeking Alpha readers on previous articles I have written is that they prefer US issued ADRs in preference to holding the actual Australian stock written on, so the ANZBY:US ADR is listed for comparison purposes below: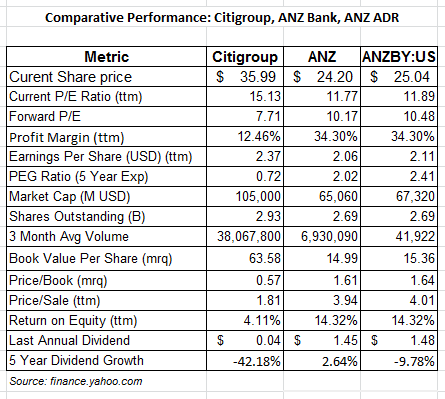 Shareholder Remuneration
Shareholders make a return on investment through capital growth of the stock value, in addition to income revenue stream paid via dividend distributions. A key value placed on shares that pay dividends is the quality of those dividends, and for dividend growth investors, they look for companies with good track records of performance that can sustain annual dividend payments, and/or an annual increase of those dividends.
Detailed below is a comparative table that lists the annual dividend paid for Citigroup, ANZ Bank ($AUD), and for the ANZBY ADR. The table covers the last ten year period to provide a long enough snapshot of consistency. The bottom of the table shows 1, 3, 5 and 10 year totals of dividends paid for each stock. These comparative periods are important as they show the impact of the global financial crisis on total returns, most notably on Citigroup (which was the only stock not to pay a dividend in 2010).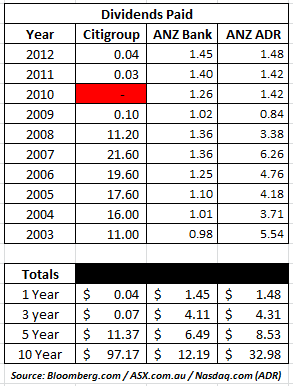 In the above table both ANZ and ANZBY significantly outstrip Citigroup in terms of total dividends paid since the global financial crisis. The timeframe for Citigroup to return dividends to anything approaching previous levels is long term, at least five years plus, which is why Caiman sees Citigroup as a deep value stock selection.
The other aspect as stated is the ability to sustain dividend growth, including allowing for the effects of the global financial crisis on historical performance, and to that end a comparative table of dividend growth is included below. The same 1, 3, 5 and 10-year time periods are utilized as before. The impact of the global financial crisis is evident on all three stocks; Citigroup saw negative dividend growth in 2008 and 2009, and did not pay a dividend in 2010. ANZ Bank did not increase its dividend in 2008 and it reduced its dividend by 25% in 2009. The ANZBY ADR saw negative dividend growth in 2008 and 2009, and minor negative growth in 2011 (< 0.5%). Given these figures, the stability of dividends paid and dividend growth per stock, appear most attractive for the Australian listed stock ANZ.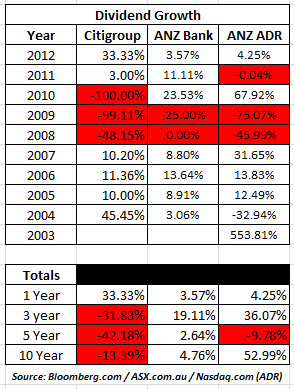 Risk
What risks are then inherent with an investment in ANZ Bank? I have written about challenges for Australian banks in a resource-driven economy, which include:
A flat housing market / and a perceived housing bubble.
Decreasing iron ore spot price and slowing demand for resources.
Iron ore demand flow on effect to the broader economy (consumer spending and domestic housing construction).
Availability of disposable cash for investment and loans, versus capital requirements under the Basel Accords.
High costs of funding for banks.
Tightening of wholesale funding markets internationally as the appetite for risk has declined in light of the European sovereign debt crisis.
The first red flag usually identified by critics of Australian banks is a perceived high percentage of non-performing loans [NPL], most notably in residential mortgages. The following graph debunks this perception, noting that residential mortgages form a low percentage of non-performing loans, and readers should note that the Commonwealth Bank has the greatest exposure to residential mortgage loans in the Australian market: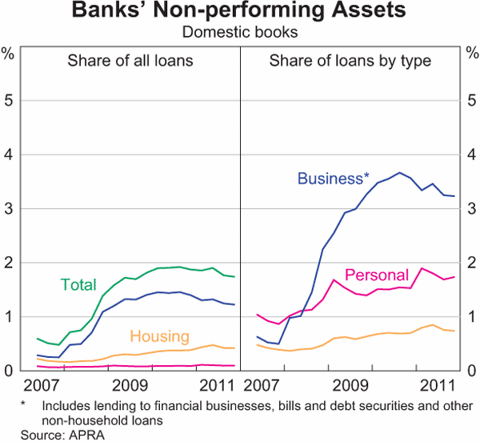 For ANZ Bank overall, its NPL ratio as of September 2012 is currently 0.80%, down from 0.98% in September 2011, compared with Citigroup's NPL ratio of 1.93%, down from 2.23% (2012 and 2011 respectively). By further comparison, Bank of Nova Scotia's NPL ratio for the same periods is 0.55%, down from 0.62%. All banks have healthy coverage ratios, with ANZ at 34.1%, Citigroup at 203% and Bank of Nova Scotia at 141% (based on June 2012 figures for BNS). The substantially higher coverage rate for Citigroup is required to cover its bad debt provisions stemming from the subprime mortgage crisis.
In terms of tightening wholesale market funding, ANZ has the least reliance on this out of the big four banks. It is generating increasing revenue through deposits and loans in Asia, and its wealth management arm, as CEO Mike Smith explains:
"ANZ has delivered another good performance in 2012 through a consistent focus on delivering our super regional strategy. I am pleased to report, despite having endured the global financial crisis, our network in Asia Pacific, Europe and America contributed 21% of Group revenue in 2012."
In terms of loans to deposit ratio [LTD] ANZ has a high LTD of 130.48% compared to Citigroup at 69.70% and Bank of Nova Scotia at 77.34%. Efficiency wise ANZ Bank and Bank of Nova Scotia have healthy ratios of 45.1% and 46.9% respectively, compared with Citigroup's ratio of 87.60%.
So if the risk in investing in ANZ looks like it can be managed, what are the risks and negative perceptions associated with Citigroup that make it a less desirable stock to invest in? Some observations are listed below for consideration:
A tarnished reputation from the subprime financial crisis, and the possibility that within the banking behemoth lies a future "potential whale trade saga

."

Speculation of an increased dividend was recently quashed.
One of the biggest shareholders was publicly trying to dictate to Vikram Pandit (then CEO) what Citigroup should do with its dividend, being to increase it significantly; whereas a potentially more pressing for management should be dealing with the large debt base and liabilities affecting current performance.
While it is refreshing to see that Citigroup is actively working to reduce its $171 Billion of bad debt, they spent $17 Billion to manage this in the last 12 months ($529 Million on legal costs in the last quarter alone), so the basic question investors should ask is why would they shift their money into the stock when the dividend is almost nonexistent and ROE is so poor?
Future Outlook and Evaluation
So for a retail investor how does ANZ bank compare to a US peer bank such as Citigroup and a Canadian peer bank such as Bank of Nova Scotia? All three banks are ranked third in size by market capitalization, however Citigroup is a larger bank by a degree of 40% with a market cap of $107 Billion versus ANZ Bank's $66 Billion and Bank of Nova Scotia's $61 Billion. While Caiman's article covers Bank of Nova Scotia in more detail, a comparative table between the three banks' performance is shown below: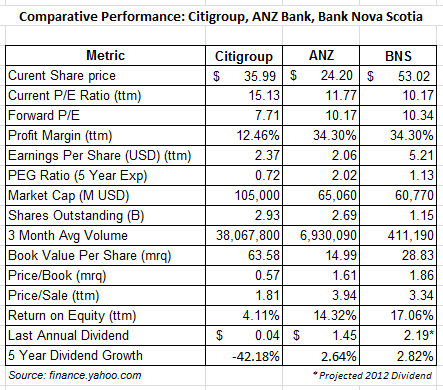 Referring to the comparative performance table, we can see that Citigroup is trading at a significant price to book value discount, and I agree with Caiman's assessment that Citigroup offers a deep value investment for investors with a long-term time frame (5 years plus). But given the premium paid for ownership of Citigroup stock (48% above ANZ Bank) and Bank of Nova Scotia stock (119% above ANZ Bank), I believe there is better value for US investors to take an immediate position in ANZ Bank, both in terms of sustained capital growth and a reliable dividend income revenue stream.
ANZ Bank currently has a price to earnings growth ratio of 2.02 compared to Citigroup's 0.72 and Bank of Nova Scotia's 1.13 and a profit margin of 34% compared to 12% and 34% respectively. Return on equity "measures a corporation's profitability by revealing how much profit a company generates with the money shareholders have invested." ANZ Bank delivers a better return to shareholders over Citigroup with a return on equity of 14.32% compared with Citigroup's 4.11%, though slightly below Bank of Nova Scotia's 17.06%. And while Citigroup has a better one-year return on dividend growth, in total dividend paid per share ANZ offers investors considerably more upside, and it outperforms Citigroup dividend growth wise in 3, 5 and 10-year time periods and Bank of Nova Scotia's 5-year dividend growth rate.
But historical performance alone is not rationale enough to make a decision to invest today; the future earnings potential of the banks must also be considered.
Opportunity
I assess that ANZ Bank is undervalued by the market and its diversification strategy into the Asia Pacific region over the last five years is not fully appreciated. This strategy places it at an advantage to its Australian peers as net interest margins and wholesale and retail funding markets tighten. ANZ bank is already five years into a long term diversification strategy to increase its revenue and funding requirements external to the domestic market, which the other three big Australian banks have failed to do. The five core themes of the diversification strategy can be seen below: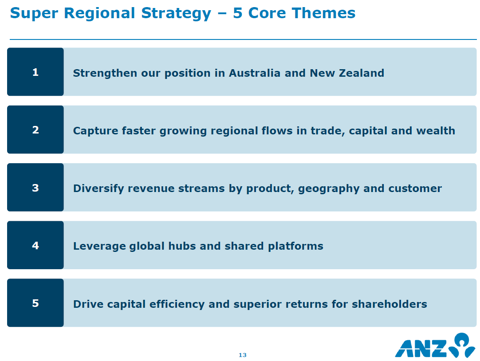 Combined with actively developing its branch network across the Asia Pacific region into a more efficient business model and lowering its cost to serve, the bank has actively worked to reduce bad debt provisions and to increase its Tier 1 capital adequacy ratio (see below):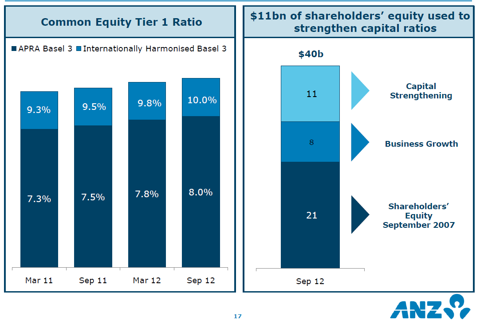 ANZ Bank represents a suitable alternative investment for US investors by diversifying risk exposure within the financial services sector, by seeking a banking stock outside of the US and managing the legal and liability risk still affecting US large cap banks like Citigroup. Another key factor which US investors should consider is that ANZ is a western bank operating in an English-speaking country with one of the best prudential frameworks in the world, that has a strong economy in a secure environment with companies that understand the rule of law, is a strategic ally of the United States, and has many cultural parallels that are easily understood by US investors. These factors make the bank appealing for investors looking at international equities, but without the associated security, political and volatility risks of emerging markets. Such an investment is a pragmatic means to mitigate risk by diversifying outside of the US and enhancing returns, and ANZ has a diversified revenue stream as shown below: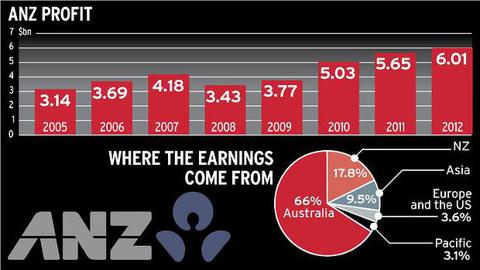 To make this investment attractive to US investors it needs to be a better option than a domestic stock such as Citigroup, pay a better dividend, have a better dividend growth ratio, and be liquid enough to trade in. It should also have good prospects for future earnings, while building capital adequacy. I believe ANZ meets all of these requirements and is a better value stock for investors over and above Citigroup. There are a number of ways to invest in the stock:
Buying an over the counter exposure with a US Broker (ANZBY:US)
Buying the Australian stock direct through a brokerage firm.
Buying the Australian listed stock [ANZ] off the Australian Stock Exchange [ASX] through an online broker or Australian Broker.
Bottom Line
This article has been a collaborative work between two Seeking Alpha contributors to try and identify potential value investments for investors seeking to diversify their banking exposure away from US banks. This article focused on ANZ Bank as a potential Australian alternative to US bank Citigroup, drawing on the recent article by Caiman Valores, and provides a lead in to Caiman's article on Bank of Nova Scotia as a Canadian alternative based on the same premise.
The bottom line for me is that ANZ Bank is both a value investment in terms of future capital growth, and also in terms of providing a reliable dividend income stream to augment the total return on the stock. It is the only Australian Bank that has sought to diversify its revenue stream further within the Asia Pacific Region (five years progressed down this path), placing it at an advantage over other banks reliance on domestic deposits, mortgages and wholesale funding. It offers superior returns over Citigroup without the associated reputational, legal and liability risk and the bank is delivering superior returns to its shareholders. It would be a suitable inclusion in a diversified equities portfolio for investors with a long term focus (five plus years), although international investors would need to manage any associated currency risk in their investment.
Disclosure: I am long ANZ Bank shares on the Australian Stock Exchange. I wrote this article myself, and it expresses my own opinions. I am not receiving compensation for it (other than from Seeking Alpha). I have no business relationship with any company whose stock is mentioned in this article.
Disclaimer: This advice is general advice only. You should seek independent financial advice prior to making any investments of your own.