NQ Mobile (NYSE:NQ) is a leading SaaS provider of security and productivity solutions for smartphones. NQ's mobile security services protect users from mobile malware, data theft, and privacy intrusion. NQ's suite of products is delivered in a cloud-client platform, allowing for continuous monitoring and updates. NQ's products run exclusively on smartphones rather than low-end feature phones. NQ operates a freemium SaaS business model with 242 million registered and 85 million active users globally. Global registered users have increased 96.7% year over year and global active users have increased 97.9% year over year. 2012 revenue is likely to increase over 120% year over year, reflecting increased monetization. NQ is a direct beneficiary of the strong multiyear trend in global smartphone adoption and the rapidly growing problem of malware targeting smartphones.
Click to enlarge images.

Omar Kahn joined NQ in January 2012 in the role of co-CEO to drive the company's international expansion strategy. Khan spent four years at Samsung, with his final role as both CTO and CPO. He was responsible for Samsung's push into the Android space, and was behind the popular Galaxy S and Galaxy S II line of phones. Khan also spent eight years at Motorola. He finished there as VP of Global Supply Chain and Business Operations, supporting the mobile devices business, which accounted for $30 billion in revenue.
Investment Thesis
NQ is 100% levered to the global growth in smartphones. NQ has an extremely solid balance sheet with $126.2 million in net cash and short-term investments, which is equal to $2.46 net cash per ADR (five common NQ shares = one NQ ADR). NQ is experiencing explosive growth and is diversifying its revenue composition globally. In the recently reported Q3 2012 quarter, organic revenue growth was 88% year over year. Including the NationSky acquisition, Q3 2012 revenue growth was up 127% year over year. In Q3 2012, ex-China revenue was 54.1% of total net revenue from premium mobile Internet services vs. 49.6% in Q3 2011. The recent derisking dynamics in the equity markets have left NQ trading at ridiculously depressed multiples. NQ is trading at 2.1 times 2013E EV/EVITDA and has over a 33% ex-cash 2013E FCF yield against its 2013 year-end enterprise value. NQ's products are differentiated and award winning. Hyper-growth companies with quality differentiated technology in the multiyear smartphone adoption trend will not remain obscenely cheap. Either the stock price will markedly increase to reflect fair value or the company will get acquired.
Industry Growth and Dynamics
Gartner reported on Nov. 14, 2012 that smartphone sales accounted for 39.6% of total mobile phone sales and smartphone sales increased 46.9% from the third quarter of 2011. Smartphones sales rose to 169.2 million units in the third quarter of 2012. In the U.S., seven out of every 10 mobile phones sold are now smartphones, where in the rest of the world less than four out of every 10 mobile phones sold today are smartphones. The global smartphone adoption trend has several strong growth years in front of it.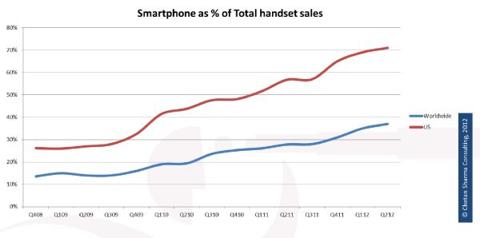 Smartphones are increasingly being used as repositories for extremely valuable personal and financial data. The wealth of intimate details stored on smartphones makes them akin to the personal diaries of the past. A September 2012 Pew Research (PDF) study found 12% of respondents said their phone has been accessed in a way that made them feel like their privacy was invaded. Worse yet, Get Safe Online reported on Nov. 8, 2012, that malware on smartphones has seen an 800% rise in the past four months, indicating that cyber criminals have shifted focus to the highly popular smartphone market. Echoing this data, according to Trend Micro's Q3 2012 cyberthreat report, malicious or potentially malicious mobile Android applications jumped to 175,000 at the end of the third quarter from 28,000 at the end of the second quarter 2012.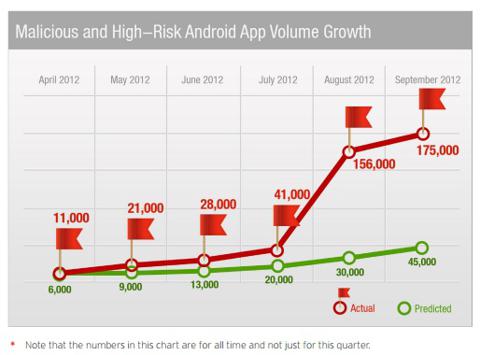 Business Model
NQ operates with a Freemium business model. It provides users with a set of free basic services along with the option to select a set of premium (paid) services to meet individual needs. NQ charges a subscription fee to upgrade and use the premium services. The subscription fee can be invoiced monthly, quarterly, semi-annually or annually producing a recurring revenue stream.
Growth Strategy
NQ has four main consumer acquisition channels: Viral Marketing, Pre-installations, Online Downloads, and In-store Retail.
Viral Marketing: word-of-mouth marketing from existing users. This is the most cost-effective channel and will continue to be a strong source of customer growth.
Pre-installations: NQ products pre-loaded on smartphones upon shipment. NQ has relationships with major handset OEMs like Samsung, Nokia, Huawei, ZTE, Motorola and Sony Ericcson.
Online Downloads: downloads via various mobile internet software sites, app stores and mobile internet portals.
In-store Retail: U.S. retailers The Cellular Connection, A Wireless, and Go Wireless, which are all Verizon dealers. At NQ's Analyst Day on November 13, 2012 the company revealed it currently has a 20% attach rate on smartphones sold through its retail partner stores. This is a new and rapidly growing channel for NQ.
Expanding Into the Enterprise
At NQ's recent Analyst Day, the company laid out its near-term growth strategy and how it will grow from a $100 million revenue company (current) to over a $200 million run-rate company exiting FY 2013. Enterprise is a key growth driver for NQ in 2013. The enterprise strategy focuses on two components: expanding in China by providing security-enabled managed mobility services, and expanding in the U.S. by extending its security platform to accompany third-party managed mobility service solutions by leveraging the various strategic relationships with 3LM, Brightstar eSecuritel, TD Mobility and Vox Mobile.
In May 2012 NQ acquired 55% of NationSky, a leading provider of managed mobility services in China. NationSky currently has over 1,000 enterprise customers in Chin including more than 50% of Fortune 500 customers in China. NationSky's business has much lower gross and operating margins in comparison to NQ's core business. NQ's core SaaS business has gross margins in the range of 75%-81%. NationSky's gross margins are in the 19%-25% range. That said, NQ paid 1 times revenue for its 55% stake and NationSky provides a strong channel for expanding the company's enterprise business in China. NationSky's margins should improve as revenue stream shifts from pass-through device procurement to mobile device management services for established customers (e.g., Pfizer). NQ's U.S.-focused enterprise growth strategy is reflected with the strategic partners it signed in 2012. These partnerships should contribute to revenue beginning in Q4 2012 and ramping throughout 2013.
Margins Adjusting Downward Due to NationSky Acquisition
The recently reported Q3 2012 results reflect the blended margin impacted by NationSky. Overall gross margin was 69.2% compared with 80.7% in Q3 2011 and 76.5% in Q2 2012. Excluding the impact from NationSky, gross margin was 78.5% and 80.8% in Q3 2012 and Q2 2012, respectively. Given NationSky's lower margin business nature, gross margin is expected to decline further in Q4 2012 as NationSky's revenue contribution increases. NationSky's gross margins in Q3 2012 and Q2 2012 were 24.6% and 19.9% on a standalone basis, respectively, and COGS for NationSky primarily consists of hardware device procurement costs.
Some Key NQ Relationships
China Mobile (NYSE:CHL) is the largest wireless carrier in China. NQ is the only security partner of China Mobile. NQ acts as the technology behind China Mobile's anti-spam product and also acts as a security provider for China Mobile.
Nokia (NYSE:NOK) has been a strategic partner of NQ for many years. NQ is pre-installed on most smartphone models sold in China. The various services provided by NQ to Nokia's China customers include Anti-virus, SMS Spam Filtering and Privacy Protection.
Qualcomm (NASDAQ:QCOM) is a strategic investor in NQ. Key relationships with chipset makers such as Qualcomm provide low level API access to NQ and further enhance platform security.
MediaTek is a fabless semiconductor company for wireless communications and digital multimedia solutions. NQ acquired approximately one-third of Hesine Technologies a wholly owned subsidiary of MediaTek and a premier mobile messaging solution provider. Hesine provides NQ Mobile with access to its premier mobile messaging solutions, which provides mobile push notification and messaging services across various radio access technologies, wireless carriers, and geographies.
Technological Dominance
NQ Mobile's flagship application, NQ Mobile Security detects and deletes viruses, malicious URLs, and other threats before a user even knows they exist. NQ Mobile Security was selected as a top 20 app at the Global Mobile Internet Conference Silicon Valley (GMIC SV) October 2012. In addition, NQ Mobile Vault for Android was selected as a top 100 app. NQ Mobile Vault is a privacy app that allows consumers to password protect and encrypt photos and videos on their smartphones.
NQ Mobile Security outperformed all competitive mobile security platforms in a West Coast Labs Comparative Test. NQ Mobile Security was also a top performer in effectiveness, with a 99% malware detection rate, in research conducted by AV-TEST Institute, a leading international and independent service provider in the fields of IT security and anti-virus research.
Recent Stock Weakness
Though NQ's Q3 2012 results beat analyst estimates (both revenue and EPS) and the company raised Q4 2012 guidance, the stock pulled back over the next four trading sessions. Color from two trading desks indicate there were two large holders derisking and exiting small cap companies that have significant China exposure. These two sellers pressured the stock price through the Nov. 16 closing bell. As a result, the stock fell from the high $6s to $5.17 (Nov. 16 close). NQ held its first Analyst Day on Nov. 13, 2012, (the day after Q3 2012 earnings) and convincingly laid out its strategy to grow from a $100 million revenue company to a $500 million run-rate company.
Risks
In China, Qihoo (NYSE:QIHU) offers a free ad-supported security product called Mobile Safe. Adoption is high among unsophisticated smartphone users.
NQ is a China domiciled U.S. listed company (NQ has a dual headquarters in Beijing and Dallas). As a result, NQ's shares sometimes reflect the tendency for Chinese stocks to trade as a group. To reduce risk, NQ management is moving all the company's intellectual property outside of China. Further, NQ uses top 4 PricewaterhouseCoopers as its auditor.
Valuation and Price Target
It is important to remember that five common NQ shares = one NQ ADR. All prices quoted in this analysis and numbers used reflect ADRs. NQ has 51.2M fully diluted ADRs outstanding.
SaaS Comps
A quick review of the comp SaaS metrics highlights how compelling NQ is. Vertically focused SaaS providers posted a median 27.2% TTM revenue growth at the close of Q3 2012 and traded at 37.8 times EV/EBITDA. NQ's 88% organic TTM growth rate and 5.0 times EV/EBITDA metrics are shocking in comparison. NQ is growing 223% faster than the median SaaS comp, yet is trading at 87% discount to the median valuation.

Given the NQ is a small cap, has less trading liquidity, and is still perceived to be a China stock (even though over 54% of revenues come from outside China), I believe a 50% discount to the median SaaS EV/EBITDA multiple is overly conservative, especially given NQ's 223% higher growth than the median SaaS comp. 50% of the median SaaS EV/EBITDA multiple = 18.9 times. 18.9 times EV/EBITDA = $12.70/ADR price target (up 145% from the Nov. 16 closing price of $5.17).
Given NQ's massive 223% growth premium over the median SaaS comp, it is reasonable to argue NQ deserves to trade at least at the median SaaS EV/EBITDA multiple of 37.8 times. 37.8 times EV/EBITDA = $22.91/ADR (up 343% from the Nov. 16 closing price of $5.17). Given the poor current climate for equities, it seems prudent to use the lower multiple for now understanding that any improvement in market sentiment could easily persuade investors to use the in-line EV/EBITDA multiple of 37.8 times and a price target of just under $23.
Disclosure: I am long NQ. I wrote this article myself, and it expresses my own opinions. I am not receiving compensation for it (other than from Seeking Alpha). I have no business relationship with any company whose stock is mentioned in this article.