"It's always darkest before dawn" - an old proverb.
I joined the High School Glee Club because of a cute girl. I couldn't sing even if my life depended on it; Homer Simpson would have sounded like a Soprano compared to me. While I wasn't successful with my romantic overtures, my stint with the club taught me about the importance of "singing" your part well and with gusto in order to create a beautiful harmony with the rest of the group.
Is harmony possible if everyone in the group you are in decide to sing their own tune? If someone sang out of tune (repeatedly by choice), when do you cut them loose?
Given the recent drama at Cupertino, there seems to be 2 opposing but popular generalizations out there that are attempting to make light of what is going on at Apple. They are:
1. Tim Cook has failed to manage Apple well. Pundits are happy to point out the following "errors":
Apple "missed" the most recent lowered analyst estimates. Tim, therefore, isn't capable of managing Apple.
He hired John Browett and fired him in less than a year. Tim, therefore, must be incompetent. Does Tim even have the social skills to be able to relate to people?
Scott Forstall (Mr. iOS himself) is gone. Tim has left Apple (NASDAQ:AAPL) at risk given that Scott can leverage his vast knowledge of how Apple works and operates and share it with Apple's rivals (hello Samsung!).
By releasing the iPad mini, Tim has been sucked into sacrificing Apple's margin in order to compete with the sub $300 tablet market (Kindle Fire HD and Nexus 7).
Jonny Ive, while legendary in his design aesthetics, does not have the necessary software engineering background that Scott has. Therefore, he cannot really replace a "prolific" coder like Scott.
If Tim is such an operational Genius, why is he screwing up with supply issues during launches?
2. Tim Cook is doing just fine. These moves (ensuring each part sang its tune properly) were necessary to create consistent harmony over the long haul.
What are we to believe? There isn't a day that passes without any negative press relating to Apple. Headlines like:
iPhone's loyalty is waning.
The trouble with Apple's iPad mini.
Apple has peaked; it is all downhill from here (via Cult of Mac).
Given that Apple has already retraced to $527.68 (weekly charts) at the time of writing (from a high of $705.07), I share your pain and I can relate to the amount of soul searching that must be going on right now. I'm pretty sure these questions come up to mind:
Have we hit bottom?
Should I buy more or sell?
Will connecting the dots backwards help? It sure did last year; will it be any different this time?
Earlier this year, Tim Cook was quoted as saying:
"We have one (industrial design) organization," he said. "We have one hardware organization. We have one marketing organization. It's not like we're this big company with all these divisions that are cranking out independent products. We're simpletons."
So, what "dots" do we have to connect backwards to make sense of what lies ahead? Consider the following:
On Apple's supply issues:
Apple's Capex was in excess of $8B over the past 4 quarters (more than 2011 and 2010 combined). Samsung's and Intel's are at approximately $12B each (notice that both have semi fabs). As I've written here before, Apple is doing everything it can to avoid a rotten (Samsung) core. Given Apple's size and requirements, this undertaking won't be cheap nor will it happen overnight but it MUST be done.
On Apple's executive shakeup:
Back in June 2012, I chimed in about Forstall selling almost all of his shares in Apple. Why would someone with so much at stake do this? Hindsight would suggest that either: (1) he knew his days were numbered and didn't want anything to do with Apple, or (2) he needed the cash to buy a few mansions. Don't be surprised if he ends up sleeping with the enemy. His departure wasn't all about the mapping debacle.
I find Ive's greatest gift is his ability to "simplify" Apple's products; Kontra (a blog about design and management) provides a great perspective here.
Depending on which country you are from, hiring and firing an executive can have different ramifications (the employment offer usually spells it out). It would be wiser to part ways sooner than later when there isn't a fit; prolonging the inevitable will only cost more (financially and culturally).
On Apple's iPad mini strategy:
Apple's release of the iPad mini and its pricing amidst the release of Microsoft's Surface and Windows 8 seem to support the "containment" strategy that I've written here before. If my thesis is correct that the better iPad is the iPad mini, we will have witnessed another quiet disruption. This disruption will start with the Education and Healthcare market.
Pundits complaining about the lack of Retina display are missing the big picture as usual. Apple is more interested in "seeding" the market right now with affordable mini tablets in order to germinate further App development. Remember when Mac sales were affected by the lack of available software (as compared to the PC)?
On Apple's share price:
For the first time ever, Apple guided towards a $52B quarter ($11.75eps) and yet the street was unimpressed citing margin compression. How the Street can continue to award Amazon (NASDAQ:AMZN) with sky high PE multiples even with razor thin margins (since Kim Kardashian was in High School) continues to defy logic.
Who are these analysts and why would their mistake be Apples' miss? We should join them and provide a low ball estimate so we can drag the average "whisper" number down!
We need to remember that Tim has been Apple's operational guru since 1998. It is highly unlikely that he would have lost his senses overnight and lost his ability to manage overnight.
As you can see from the table below, if you excluded 2007 and 2008 (general market disruption), one could argue that we've entered the "oversold" territory.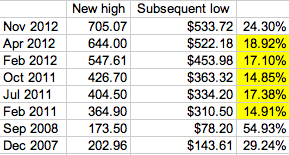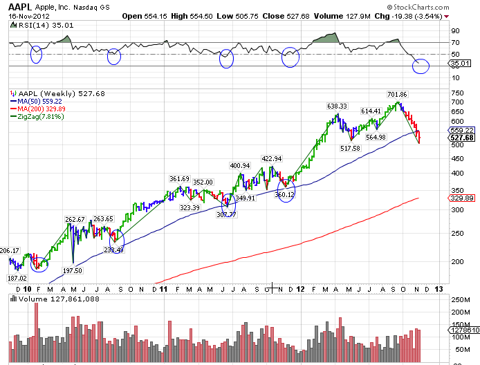 It is a fact that (despite selling premium priced products), it continues to command healthy margins and profits but continues to be rewarded with low multiples.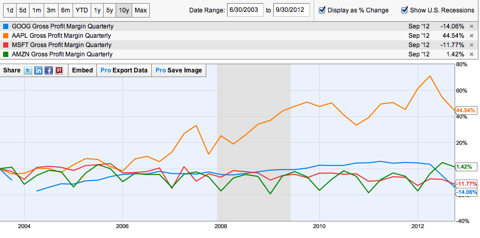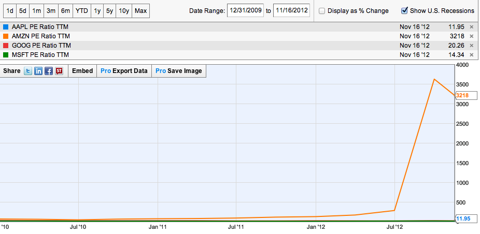 I believe one of the most logical ways to look at what is going on at Apple right now is thru the lens of the products they make - clean hardware designs that are timeless, robust ecosystem, and a software that works in harmony with the hardware. Each piece of the Apple Ecosystem sings a different tune in harmony. Contrast the competition and it makes it easy to understand why Apple attracts copycats.
While it is easy to say that Apple needs a "disruptive" (aka a Steve Jobs clone) force within in order to be innovative, pundits need to understand what may have worked at Apple under Steve may not necessarily work at Apple today under Tim.
Will it drop below $505? Who knows? If Friday's price action was any indication (where it rebounded from its lows to close at a high for the day), we may have finally seen capitulation. "Logic" and any valuation measures will not help us pick the bottom.
I've nibbled at AAPL Jan 2014 550C on Friday.
Disclosure: I am long AAPL. I wrote this article myself, and it expresses my own opinions. I am not receiving compensation for it (other than from Seeking Alpha). I have no business relationship with any company whose stock is mentioned in this article.