Philly Fed and Empire State Survey
The latest round of surveys of U.S. business activity and expectations continue to paint a picture of a weakening economy. This is of course in keeping with the poor earnings season and the reduction in guidance by many public companies. It also buttresses the idea that the Challenger survey of layoff announcements was not a fluke.
The Philly survey came in way below expectations, and the Empire State survey indicated contraction for the fourth month running. Initial jobless claims jumped as well, but this was to be expected in the wake of Sandy and is per experience only a temporary phenomenon (unless the economy rolls over very quickly from here).
The Federal Reserve Bank of Philadelphia's general economic index decreased to minus 10.7 in November from 5.7 a month earlier. A reading of zero is the dividing line between expansion and contraction in the area covering eastern Pennsylvania, southern New Jersey and Delaware.

Economists forecast the gauge would decline to 2, according to the median projection in a Bloomberg survey. Estimates ranged from minus 10 to 8.

Another report showed manufacturing in the New York region contracted for a fourth straight month in November as superstorm Sandy knocked out electrical power and limited activity.

The Federal Reserve Bank of New York's general economic index was minus 5.2 this month after minus 6.2 in October. Readings of less than zero signal contraction in New York, northern New Jersey and southern Connecticut.

Sandy also wreaked havoc on the job market. Applications for jobless benefits surged by 78,000 to 439,000 in the week ended Nov. 10, the most since April 2011, the Labor Department said today in Washington.
(emphasis added)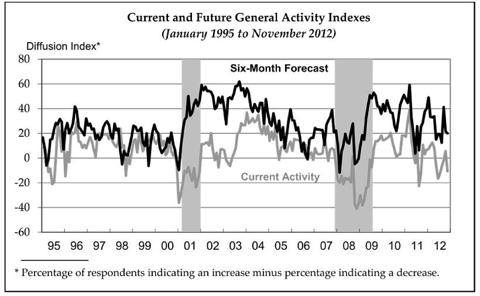 Click to enlarge
A chart of the Philly Fed survey
(click charts to enlarge)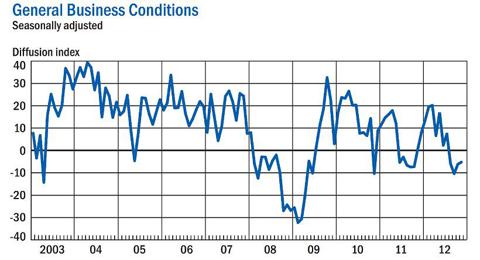 Click to enlarge
The Empire State survey
Weakness to Beget Even More Monetary Pumping
None of this is particularly encouraging. It also means that the Fed will likely keep the pedal to metal, as also argued by Mohamed El-Erian in an opinion piece at the FT, in which he is commenting on the recently released Fed minutes. Generally it pays to listen to what PIMCO figures have to say about Fed policy (it has a bit of an inside track we suspect). According to El-Erian:
Judging from the minutes, some Fed officials are worried, questioning "the effectiveness of current purchases." Yet this will not stop the institution from implementing additional highly experimental policies – and not because it wants to but, rather, because it feels it has no choice but to do so. And it could happen as early as the December or January Fed policy meetings.

Expect the Fed to move to quantitative thresholds, announce additional outright purchases of securities, and reintroduce Treasuries to their list of targeted instruments.
(emphasis added)
They have no choice? This is quite bizarre, but we don't doubt for a minute that this kind of thinking is prevalent at the central bank. The Fed members that count have long ago convinced themselves that what they are doing is desirable and necessary (see Bernanke's spirited defense of QE at his most recent Congressional testimony).
Stock Market Denouement Update
In light of the above, the recent swoon in stocks becomes understandable too; apparently the market is beginning to conclude that monetary pumping is simply failing to fulfill its promise: namely to deliver the desired results.
One must not forget that there are two components to the increase in stock prices due to loose monetary policy. One is that money loses its purchasing power relative to titles to capital, the other is that the market expects the loose policy to eventually deliver an upturn in economic activity and the accounting profits reported by companies (even if it is harmful activity like the housing bubble and the profits are entirely imaginary).
However, it could well be that the economy is no longer able to respond in the expected manner because the damage to the economy's pool of real funding by the recurrent periods of monetary pumping has been too severe. The economy in other words can no longer support bubble activities, as there no longer are enough real resources that could be diverted into them. In that case, the stock market may fail to rise even if excess liquidity is ample.
In the context of our recent updates on stock market sentiment and positioning data, we want to point readers to another interesting data point we came across yesterday at Business Insider, namely the results of a recent Merrill Lynch hedge fund manager survey. It appears that hedge funds have upped their exposure to stocks to a multi-year high just prior to the recent swoon. This is in keeping with what the stock index futures positioning data have recently revealed and is of course an excellent contrary indicator.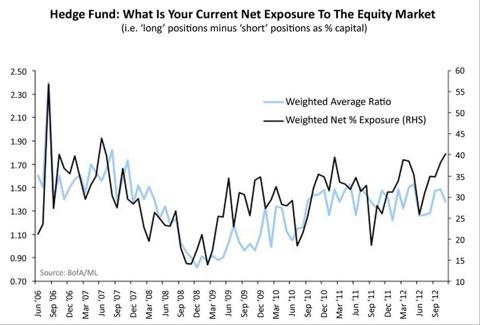 Click to enlarge
Hedge funds have raised their net long exposure to stocks to a multi-year high right at the edge of the recent cliff
According to Business Insider Merrill writes:
Ominously, our back-testing since Jul'07 shows that whenever hedge fund exposure is greater than 35%, S&P 500 tends to consolidate 4-5% and underperform UST 10yr by 700 bps over the subsequent 4 weeks.
That doesn't sound so bad, but they're now at over 40% net exposure, and we have numerous other indicators that strongly suggest that the recent market decline must not be taken lightly at all. In fact, it looks more and more to us that it could be the beginning of a major leg down in stocks (notwithstanding short term bounces, which so far have been ominously conspicuous by their complete absence). Needless to say, all of the above is adding up to an increasingly bearish picture.
Caveat Emptor!
Charts by: Philadelphia Fed, NY Fed & Merrill Lynch