There are three macroeconomic catastrophes leading the markets lower: (1) the fiscal cliff in the United States, (2) the recession in Europe and (3) slower growth in China. In addition, overall quarterly earnings that missed consensus brought no confidence for investors. Many companies, especially in technology and in the resource sector, are revising earnings downward for the next quarter and fiscal year.
To maintain a discipline in sticking to a strategy in investing, a practice portfolio is maintained on Kapitall.com. Investing ideas are tracked, and first implemented in a practice environment. Given the rising uncertainty plaguing the markets, it made sense to raise cash over the last few months: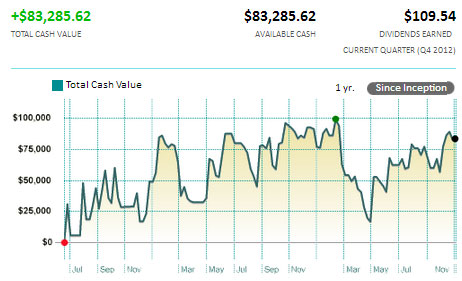 As illustrated above, cash levels increased between October and November, after resource companies like Cliffs Natural Resources (NYSE:CLF) indicated the level of global economic weakness was higher than many initially thought.
Portfolio Return Versus S&P 500:
Speculators argue that a resolution to the fiscal cliff will lead a rally in the stock markets. Raising cash in a portfolio means investors forfeit any short-term gains should there be a satisfactory resolution. Still, it is better to be solvent than to risk losses should market conditions continue to deteriorate. Having more cash allocated in a portfolio also gives investors an opportunity to add to existing positions, or to create new ones as the share price of companies decline excessively.
Cliffs Natural Resources would be one of the companies to buy again if there is evidence that economic conditions are improving.
The top-five holdings by allocation are:
| | | | | |
| --- | --- | --- | --- | --- |
| # | NAME | % Allocation | 52-WK HIGH | 52-WK LOW |
| | Cash | 62.4% | N/A | N/A |
| 1 | Electronic Arts Inc. (NASDAQ:EA) | 8.8% | $ 23.80 | $ 10.77 |
| 2 | Nintendo Co. Ltd. (OTCPK:NTDOY) | 5.3% | $ 19.62 | $ 13.00 |
| 3 | PIMCO Total Return ETF (NYSEARCA:BOND) | 4.2% | 110.1 | 99.93 |
| 4 | Oaktree Capital Group, LLC (NYSE:OAK) | 3.6% | $ 44.00 | $ 34.00 |
| 5 | American International Group, Inc. (NYSE:AIG) | 3.3% | $ 37.67 | $ 19.96 |
Electronic Arts Inc. is 45% below its 52-week high. Strong sales for Microsoft's (NASDAQ:MSFT) Halo 4 suggest that video game demand is still selectively strong. As the holiday season approaches, EA should be able to generate strong sales from its established titles, including FIFA Soccer '13 and Madden NFL 13. Weak demand for Medal of Honor and lower margins for "free-to-play" Star Wars: The Old Republic may limit upside. EA is also growing rapidly in its digital game segment. The company is adding further support for that growth by making digital games like Plant vs. Zombies and Bejeweled 2 available for the Nook HD and HD+.
Another game company that was added was Nintendo Co. Ltd. Nintendo's older Wii will be on sale on Black Friday. The sale should also drive sales of the new Wii U, which was launched on November 18 2012.
On the bond-side, 4.2% of the portfolio is allocated to PIMCO Total Return ETF (BOND). Bill Gross, who manages the ETF, recently said that higher dividend taxes are expected in the United States. This would be negative for stocks, but positive for municipal bonds, which are tax-free. In October, the ETF allocated 10% of assets to municipal bonds, while treasuries made up 4% of the holdings.
For income, Oaktree Capital Group, LLC (OAK) remains a core holding. In its most recent quarter, the company said it managed $81 billion in assets, an 11% increase compared to the previous year. Oaktree declared a quarterly distribution of $0.55 per share. At a recent closing price of $40.27, Oaktree share yield 5.46%.
In the financial sector, American International Group, Inc. (AIG) was added in October at prices above $35. AIG closed recently at $31.80, despite reporting quarterly earnings of $1.00 per share on revenue of $8.75 billion. AIG has a book value of $61.49. AIG is also held by various hedge fund managers. For example, AIG is the second-largest holding in Dan Loeb's Third Point Offshore Fund. Loeb increased his holding in AIG as the government sold down their position. David Tepper's Appaloosa Management started a $250 million position in AIG.
Disclosure: I am long EA. I wrote this article myself, and it expresses my own opinions. I am not receiving compensation for it (other than from Seeking Alpha). I have no business relationship with any company whose stock is mentioned in this article.