NRG Energy (NYSE:NRG) recently announced its earnings for third quarter 2012. We are bullish on the stock because of its expected synergies, cheap valuations and strong liquidity/cash position for the company. The company has been working to improve its efficiency and cost savings.
NRG operates as a wholesale power generator and is an independent power producer. It is among the big power generating companies in the United States. Recently, the company reported revenues of $2.33 billion, down 13% YoY. Revenues for the quarter missed analyst expectations by $50 million. For 3Q 2012 net income attributed to common stockholders was $-3 million or $-0.01 per share as compared to $-57 million or $-0.24 per share in 3Q 2011. However, the adjusted EBITDA of $657 million was above the consensus of $638 million and $458 million reported in 3Q 2011. If we analyze the improvement in EBITDA for the quarter, this was mainly driven by the company's Texas segment due to improved energy prices.
Looking at the performance of key segments for the quarter, the retail segment's adjusted EBITDA was up $28 million to $173 million in 3Q 2012. This was mainly due to a higher customer count, favorable weather impacts and lower supply costs. Texas' segment was strongest and was the key driver to overall improvement in adjusted EBITDA for the company. Adjusted EBITDA for the Texas segment was up $136 million to $324 million mainly due to higher realized energy margins and favorable weather in the recent third quarter.
NRG experienced a mixed trend in margins for the quarter. If we start with gross profit margin, it increased by 2.8% YOY to 26% in 3Q 2012. While operating profit margin for the quarter stood at 4.5%, down 3.1% as compared to the previous year's quarter.
NRG's merger with GenOn Energy (NYSE:GEN) on July 22, 2012 is expected to close in the beginning of 2013. Only approvals from FERC and New York are remaining. We have discussed the merger details in our previous thesis on the company.
NRG has been focusing on the retail segment, for which adjusted EBITDA was up 19% for the quarter. If we look at retail customers, the number was 2.192 million up 4% since first quarter of 2012.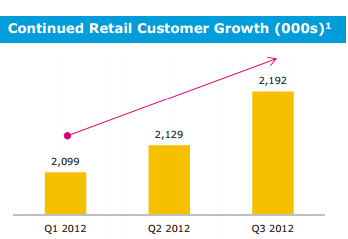 Source: Investor Presentation
Texas segment's performance was strongest in the recent third quarter and the company has plans to expand capacity of the segment, which will have a positive impact on its financial performance. NRG will be installing a 75MW plant in Texas, which is expected to be operational next summer.
As environmental concerns related to electricity generation are on the rise, cleaner energy is one of the areas where power generators have to focus. NRG has been investing in solar energy and is working on approximately 2000 MW of solar power projects. Although, solar energy has contributed a smaller chunk to the total company's EBITDA, however, it is expected to quadruple by 2014.
Guidance:
The company narrowed its 2012-adjusted EBITDA guidance to $1.875 - $1.925 billion from $1.8 - $2.1 billion, while FCF are expected to be $900 - $950 million before growth investment for the year. The company reaffirmed 2013 and 2014-adjusted EBITDA guidance of $1.7 - $1.9 billion.
Dividend:
For the first time in August, NRG declared its quarterly dividend of $0.09 per share, a dividend yield of 1.7%. With its FCF expected to be $900 - $950 million for 2012, free cash flow yield turns out to be 19%, which is a healthy sign and indicates that dividends would be sustained without any problem. If we look at the liquidity position of the company, it experienced an improvement of 30%. Total current liquidity for the 3Q 2012 was $2.71 billion up from $2.07 billion in 3Q 2011.
Valuations:
| | | | | |
| --- | --- | --- | --- | --- |
| | NRG | TransAlta Corp. (NYSE:TAC) | The AES Corporation (NYSE:AES) | Calpine Corp. (NYSE:CPN) |
| PEG | 2.6 | 12 | 1.1 | 5.5 |
| 5 years growth rate | 8.5% | 2% | 7% | 9% |
| Price to Book | 0.6 x | 1.7x | 1.7x | 2 x |
| Debt to Equity | 140% | 125% | 215% | 260% |
Source: Yahoo finance
NRG has cheap valuations on a comparable basis. It has a price to book of 0.6x, less than that of its competitors. Its PEG of 2.6 also reflects that it offers cheap growth as compared to its competitors, TAC and CPN. NRG also has a strong balance sheet, evident by its debt to equity of 140% as compared to AES' 215% and CPN's 260%.
Disclosure: I have no positions in any stocks mentioned, and no plans to initiate any positions within the next 72 hours.
Business relationship disclosure: The article has been written by Qineqt's Utilities Analyst. Qineqt is not receiving compensation for it (other than from Seeking Alpha). Qineqt has no business relationship with any company whose stock is mentioned in this article.