By Brendan Gilmartin
Salesforce.com (NYSE:CRM) is scheduled to report Q3 2013 earnings after the close of trading on Tuesday, Nov. 20, with a conference call to follow at 5:00 p.m. ET. The actual results are typically released at 4:05 p.m.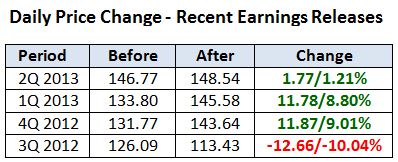 Outliers and Strategy
Key measures:
Non-GAAP Earnings Per Share: For the second quarter, Salesforce.com previously indicated it expects to report non-GAAP EPS of approximately $0.31 to $0.32. The current Street estimate is $0.32 (source: Yahoo Finance).
Revenues: Revenues are projected to be in the range of approximately $773 million to $777 million. The consensus on the Street is $776.5 million with estimates as high as $785.0 million.
Adjusted Earnings Per Share Guidance (Q4 2013): In most cases, Salesforce.com provides earnings guidance for the upcoming quarter that tends to have a direct impact on the direction of the share price. The current estimate is $0.40.
Adjusted Earnings Per Share Guidance (FY 2013): Look for Salesforce.com to give an updated outlook for 2013. The current estimate is $1.50.
Revenues Guidance (FY 2013): Look for a possible update for 2013. The Street is targeting revenue of $3.03 billion. The company previously guided for $3.025 billion to $3.035 billion.
One of the major knocks against Salesforce.com is its lofty valuation at more than 72 times forward earnings and 18 times cash flow. These metrics are fairly rich, even with a 28% projected five-year earnings growth rate and gross margins near 80%.
Recent News
Technical Review
Salesforce.com has been breaking out ahead of its Q3 2013 earnings release, pushing back through the 200-day SMA near $144.00. From here, there is meaningful resistance at the 50-day SMA near $150.00, followed by the "double top" near $160.00. Should earnings and guidance disappoint, look for support near the aforementioned $144.00, with downside risk to $140.00.
Click to enlarge image.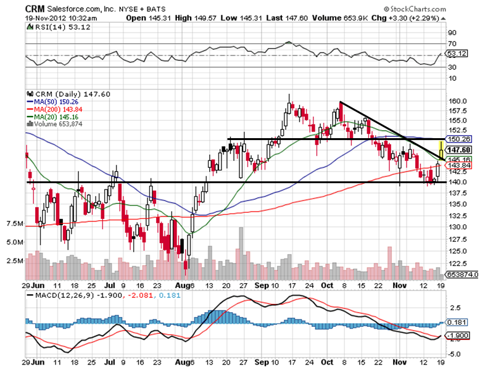 Source: StockCharts.com.
Summary
Salesforce.com shares are edging higher ahead of Q3 2013 earnings, thanks to its dominant position in the CRM market, customer growth, push into enterprise, new products and services, and improving margins. While valuation remains a key concern (72 times forward earnings), Salesforce.com boasts impressive growth rates. Nonetheless, the bar is set pretty high and any missteps both in terms of Q3 and future outlook could have negative consequences given the positive sentiment surrounding the name.

Disclosure: I have no positions in any stocks mentioned, and no plans to initiate any positions within the next 72 hours. I wrote this article myself, and it expresses my own opinions. I am not receiving compensation for it (other than from Seeking Alpha). I have no business relationship with any company whose stock is mentioned in this article.
Disclaimer: By using this report, you acknowledge that Selerity, Inc. is in no way liable for losses or gains arising out of commentary, analysis, and or data in this report. Your investment decisions and recommendations are made entirely at your discretion. Selerity does not own securities in companies that they write about, is not an investment adviser, and the content contained herein is not an endorsement to buy or sell any securities. No content published as part of this report constitutes a recommendation that any particular investment, security, portfolio of securities, transaction or investment strategy is suitable for any specific person.