Last August, I gave my followers and new readers a long trading call on the shares of Brocade (NASDAQ:BRCD) the day before earnings. The trade worked, but the shares fell short of my $7 target (it hit $6.45 per share). Today, I'm revisiting Brocade for a long trade as it sits on its 200 day moving average of $5.42 per share. Here's why I'm making a trading call on Brocade pre-earnings.
Consensus estimates Q4 2012:
Revenue: $568.78 million
EPS: $0.15
My prediction:
Revenue: $573 million
EPS: $0.16
Cash flow from operations: $135 million
On the surface, nothing has changed at Brocade since its last earnings call on August 18th. In fact, the company held its Annual Analyst Day in September and gave what I believe to be bullish tones for all divisions. Still, the shares have pulled back with overall market weakness as the Nasdaq has dropped from 3200 to 2900.
The company is $30 million dollars away from paying off its short-term debt and being cash positive for the first time in four years. I believe that the company will generate over $135 million in cash from operations this quarter ahead of its high end guidance of $130 million. Positive edge.
The company will be entering the first quarter 2013 with a solid balance sheet (net cash), the strongest cash flow (estimate 2013: $500 - $550 million) in its history, and new product launches. In addition, it is riding a secular trend in cloud computing that should see it increase its market share and lead to stock price appreciation. Positive edge.
Recently, Brocade's industry peers Cisco Systems (NASDAQ:CSCO) and Network Appliance (NASDAQ:NTAP) reported quarterly earnings and both beat handsomely. This bodes well for the sector and increases the chances that we could see Brocade handsomely beat, too. I'm betting it will continue its streak of beating estimates, as it has beat for the last four quarters.
The company is committed to buying back stock and paying down longer-term debt with its significant cash generation. The company is looking to sell its $300 million campus in San Jose and then lease it back. This would put $300 million onto the balance sheet that could be used for buying back stock, paying down debt, or making accretive acquisitions, all three of which are positive to shareholder value.
Looking at the daily chart below, we can see that BRCD had a nice run from July to September, going from $4.42 to $6.45. Since then, it has pulled back along with the overall markets. It formed a double bottom at $5.20, and has just crossed above the 200 day moving average. This sets the stock up for a run back up to recent highs at $6.45. If volume comes into the stock, then it could challenge $7.00.
(click image to enlarge)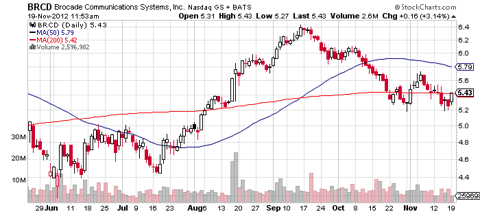 Brocade reports its earnings after the close tonight. I'm making a speculative trading call to buy shares pre-earnings, as I believe we will see the company beat and the stock move higher. As always, investors should do their own homework and due diligence before making any investment decisions.
Disclosure: I am long BRCD. I wrote this article myself, and it expresses my own opinions. I am not receiving compensation for it. I have no business relationship with any company whose stock is mentioned in this article.