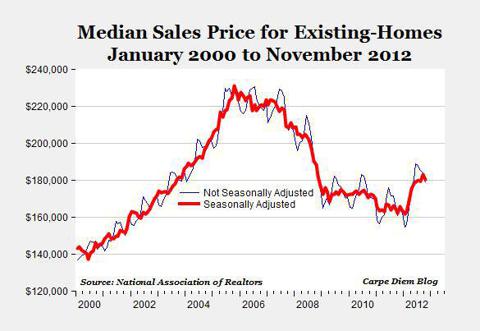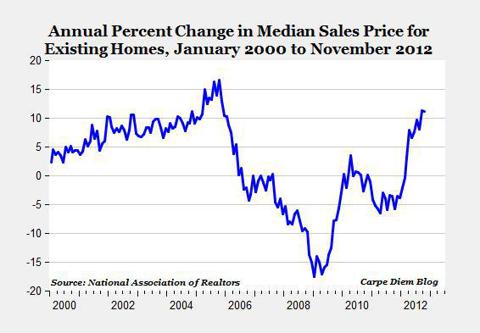 The National Realtors Association reported today on existing-homes sales for the month of October, here are some highlights:
Total existing-home sales in November for single-family homes, townhomes, condominiums and co-ops, rose 2.1% from October to a seasonally adjusted annual rate of 4.79 million units, and are 10.9% above sales in October 2011. November marked the 16th consecutive month of year-over-year increases in existing-home sales (starting in July 2011), which last occurred in 2004-2005.
The median sales price for existing-homes was $178,600 in October (see blue line in top chart above), a gain of 11.1% over the same month last year (see bottom chart above), and the eighth consecutive month of annual increases in home prices, which last occurred in 2005-2006. The 11.1% year-over-year increase in median home price in October follows a 11.25% annual gain in September. The last time there were two consecutive monthly double-digit increases in existing home prices was in late 2005, almost seven years ago.
On a seasonally adjusted basis, the median home price in October was about $180,000, slightly below the $182,800 median price in September. The last time the seasonally-adjusted median home price was above $180,000 for two straight months was four years ago in late 2008. After adjusting for seasonal variations, it's pretty clear that home prices reached a bottom during the 2009-2011 period (see red line in top chart), and have moved off that bottom over the last year.
Existing homes available for sale at the end of last month was down to 2.14 million units, which represents only a 5.4-month supply of homes at the current sales pace, which is the lowest inventory of homes since February of 2006 when there was a 5.2 months' supply. The inventory of homes for sale at the end of October was 21.9% below a year ago.
NAR Chief Economist Lawrence Yun commented that "Rising home prices have already resulted in a $760 billion growth in home equity during the past year. Given that each percentage point of price appreciation translates into an additional $190 billion in home equity, we could see close to a $1 trillion gain next year."
MP: More evidence from today's NAR report of a housing recovery – more homes are selling faster at higher prices, which are the key elements of a housing rebound. And with gradually rising home prices, the value of home equity for all U.S. homeowners is on the rise again, which will increase the household net worth of American households, and create widespread benefits throughout the economy.