Barron's columnist Steven M. Sears calls them "shorties," a new series of weekly options that have begun trading on four individual stocks, including Apple (NASDAQ:AAPL), Bank of America (NYSE:BAC), BP (BP) and Citigroup (NYSE:C)
But these new weekly options aren't any different than any other options, except that traders can now expect to have four more nearby weekly expiration dates to choose from - or a total of five expirations each a week apart.
It's actually called the "Short Term Options Program" and will feature options on then four individual stocks I mentioned above, plus six additional widely traded ETFs.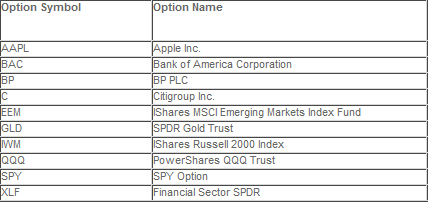 For now, let's just consider how these short-term options work for individual stocks.
Expiration every week
For many stocks that trade weekly options, the pattern usually goes something like this. Each Thursday, a new series of options begins trading. These options expire Friday of the next week, allowing a full 7 trading days. The only exception is when a monthly option series already exists for the following week.
So last Thursday a new series of Apple, BAC, Citigroup and BP options began trading that expire on November 23. But there were also three other weekly options launched - expiring on November 30, December 7, and December 14. Then, of course, you have the December 23 monthly expiration.
All told, this means you have far more flexibility in taking a short-term view on stock price movement and/or volatility changes, plus more ways to profit from time decay.
Here's a look at the prices for at-the-money calls on the four stocks, showing how the prices for those options rise for various expirations based on prices last Friday.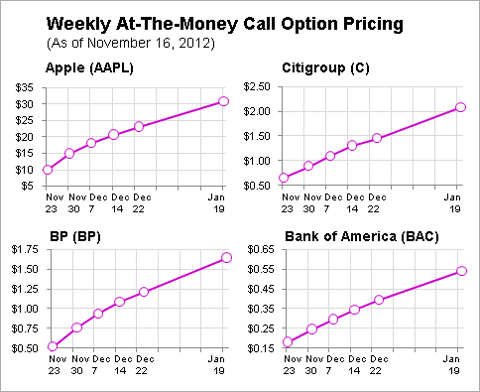 According to Steven, the flexibility will allow "investors to pair options to specific events - like matching wine to food or fine-tuning the ballistics profile of a rifle cartridge."
Consider Apple. Apple's stock often makes extraordinary moves around the company's product launches. Imagine for a moment that Apple, whose stock is falling like a rock, tells investors it plans to launch a new product like Apple TV in two weeks. Until now, investors could buy only weekly options, which would expire before the Apple event.

Shorties will let investors make pure-play trades-or hedges-around events. Aggressive traders will speculate, but shorties also provide investors with a tool to isolate volatile market events. Hopefully, this will stop some investors from making emotional, event-driven decisions. Instead, investors can trade or hedge an event using shorties, rather than absorbing risks into their total portfolio.
Can this be done? Sure. One frustrating aspect to Apple options, for example, is that very often the earnings date comes just after a monthly option series expires.
This past October for example, with earnings released on October 25, there were options that expired on October 26, but they only began trading on the morning of October 25. The next available series was for November 17. As you might guess, there were significant volatility trading opportunities, but you only had one day to take advantage of them with weekly options.
Under this new plan, there would have been a whole series of options that expired over a series of consecutive weeks - and one would expect that traders would have had more flexibility to trade the "event-driven decision" that Steven mentions.
With four to five consecutive weekly option series available on specific stocks and ETFs, there are a lot of possibilities to set up short-term calendar spreads and diagonal spreads that, once based on a front-month/back-month strategy, can now be used on a front-week/back-week basis - strategies I will cover in a future post.
Disclosure: I am long AAPL, BAC. I wrote this article myself, and it expresses my own opinions. I am not receiving compensation for it (other than from Seeking Alpha). I have no business relationship with any company whose stock is mentioned in this article.