It's amazing how much fear that the sell-side is able to spread to the retail investor when sentiment towards a particular security begins to turn sour. The latest bit of fear that the sell side is attempting to spread is that Intel's (NASDAQ:INTC) dividend is no longer safe.
This is incredibly important to dispel for a couple of very important reasons. Unlike the absurdity that is spread about the "death of the PC" and the how Apple (NASDAQ:AAPL) will kick Intel out of its MacBooks, the dividend of this blue-chip is very important to many individual and institutional investors.
Intel's Products Are Stronger Than Ever
I can understand why there may be some concerns that Intel's dividend seems too good to be true. That's because it nearly is, especially given how strong the company's products are.
Intel is the world's largest semiconductor by revenue and profits by a large margin (not by market capitalization since the investment community seems to be fairly enamored with Qualcomm (NASDAQ:QCOM) at the moment). It has a very clearly dominant position in notebook and desktop PC processors as well as very high margin workstation and server processors. Its highest end Core i5 and Core i7 chips are finding a nice home in high end tablets as well while its recently released Atom Z2760 tackles (and succeeds at) the very thin and long battery life with mainstream Windows 8 tablets.
Intel also entered the smartphone space for the first time this year with its Atom Z2460, which in third party tests, was shown to be quite competitive, with Anandtech concluding:
Intel's Atom core remains competitive with the very best of the ARM world. A single core Atom still ends up being the only CPU that can regularly outperform Apple's Swift.
So for less than 9x earnings, one can buy shares of Intel, the clear leader in almost every segment of computing. At this level, the dividend yield is 4.46%. Folks, this is similar to a utility for a company that posted record revenues in 2011. While 2012 will see slightly declined sales over 2011 levels, 2013 and beyond should see a number of revenue growth vectors that should lead to a record year, including:
Xeon Phi - Intel introduced its high margin, high ASP ($2,649 for the highest end 5110P model) "Xeon Phi" high performance compute accelerators. This is a new area that Intel had not previously competed in, so all sales here are purely upside.
Itanium Refresh -

While

Intel's phone, tablet, notebook, desktop, workstation, and even servers are generally powered by chips built on the firm's X86-64 instruction set, Intel also has a specialized, 64-bit instruction set for its ultra high end (and high ASP/margin), mission-critical "Itanium" processors. Intel just released a dramatic refresh for this line of processors that should help re-ignite sales.
Smartphone Ramp - While 2012 saw initial smartphone sales with a surprisingly competitive product with its single-core Atom Z2460, the real show begins in 2013 when the firm releases a dual core version of its product coupled with Intel's own LTE modem. This should allow for design wins in the US, where LTE is a very important part of modern phones.
Tablets - With the Windows 8 launch, Microsoft finally has a horse in the tablet OS race. Intel's Atom for tablets is extremely competitive on performance, battery life

,

and compatibility with the suite of legacy Windows 7 applications. At the high end of the tablet space, Intel faces no competition as it deploys its ultra-low-voltage "Core i5" and "Core i7" processors which, in 2013, should consume less than 10W (compared to current 17W models used in tablets such as the Samsung Ativ Smart PC Pro

)

Xeon Growth Continues - Intel's workhorse in the server/datacenter is the Xeon lineup of processors. The big-iron Xeon "E7" processors - which are still stuck on 2010 processor technology - will finally see a refresh to the "Ivy Bridge" generation (a two-generation leap). These are ultra high margin products, and with the continued focus on power efficiency in the datacenter, these 22nm, multi-core, highly scalable chips should provide a compelling reason for datacenters to upgrade. TAM Expansion, coupled with refreshes, in networking, HPC, and even low power micro-servers with the Xeon E5 and E3 lines (which should be refreshed to "Ivy Bridge" and "

Haswell,"

respectively) should also help push growth here.
These growth vectors exclude any potential upside from improved PC sales, especially as OEMs innovate on the platform side. So, now that we've established that the company itself is firing on all cylinders (meaning that a sharp drop in revenues is not likely), it's time to examine the dividend and to show just why it is safe:
Payout Ratio - Reasonable, But Look At Cash Flow
The first thing that we need to analyze is the payout ratio. The current dividend stands at $0.90/share on an annualized basis. In 2011, Intel earned $2.39/share. In 2012, Intel is on track to earn between $2.01 - $2.15, with the midpoint of analyst estimates coming in at $2.11. This implies a payout ratio of between 41% - 45%. Not the lowest around, but certainly leaves enough room for the firm to continue to invest in R&D and other operations.
Now, something that many people miss when analyzing dividend stocks is that at capital-intensive companies, depreciation charges take a significant bite out of net income. Intel runs the world's most sophisticated semiconductor foundries. This requires significant CapEx, and as such, leads to fairly large depreciation and amortization charges. In the most recent quarter, Intel took $1.6B in depreciation and amortization charges, or roughly $0.32/share.
So, why not look at cash flow? In the most recent quarter, the firm generated $5.1B in cash. Since the firm paid out $1.1B in dividends for the quarter, the Price/Cash Flow ratio of merely 0.21. This gives a lot more color on the safety of the dividend than merely net income can provide.
If Dividend Is In Jeopardy, Firm Can Cut Back On Buybacks
In the most recent quarter, Intel paid out $1.1B in dividends and repurchased $1.2B in stock. If the dividend were to come under pressure due to a (very unlikely) dramatic fall-off of sales, then the first thing that would get put on hold is the buyback program, which actually cost Intel more than the dividend.
While the buyback program is very helpful for ultimately lowering the total amount that Intel needs to pay out per quarter (and Intel's past relentlessness in buying back shares has put it in a good position going forward) it can be sacrificed to keep the dividend going for current shareholders.
The Dividend Has Increased Steadily Over 10 Years
While there are fears that the dividend will be cut, it is useful to note that Intel has not cut its dividend over the last 10 years, and if anything has been increasing it quite feverishly, as shown here: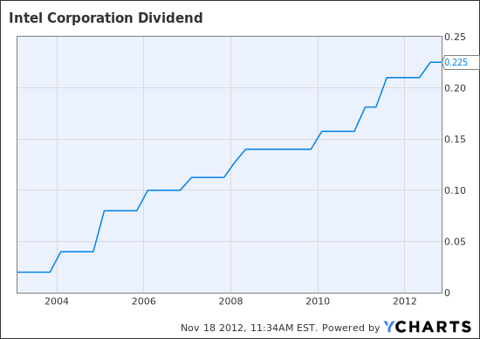 INTC Dividend data by YCharts
Note that during this time, Intel has weathered the following pressures:
The 2008-2009 financial crisis
The rise (and eventual fall) of Advanced Micro Devices (NYSE:AMD) as a potent threat to its PC and server CPU spaces (to see the eerie similarity between AMD's arrogance in the early part of the last decade and ARM's arrogance today, see below)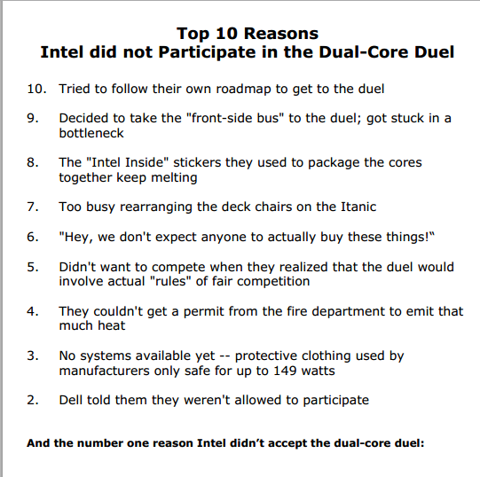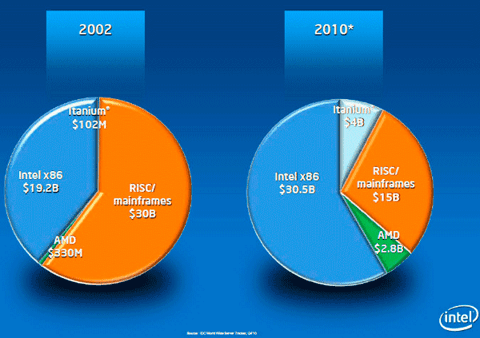 Despite all of this, the dividend has steadily increased, and the share count has evaporated: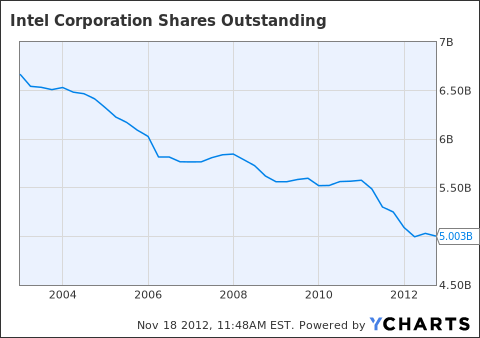 INTC Shares Outstanding data by YCharts
Past performance does not necessarily imply future results, but it does build shareholder trust. Combined with Intel's operational and competitive strength, Intel has an incredibly strong track record of shareholder friendliness, and I believe that the company will continue to protect the interest of its shareholders, even if times get tough.
Conclusion - It's Not A Trap
Intel's dividend is not a trap. The stock is just subject to Wall Street silliness that leads to discounts in quality companies (that grew sales by 24% in 2011). While no company's dividends are safe from a global economic meltdown, Intel has done a great job in consistently returning bucket loads of cash to shareholders even during the toughest of times.
Intel is a leader at what it does and will be a leader in the new market segments that it intends to pursue. The dividend is not only safe, but it is set to grow as macroeconomic conditions coupled with the new growth initiatives lead to increased net income.
Disclosure: I am long INTC. I wrote this article myself, and it expresses my own opinions. I am not receiving compensation for it (other than from Seeking Alpha). I have no business relationship with any company whose stock is mentioned in this article.