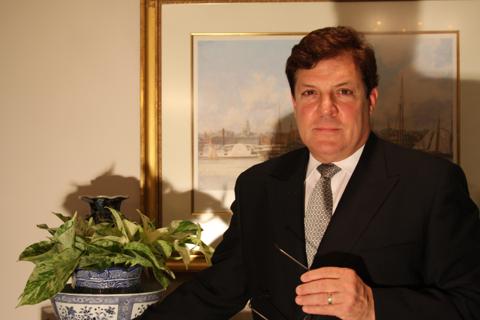 John Carusone is president of Bank Analysis Center, an investment banking consultant to the banking industry based in Hartford, Connecticut.
Harlan Levy: What does the post-election national banking scene look like?
John Carusone: Basically, the same as the pre-election banking scene. The post-election banking environment continues to represent uncertainty, both with the direction of the economy and additional burdensome regulations for banks. The big open issue is whether the economy will improve and therefore, benefit banks' balance sheets and profits. This all depends on whether an accommodation can be reached in Congress regarding the so-called "fiscal cliff" involving what lies ahead for tax rates and governmental spending cuts.
Until the fiscal cliff is resolved, the economy continues to represent a big question mark in the minds of bankers. If it is not resolved in a timely manner, there's the risk of another recession because tax rates will automatically go up as the Bush-era rates expire, and almost a trillion dollars of government spending will be sucked out of the economy because of the sequester agreement reached last year to force a reduction in spending. If the fiscal cliff is resolved satisfactorily, then there is a good chance for economic improvement, from which banks will benefit by higher loan demand and higher profits. The overhang presently bottling up the economy is the uncertainty.
The other wild card is the continuing layers of additional banking regulation that come out of the recently passed Dodd-Frank bill and what implications those have for both large banks and small banks. Only about half of the new regulations coming out of the Dodd-Frank statute have been defined.
H.L.: How long do we have before we see noticeable effects?
J.C.: There's the short-term issue of the fiscal cliff and taxes versus spending, and then there's the much longer-term issue of addressing fundamental tax reform, individual rates, corporate rates and capital gains rates, and entitlement spending regarding Medicare, Medicaid and Social Security. Both the short-term issues and the longer-term issues have to be addressed soon. They cannot be postponed indefinitely without risking calamitous effects for our economic future. The resolution has to come from Washington policy makers who need to put aside partisan differences and arrive at an agreeable consensus.
The absence of consensus is why the credit rating on U.S. government debt by the credit rating agencies has been downgraded once and is being considered for a second downgrade. The lower that credit rating goes, the higher interest rates will go, since interest rates represent the cost of borrowing money. And if the U.S. is viewed as a riskier place to lend money, then rates will go up to fund the government. And if U.S. government borrowing rates go up, corporate borrowing rates will go up, mortgage rates will go up, car loan rates will go up, and credit card rates will go up. Therefore, loan payments will go up in all of these categories, and that will result in higher the levels of unemployment. In the last analysis, financial hurt ratio for everyone will go up.
Overall, we probably have 45 days on the short-term issue and at most a year or two on the longer-term issue. Hopefully, cooler heads will prevail on addressing our complicated economic issues, but the question is when. If it doesn't happen soon, the longer it's pushed off, the higher the probability of slow economic growth and the potential for a double-dip recession. People have to make haste quickly. It's economic showtime.
H.L.: How badly do bank stocks reflect all of this?
J.C.: The uncertainty associated with the economy and regulations has had a punishing effect on bank stock price-to-earnings multiples more so than other industries. The recent sell-off since the results of the presidential election are largely due to the uncertainty over the level of tax rates for capital gains -- namely the current 15 percent versus the proposed 23.5 percent.
H.L.: How strong are the big banks and the small banks?
J.C.: The banking industry in general has significantly repaired itself since the panic of 2008 -- when the investment banking/brokerage firm Bear Stearns had to be acquired by JPMorgan Chase 9JPM), Lehman Brothers went bankrupt, and Washington Mutual failed -- and the recession of 2009 hit full measure. For banks, the value of their securities was not necessarily certain, and loan delinquencies shot up. But since then, balance sheets have been significantly improved both in higher loan quality and higher capital ratios.
Generally speaking, small banks have repaired faster than large banks. But, as a whole, the banking industry is presently in pretty good shape with regard to asset quality, capital adequacy, and liquidity. Some banks still have issues. For instance, Bank of America (NYSE:BAC) has had a very difficult uphill climb. Certain banks were impacted more severely by the recession and by the housing market bubble, and Bank of America was in the forefront of those. But even B of A has made significant strides in the past year or two.
H.L.: What does this mean for industry consolidation?
J.C.: First of all, recognize that we presently have about 7,500 banking companies, whereas 20 years ago, we had around 15,000. In between those two numbers, we've had several recessions and significant merger and acquisition activity for banks. So there has already been a lot of consolidation, both through bank failures and mergers and acquisitions. Right now, higher levels of regulation propel smaller banks to consider what the future has in store for them and generally make them more predisposed to partnering with larger, stronger institutions. On the other hand, lower price-to-earnings multiples on the stock prices of buyer institutions make the costs of the acquisitions more expensive.
Also, one regulatory overhang causing banks to pause and think is international banking standards promulgated by the Basel III group, requiring higher levels of capital reserves, which will have a depressing impact on returns earned by investors in the banking industry.
I think the outlook going forward is that there will be continuing consolidation, albeit at a much slower pace. And if you have to do the deal for cash, that has a punishing effect on capital ratios, which are scheduled to increase. Right now, there is a little bit of a resurgence in bank M&A. I'm now working on a bank in the Northeast that my company is representing for sale. But the buyer list is smaller than it would have been a few years ago.
H.L.: What do you think of the U.S. economy?
J.C.: The economy is recovering at a snail's pace, but remains fragile and highly uncertain. We're too interconnected with forces beyond our control, such as the European economy, which has just reverted back to recession, and worldwide demand elsewhere, which impacts American industries and those in Connecticut in particular. That's No. 1.
No. 2 is that our own fiscal house is in great disarray, and there's no clear sign of let-up in the Washington partisan squabble, and even though on the surface there are some signs of improvements, like a recovery in the housing market. We don't know if they're lasting or temporary.
H.L.: Where do you see interest rates going?
J.C.: Rates will go up to the extent that the economy improves, or if U.S. creditor nations lending the U.S money, like China, become reluctant to continue that lending. In that case, you'll see a really fast u-turn on interest rates. They'd soar, with potentially corresponding calamitous economic implications, including deeper recession, higher-level unemployment, and other unpleasant shocks. If the stalemate continues, we'll just probably move sideways, because rates cannot get much lower. The Federal Reserve is running out of options other than to just print money, which will come back to bite us all in the form of soaring inflation.
Disclosure: I am long AAPL. I wrote this article myself, and it expresses my own opinions. I am not receiving compensation for it (other than from Seeking Alpha). I have no business relationship with any company whose stock is mentioned in this article.