By David Urani
Today gave us a couple of housing statistics that show more optimism in that industry. Existing home sales for October came in at 4.79 million annually according to the NAR, which was a 2.1% increase month to month and above estimates calling for 4.70 million. Interestingly, the previous month was revised down to 4.69 million from 4.75 million, which means that the Street was actually looking for a slight decline. Each region was up slightly except for the Northeast, which was down 1.7%; encouragingly, that reversed a decline in all regions in September.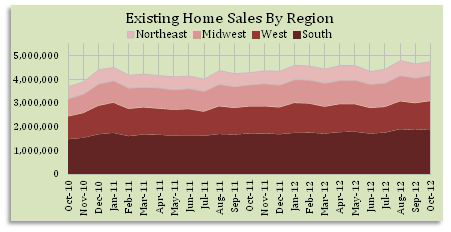 While obviously good that it increased the headline sales result wasn't all that impressive, and still remained below the 4.83 million high from August. Therefore housing stocks weren't moved all that much, and in fact if anything they slipped a little following the release although the Dow Jones U.S. Home Construction Index is up approximately 2% on the day along with the broad market rally.
Maybe the more positive result than sales was existing home inventory, which came down 1.4% month to month to 2.14 million. In months' supply, that's 5.4 months worth of homes, the lowest level since February 2006.
And that dovetails nicely with the other housing release of the day, the NAHB Housing Market Index for November. It rose to 46 from 41 and represented the best result since May 2006. While the NAHB index may not be quite as high profile as the existing sales number we still maintain that it's a stat worth watching, as it tends to trend fairly closely to home construction activity. And going back to the fact that both this index and the months of existing supply were both at the best levels since 2006, it's probably not a coincidence; a shorter supply of homes means builders need to get busier.