On July 24, 2012, I wrote a piece entitled Avoid Lockheed Martin Despite Cheap Valuation And High Yield, since then, shares of Lockheed Martin (NYSE:LMT) are close to unchanged. Despite failing to move lower, I no longer believe it makes sense to sell LMT.
Obama Wins Re-Election
On November 6, in convincing fasion, President Obama was re-elected. Following this, the stock market as a whole has moved lower as investors look to lock in gains ahead of higher taxes. Obama's re-election had a very significant impact on all of the defense stocks as the President has said that he wants to reduce military spending. Comparably, Mitt Romney was in favor in increasing military spending. Since the election, as shown by the chart below, shares of LMT, General Dynamics (NYSE:GD), Raytheon (NYSE:RTN), and Northrop Grumman (NYSE:NOC) have all moved sharply lower.
In my previous piece, I suggested avoiding LMT because I though it was very likely that President Obama would get re-elected. Now, given the election results and the subsequent fall in defense stocks, it no longer makes sense to be negative on the sector and LMT in specific. Going forward, investors will focus on LMT's cheap valuation and high dividend instead of the election. As discussed in my previous piece, and shown by the charts below, based on its valuation and dividend yield, LMT is very attractive.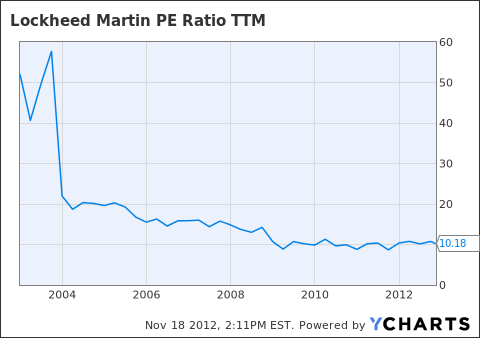 LMT PE Ratio TTM data by YCharts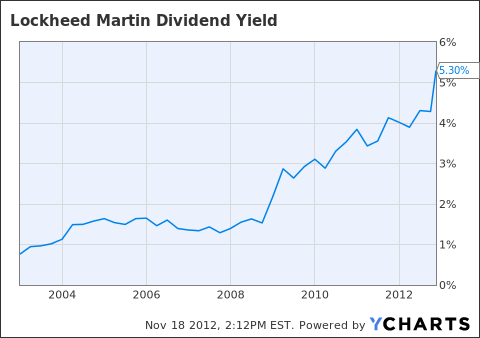 LMT Dividend Yield data by YCharts
Middle East Violence
Unfortunately, violence in the middle east continues to be on the rise. In specific, right now, tensions between Israel and the Palestinians seem to be reaching new heights. Of course, no one knows exactly how this conflict will unfold, but it is possible that if the issue leads to an Iranian response, the United States may get involved. While military action by the United States in unlikely, the rising tensions in the middle east may be enough to somewhat alter the narrative regarding military spending. Perhaps, President Obama will be less aggressive with the size of military spending cuts.
Fiscal Cliff
In addition to the President's re-election, LMT shares have come under pressure because of the fiscal cliff. Currently, if no agreement is reached significnat military cuts would come into effect. However, contrary to popular belief, I believe a major deal will be reached to avert the fiscal cliff. Certainly, military spending cuts will be a part of any agreement reached but I believe the cuts will be less severe than if no agreement is reached.
Conclusion
Now that the election is over, LMT is more attractive because an Obama presidency is now priced into the stock. However, it is possible that LMT along with the rest of the sector makes one more move lower when a compromise is reached on the fiscal cliff including vast military spending cuts. However, I would view any further decline in the stock based on military spending cuts as an opportunity.
Disclosure: I have no positions in any stocks mentioned, and no plans to initiate any positions within the next 72 hours. I wrote this article myself, and it expresses my own opinions. I am not receiving compensation for it (other than from Seeking Alpha). I have no business relationship with any company whose stock is mentioned in this article.