"When everyone starts downgrading a stock, it's usually time to buy"--Mery Witmer (General Partner, Eagle Capital Partners 1/29/07)
One thing I can say for sure, there are a large number of investors and speculators who follow and admire Westport Innovations (NASDAQ:WPRT). Even celebrity analyst Jim Cramer keeps praising the leadership of WPRT and their riveted focus on the company's goals.
In case you're new to this story, WPRT designs and manufactures low-emission engine and fuel system technologies that enable light, medium, heavy-duty, and high-horsepower petroleum-based fuel engines to use natural gas and alternative fuels.
In the past 10 days, WPRT has received two downgrades from influential Goldman Sachs and Piper Jaffray, who reportedly both gave WPRT a "sell" rating. Then on November 15th, Deutsche Bank initiated coverage with a "buy" rating.
As the quotation at the top of my article states, when everyone is downgrading a stock, it often means its time to buy. Not everyone is downgrading WPRT, and Beneficial Owner (10% or more of the outstanding shares) Douglas Kevin, who own 6.43 million shares, hasn't to my knowledge sold any of his holdings.
On the other hand, not he or any insider has purchased any WPRT shares since the end of July 2012 when WPRT was trading around $38. Investors have been selling the stock (or shorting it) partly because its days of positive earnings and profitability are still many months away.
Yes, I'm aware of the news and the interview on Mad Money which stated that General Electric (NYSE:GE) has virtually given Clean Energy Fuels (NASDAQ:CLNE) two small liquid natural gas plants. It's exciting for CLNE that GE will own a 5% stake in CLNE and thus serve as a passive partner.
Yet we must not forget that it will take at least a year for there to be enough conveniently located fueling stations in place for truckers and motorists to feel comfortable about operating vehicles with natural gas engines. WPRT will undoubtedly be getting more orders to build more and more engines, but it's not the only company building them.
If you're an investor that wants to let a stock come to you, why not wait to see if WPRT can hold support at the November 9th, intra-day low of $23.01. That may help to explain why on Monday November 19th, with the major stock averages in rally mode, WPRT is trading down on lower than average volume.
Those who are determined to hold on to shares of WPRT or who want to begin accumulating, all I can add is "tighten your trailing stops". If we're going to be successful investors, we must be disciplined and get out of a position when its momentum is the opposite of what we want.
Here are Two Interesting Stocks to Consider Instead
The first one is not only a value play, but analysts including myself see an upside consensus potential gain of around 30%. On November 19th, while WPRT was correcting, this stock was up intra-day as much as 3%.
I'm referring to Ford (NYSE:F), a company whose time appears to have arrived. This is evident when you carefully examine its impressive website which gives many details as to how the company is making money and where it plans to shine in the months ahead.
Ford will soon be unveiling its latest vehicle, the Transit Connect which is getting many positive reviews and fills an important niche in the American car market. Ford's technology advancements including electric vehicles, hybrid vehicles, natural gas fueled truck engines and its "Power-plus" fuel economy are all in various stages of readiness.
As of the quarter ending September 30th, Ford's Return on Equity ((NYSE:TTM)) of 140% is one of the best in the automotive industry today. The company's most-recent-quarter (MRQ) total cash of over $24 billion is remarkable, as well as its $9.17 billion operating cash flow .
Revenues and earnings for the quarter were flat or down slightly. I'm also aware of Ford's $101 billion total debt (MRQ), yet so is the government and all its many bondholders. I anticipate that number will be reduced through various debt reduction methods that are too broad to discuss in the scope of this article.
The chart below illustrates what appears to be a "turning point" that is now developing. It's my thesis that this turning point and its upward momentum will accelerate in the months ahead. (click to enlarge)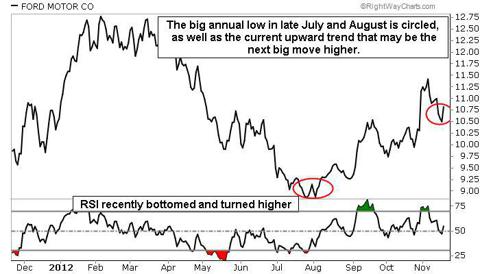 The very popular RSI or Relative Strength Indicator, is a momentum oscillator that compares the strength of gains against the strength of losses over a given period. RSI always ranges between 0 and 100. Values below 30 and above 70 are typically taken as oversold and overbought respectively.
A strengthening RSI indicates that gains are tending to dominate losses. Once the RSI climbs above 70, however, the sustainability of the gains is called into question. You can see in the chart above, Ford's RSI twice climbed above 70 in the last few months only to come down below 50, which then saw the RSI move up along with the share price.
Another very interesting and surprisingly undervalued stock is TravelCenters of America (NYSEMKT:TA) which also enjoyed a 3% intra-day pop on Monday November 19th. TA operates and franchises travel centers primarily along the United States interstate highway system.
It offers diesel fuel and gasoline; operates full service restaurants under the Iron Skillet, Country Pride, Buckhorn Family Restaurants, and Fork in the Road brands; and operates quick serve restaurants primarily under the brand names of Arbys, Burger King, Dunkin' Donuts, Pizza Hut, Popeyes Chicken & Biscuits, Starbucks Coffee, Subway, and Taco Bell. The company also operates truck repair and maintenance facilities, which offer maintenance and emergency repair and road services ranging from basic services, such as oil changes and tire repair to specialty services, including diagnostics and repair of air conditioning, air brakes, and electrical systems.
TA offers travel and convenience stores that provide packaged food and snack items, beverages, non-prescription drug and beauty supplies, batteries, automobile accessories, music and video products, as well as laundry supplies, clothing, truck accessories, and a selection of electronics. The company's website is a must-see so potential investor can evaluate all the additional ways TA can turn a profit.
As of October 8, 2012, it operated and franchised 241 travel centers in 41 states and in Canada under the TA and Petro Stopping Center brand names. The company was founded in 1992 and is based in Westlake, Ohio.
CEO and President Thomas O'Brien owns nearly 1.1 million shares and CFO Andrew Rebholz owns 340,000 shares. In fact 17% of the outstanding shares are owned by insiders and beneficial owners.
As of the quarter ending September 30th, revenues were down 2.50% and year-over-year quarterly earnings growth edged 8.7% lower. That may be about to change.
Anecdotal reports I've been receiving from those who asked to remain anonymous suggest that TA is on a short list of truck stops and travel centers along the most traveled U.S. interstates where CLNE will begin installing its natural gas refilling units. Expectations for increased business in the 4th quarter of 2012 and 2013 are based on lower fuel costs, improving economic conditions and more favorable fuel margins.
Interested investors may find it very useful to read the transcript of the 3rd quarter, 2012 earnings results. TA is trading at a forward (1 year) PE ratio of only 3.59 and a PEG ratio of an extremely low 0.36.
Analysts and myself have an estimated 1-year target price of around $6.25, or about 40% above its current $4.45 share price. It wouldn't surprise me to see this happen by the end of the first half of 2013.
The chart below paints a clear picture of how the RSI recently bottomed and has turned higher along with the shares of TA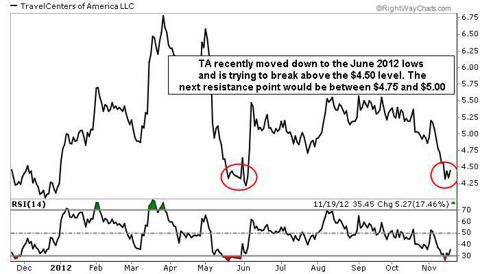 The RSI jumped up 17.46% on November 19th. From a technical standpoint this is very promising. As the chart illustrates, the last time the RSI and stock price was this low in June 2012, shares eventually rallied to above $5.50.
Someday both WPRT and CLNE will "bring home the bacon" with lots of positive cash flow and very profitable quarterly earnings. In the meantime, consider companies like F and TA who are already profitable and are "links in the chain" of natural gas fueled vehicles and the availability of other cleaner, non-petroleum, less costly engine fuels.
Disclosure: I am long GE. I wrote this article myself, and it expresses my own opinions. I am not receiving compensation for it (other than from Seeking Alpha). I have no business relationship with any company whose stock is mentioned in this article.
Additional disclosure: I may initiate a long position in F and TA over the next 72 hours.