The past week has been a terrible one for gold investors. While the recent volatility has been unprecedented, investors who have been on the gold trade for a number of years will not be altogether surprised. We believe the recent weakness in gold and the volatility in gold stocks is being driven by a brewing currency upheaval. We will address the issue of the US strength in next week's report.
The chart below shows the ratio of gold stocks to gold, and shows that gold miners are now as cheap, relative to gold, as they have been in years. We do not expect this situation to persist in the long term.
click to enlarge images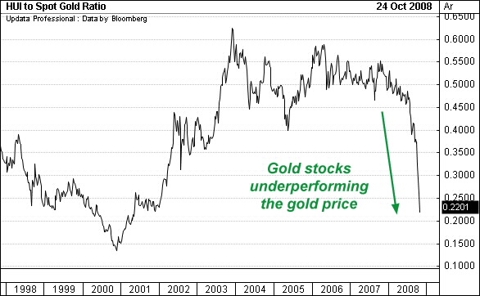 Until then, we can only focus on a gold miner's fundamentals, as the stock market at this point in time is certainly not. Lihir Gold has been one of our favored large cap gold exposures, so we thought it time to look at the reasons behind this viewpoint.
Lihir Gold (LIHR) is Australia's second largest gold producer, behind Newcrest Mining. Despite its size and the increasing attractiveness of gold as an investment, Lihir has in the past struggled to appeal to institutional investors. This has predominantly been due to the fact that Lihir was for years a one mine operation. More to the point, that one mine, on Lihir Island in Papua New Guinea, had a history of operational problems.
But the situation began to change a few years ago when Rio Tinto (RTP) sold its circa 15% stake and new management was installed. Ever since, operational performance has become much more consistent. While this was viewed as a positive, Lihir's problem was that it remained a one mine operation and therefore contained greater inherent risk as an investment proposition. The new management team realized that to attract the big international investors, a diversification strategy was required.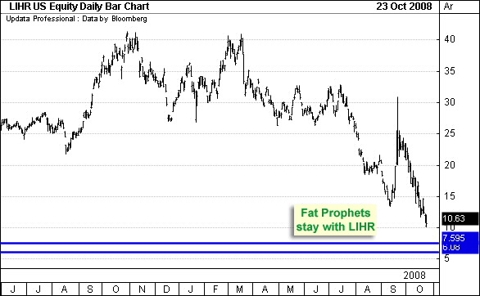 In late 2006, Lihir acquired Ballarat Gold which is now in the initial production stages. The company expects the mine to contribute 250,000 ounces of gold per annum by 2010. Earlier this year Lihir purchased Equigold, with operations in Queensland and an emerging mine in the Cote D'Ivoire, West Africa.
First gold production from the new mine, known as Bonikro, was announced just a few weeks ago. The company anticipates production of around 50,000 ounces in 2008, rising to annual output of 120,000 ounces in subsequent years. More importantly, Bonikro contains enormous exploration potential. The market doesn't care about that right now but at some point, it will.
Operationally, the near term outlook for Lihir remains strong. Gold prices are holding up in an environment of tumbling commodity prices, and with central banks preparing to rain money down on markets, we remain very bullish on gold's long term prospects. We know the gold price has been buffeted in recent weeks and this has confused most gold market followers.
But the reality is that central banks around the world are beginning to lower interest rates over fears of deflation. Sometime in 2009, inflation will make a comeback and gold will be seen as a protector of wealth again. Gold is, after all, the only currency that cannot be debased by the government's printing presses.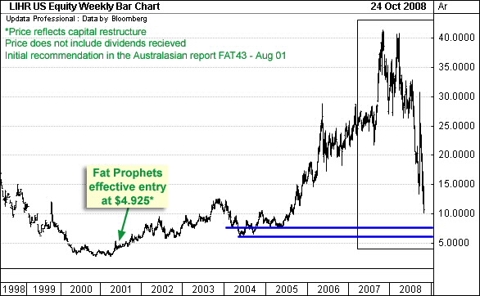 Operationally, however, Lihir still needs to execute on its diversification and growth strategy. The promise is there, but investors want to see the results. Initial evidence of this should come shortly with the release of the company's third quarter operating results.
The company has ambitious production targets for the year to December 2008 and reaching these targets will be crucial in gaining the market's confidence. We will be looking for greater production from the namesake Lihir mine as well as achieving targets at the newly acquired operations in Ballarat, Australia and West Africa. The company should produce around 850,000 ounces of gold this year, and expects to increase production to around 1.2 million ounces by next year.
Despite gold's quality as a safe haven investment, the yellow metal and Lihir have not been spared from the equity market rout. The past few months have been especially volatile, to put it mildly, and we expect this to continue.
From a charting perspective, Lihir Gold remains at risk of a deeper near term retreat. As evident on the daily chart, prices were unable to sustain the sharp rally in September, subsequently falling to a new low of $10.20 this week. The 2005 lows around $7.60 provide the next substantial region of chart based support.
From a broader perspective, the fall of the past four months has clearly broken the longer-term upward trend. In our opinion, several months of base building and consolidation are required ahead of a sustainable revival of upward momentum.
At current prices, Lihir is a worthy inclusion for any portfolio seeking diversified exposure to gold. We remain bullish on gold and believe attempts to reinflate the financial system will increase the supply of paper currency, increasing gold's appeal as a store of wealth. If Lihir can execute on its growth plans, higher revenues and profits will result. However, the short term volatility has been extraordinary and while we believe the stock looks cheap at current levels, that's no impediment to lower prices so we retain our hold recommendation for now.
Disclosure: Author holds a long position in LIHR