Commodity Chart Of The Day
Daily Crude Oil
(click image to enlarge)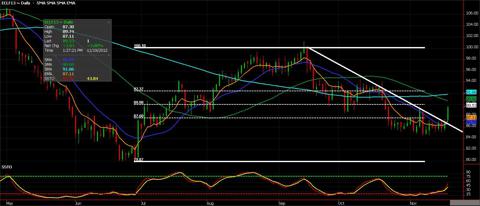 Crude oil futures are higher by 3% as of this post, and have gained nearly $5/barrel in the last week of trading. I've been advising scaling into longs for several weeks now, and it appears the trade forecast is starting to play out. If you notice on the chart today prices are approaching the 50% Fibonacci level, and we got confirmation with a trade above the down sloping trend line.
My recommended play has been scaling into futures, looking to add to the trade on the way up. Also, another possible trade would be long futures against a short out of the money call 1:1. My expectation is that in the coming weeks, we will see futures approach the 61.8% Fibonacci level on this chart, which equates to an additional $2.75-3.00 gain. On open futures showing a profit, trail stops as to not give back too much on a reversal lower. Outside markets are also supportive, with overall bullish sentiment in commodities, a stock market that should see a bounce short term and a dollar that may be rolling over.
Risk Disclaimer: The opinions contained herein are for general information only and not tailored to any specific investor's needs or investment goals. Any opinions expressed in this article are as of the date indicated. Trading futures, options, and Forex involves substantial risk of loss and is not suitable for all investors. Past performance is not necessarily indicative of future results.
Disclosure: I have no positions in any stocks mentioned, and no plans to initiate any positions within the next 72 hours. I wrote this article myself, and it expresses my own opinions. I am not receiving compensation for it. I have no business relationship with any company whose stock is mentioned in this article.