Apple just released a swathe of new products, including the long awaited new iPhone 5, and yet the stock price displays brutal weakness.
The Question: Why is Apple's share price so weak lately?
Like it or not, the simple fact is that Apple's share price does not trade strictly to fundamentals, or even the technicals. The options market is a major part of the reason, and so are the market makers and various funds involved. Tax-related selling is also a big part of the current slingshot. Rephrasing the question will help to point to the answer. That is, how has Apple's share price behaved on other previous iPhone announcements and releases?
There are many related questions. How low can Apple's share price go? How long will it take to get to the lows? How long will it take to get back up to any price level of interest? For example, how long will it take to return to the iPhone 5's pre-announcement price of $666? Also how long will Apple's share price take to return to the iPhone 5's post-announcement high price of $705?
If you are feeling quite comfortable with Apple's share price behavior lately and trading profitably, then the discovery I have made will only enhance your position. If, like most, you are feeling uncomfortable with the recent Apple share price weakness - and losing money - then read on.
The past does not guarantee the future, but history definitely repeats.
The Search for an Answer
First, let's have a little fun. Let's see what your expectations may have been up until reading this article. What do you imagine the stock price chart for 20 trading days before and after a great product like an iPhone being announced and released looks like? Something like this?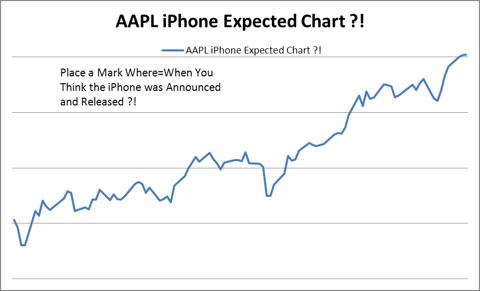 That is a squiggly line drifting up from the lower left hand side to the upper right hand side. This example is actually a part of the current iPhone 5 chart.
OK, now here is a part of the price chart for the last iPhone, the iPhone 4S. Not what you may have expected. Anyway again, for fun, where do you imagine the iPhone Announcement day was?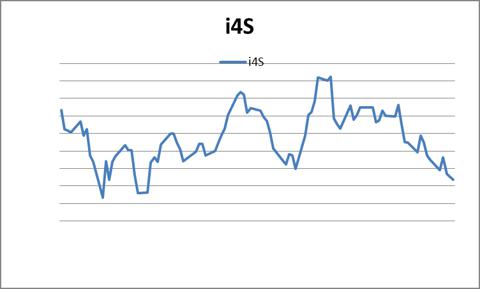 Now here is that same chart with the iPhone Announcement day indicated by the black arrow. How did you fare?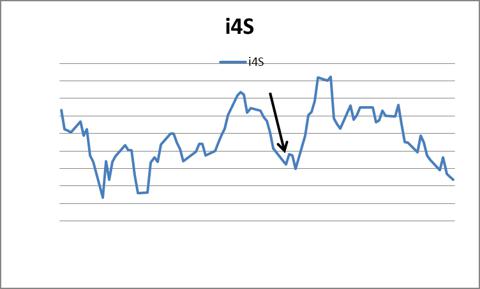 How does this compare with your expectations? It is not the sanguine, rosy, up-up-and-away many expect.
Can you observe anything remarkable in the chart?
The answer starts to emerge.
For starters, there is a short term pop, but then even for a period, actually up to 2 months after the iPhone Announcement day, Apple's share price is about the same as before the Announcement! Astounding! In fact, my data shows that the three most initially comparable iPhone releases on average took almost three calendar months to reclaim that short term post-announcement day high. Which means that Apples share price is not expected to reclaim $700 for three calendar months from the 12th September announcement! That is on average Apple's share price would not be expected to reach $700 before the 12th of December.
However, the present case is now worse than the average. Four main factors in addition to this discovered typical post iPhone release weakness are weighing heavily on Apple's share price too. These four factors are: 1, the fiscal cliff, and 2, tax-selling, leading to 3, momentum and portfolio readjustment weakness, as well as 4, the huge January call options overhang. On this last factor, the January option call open Interest currently has over 160,000 contracts registered around the $650 strike. There is no data to support the share price mounting such a huge barrier. 20,000 and 30,000 contracts usually is enough to suppress the share price.
I also calculate in real-time the full option markets "book" parameters. These parameters suggest where the Option market makers would prefer the Apple share price to close on option expiry is usually in the vicinity of the minimum cost or minimum In-The-Money value of the book. The current estimated minimum ITM dollar value is just under $600.! It is not impossible for Apple's share price to close over this $600 mark, but an indication with the huge Call OI at the $650 strike that Apple's share price will be considerably contained until 1. the fiscal cliff is solved, and 2. the new tax year begins, and importantly until 3. the January option expiry is passed.
I am not a perma-bear; however, my point is clear. In contrast to these discovered facts much of the media, the Twitter stream and our natural expectations for a stock and product such as Apple and its iPhones are "unrealistically" bullish or just "bull." Fundamentals mean nothing here, and sentiment and technical analysis is almost equally lost. There will come a time to load up on what is undoubtedly one of the world's strongest companies. That time is not now. That time is coming.
Indeed the recent bear market tag placed on Apple's share price becomes shockingly understandable. Knowledge is power. Even more importantly for those in the markets, the right knowledge is risk reduced, losses averted and money saved or gained.
Eureka! At a glance, you will for the first time realize what Apple's share price is doing, has done, and more importantly may do. To plan trades requires more data and details. For this data including the average exact number of days to the exact percent highs and lows that have occurred, to help navigate through this period, and the relative times and price levels that have occurred as a guide to the ranges you may expect, contact me via the means outlined in my profile.
Critical in these uncertain times, benchmark Apple's share price behavior from now on instead of being bewildered and misled.
Disclosure: I have no positions in any stocks mentioned, and no plans to initiate any positions within the next 72 hours. I wrote this article myself, and it expresses my own opinions. I am not receiving compensation for it. I have no business relationship with any company whose stock is mentioned in this article.