VIX - Market Sentiment:
S&P futures were moving higher on Monday as no news was apparently good news sending the market higher. Today we saw a massive 27 handle move sending the boarder markets higher closing up almost 2% on the day. Again for those who followed my Apple (NASDAQ:AAPL) trade on twitter last week this was closed today for a large 50% gain. The signal for me was the NYMO reading of -92.71 as reported on the sonar report last Friday (here). The NYMO Oscillator closing yesterday with a reading of -54.48 showing the short term bounce could be met with some upcoming selling.
The spot CBOE Volatility Index (VIX) was crushed today on this positive move down more than 7.1% to a reading of 15.24. Futures were also crushed sending volatility ETF (NYSEARCA:VXX), 2x ETF (NASDAQ:TVIX), and alternative 2x ETF (NYSEARCA:UVXY) down hard. Front month futures again moved significantly higher before being slammed back down as futures were again sold down. The biggest block trade today was a big buyer of the December 24 calls which traded more than 130K times. This appears to have been a closing short position and will more than likely see the OI drop tomorrow from the 197.5K currently active contracts. This is very typical as traders who were short volatility on large up days would cover taking their risk off the table. A massive 1.1M contracts traded today on the VIX almost 2.5x average daily volume. Just take a look at the premiums and delta sold on both contracts today.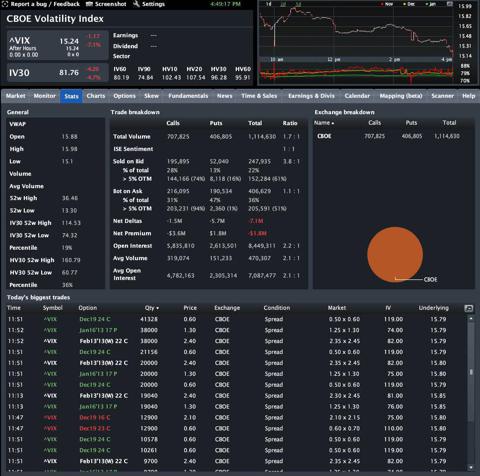 Statistics and Screenshot Provided By LiveVol
VIX futures are below.
Yesterday
· November VIX futures 17.80
· December VIX futures 18.90
· January VIX futures 19.90
Today
· November VIX futures 15.30
· December VIX futures 16.63
· January VIX futures 18.85
Options Paper:
The options market saw just a hair more than 15.1M contracts trade today. I personally was happy today to see some more bullish paper come out on a name I've been long - Whiting Petroleum (NYSE:WLL). This name ripped higher on speculation of a takeover but unfortunately I was greedy and did not sell calls to lock in gains. However, today has my position moving higher yet again as a 10K block risk reversal was initiated by one WLL bull. The sale of 10K of the January 40 strike puts went off collecting 1.35 on the trade. The proceeds were then used to buy 10K of the January 50 strike calls for a net debit of 1.25 allowing the trader to collect 100K. This effectively would force the trader to buy 1M shares at an effective price of 39.90 believing there is a floor in the stock. The upside on this trade however would profit greatly if WLL ramped higher into the January expiration. This trade sent the stock spiking higher after the execution time of 1:23. Today options activity was more than 5x average daily volume.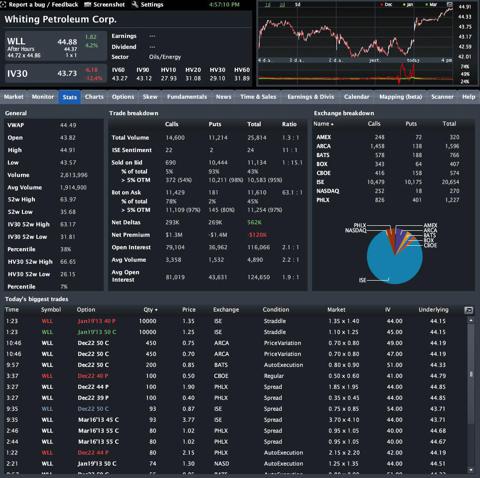 Statistics and Screenshot Provided By LiveVol
LeapFrog (NYSE:LF) also saw some bullish paper today as more than 3.1K of the December 7.5 strike calls were gobbled up. The calls were clearly bought sending premiums rocketing from .60 to .80 which did not allow me to get a fill today. Shortly after the bell today calls were being bought sending the stock higher by 8.8%. The liquidity is not good in a name like this so for those looking to play you must use limit orders. Calls outnumbered puts more than 11.5 to 1 today on 3x average daily volume.
Popular ETFs and equity names with bullish/bearish paper:
Bullish Option Flows - ISE And Percent OTM calls bought on offer
Solazyme (SZYM) 95% of 3.7K calls
MBIA (NYSE:MBI) 70% of 8.3K calls traded
Sanchez Energy (NYSE:SN) 2.6K calls bought
Avon Products (NYSE:AVP) I'm not a fan but 7.8 OTM calls bought
Applied Materials (NASDAQ:AMAT) 2.7K calls bought
Molycorp (MCP) 40% of 27K or 11K of OTM calls were bought on the ask
Bearish Option Flows - ISE And Percent OTM puts bought on offer
Southwest (NYSE:LUV) 18K+ OTM puts bought on ask looking for a pullback looks tied to stock.
Elan Corp (NYSE:ELN) 2.5K puts bought
Charles Schwab (NYSE:SCHW) 15K puts bought
Electronic Arts (NASDAQ:EA) not really clear as calls and puts both bought but puts outnumber
As always happy trading and stay hedged.
Remember equity insurance always looks expensive until you need it!
Disclosure:
I am long: AGNC, APC, KERX, MTGE, WLL
I am short: FXE,
Trades today:
Entered and Exited AAPL long and SDS short
Disclaimer: The opinions in this document are for informational and educational purposes only and should not be construed as a recommendation to buy or sell the stocks mentioned or to solicit transactions or clients. Past performance of the companies discussed may not continue and the companies may not achieve the earnings growth as predicted. The information in this document is believed to be accurate, but under no circumstances should a person act upon the information contained within. I do not recommend that anyone act upon any investment information without first consulting an investment professional as to the suitability of such investments for his or her specific situation.
Disclosure: I have no positions in any stocks mentioned, and no plans to initiate any positions within the next 72 hours. I wrote this article myself, and it expresses my own opinions. I am not receiving compensation for it (other than from Seeking Alpha). I have no business relationship with any company whose stock is mentioned in this article.