While we were pleased that Dell Inc (NASDAQ:DELL) decided to suck it up, admit its age and begin paying dividends to shareholders, we don't believe that will divert investors from the fact that Dell is disappearing into irrelevance. We see that despite spending nearly $7.3B in acquisitions over the last 21 months, Dell's revenue continues to crumble and collapse like the Old Man of the Mountain (down 7.4% year-over-year in YTD 2013 versus the prior year period). Unfortunately, Dell's revenue declines are leading to profit declines and clearly Dell is the "Old Man of the Technology Industry". We can see why David Einhorn cut Greenlight Capital's losses on Dell in Q2 2012. Dodge & Cox (24M) and Southeastern Asset Management (130M) stubbornly held on to its positions and unfortunately have an front row seat to see Dell's share price shriveling up due to sagging sales results.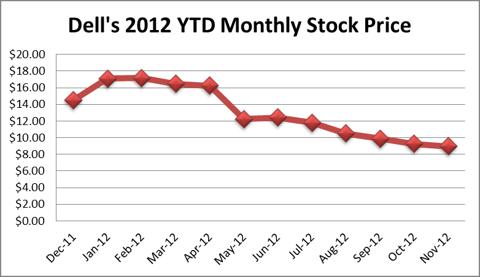 Source: Morningstar Direct
Corporate and Business Highlights and Lowlights (Mostly Lowlights)
As we mentioned, Dell's revenue in YTD 2013 declined by 7.42% versus YTD 2012 and its Q3 2013 revenue declined by 10.7% versus the prior year's period. While the company had partially offset its revenue declines with cuts in the cost of products and services sold as well as operating and administrative expenses, the cuts were not enough to offset the revenue declines and Dell had a 48% operating income decline in Q3 2013 versus the Q3 2012 period. Dell's YTD 2013 operating income declined by 34% and although the firm benefited from a 6% reduction in outstanding shares year-over-year, the company's H1 EPS still declined by 28%. Dell saw a 1-23% year-over-year revenue decline in Q3 2013 in all four of its Global Client Reporting Segments (Large Enterprise, Public Sector, Small and Mid-Size Business and Consumer) and four out of its Product Category Segments (Storage, Software and Peripherals, Mobility and Desktop PCs) saw year-over year revenue declines in the quarter. Dell's Servers and Networking and Services businesses saw 9% and 2% year-over-year revenue increases due to acquisitions. All of Dell's Global Client Reports segments saw operating income decline from 5% to 166% year-over-year. Dell's Consumer segment swung from a $99M profit in Q3 2012 to a $65M loss in Q3 2013.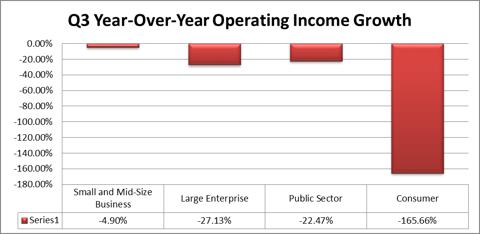 Source: Dell's Q3 2013 Earnings Release
Outlook
We love adjusted EPS projections and usage. Because of the use of adjusted EPS by Dell and its analysts, it was able to report adjusted EPS of $.39, which met the consensus estimates of the analyst community. The good news is that the company expects sequential revenue growth of 2-5% in Q4 2013 versus Q3 2013 for implied revenue guidance of $14.7B-$15.2B. We guess that the $7.3B acquisition spree over the last 21 months has finally generated some incremental growth. The bad news is that it will still represent a 5-8% revenue decline versus Q4 2012 levels. Dell is sticking to its FY 2013 Adjusted EPS estimate of $1.70. This compared negatively to the $2.13 earned last year and the $1.94 that analysts were previously forecasting. Analysts also cut their estimates for FY 2014 to $1.92 recently from the $2.07 over the last 90 days.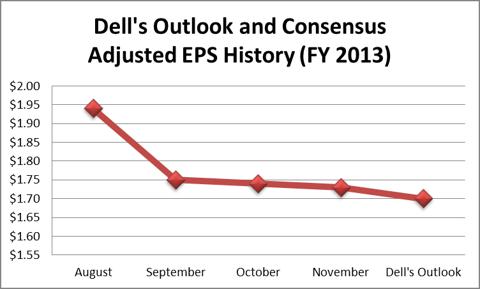 Source: FactSet Marquee
Corporate Asset Management & Valuation
While we are happy to see that Dell reduced its CapEx budget by nearly 25% for YTD 2013 versus YTD 2012 as well as its payment of $314M in outstanding debt and its willingness to initiate a dividend beginning in Q3 2013, we are displeased with its acquisition spree. We think Dell is making a mistake by trying to fight its maturing corporate self by spending billions of dollars on acquiring every Tom, Dick and Harry in the tech world. Although Dell paid its first dividend of $.08/share in Q3 2013, it has been little comfort to Dell's investors who have seen their shares drop by 34% in 2012. The good news for Dell is that its outstanding share count has declined from 2.644B shares in 2003 to 1.742B shares in Q3 2013. Unfortunately, Dell's average cost to repurchase shares was around $24.39, based on the $22B spent on repurchases over the last 10+ years to reduce 902M net diluted shares outstanding, which compares unfavorably with the $8.88 price that Dell's shares were trading at on Friday November 16th.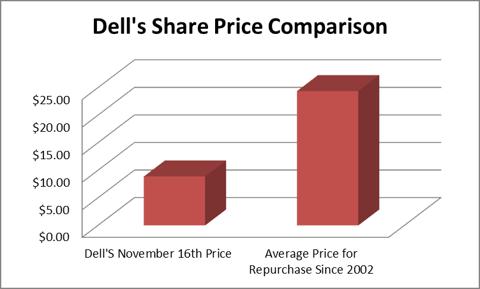 Source: Morningstar Direct
NOTABLE DELL SHAREHOLDERS
The most notable past and present shareholder to us is David Einhorn of Greenlight Capital. We considered taking a position in Dell at the beginning of the year because Greenlight had entered into a position in Q4 2011. Greenlight's position in Dell peaked at 14M in Q4 2011 and Greenlight sold it off in Q2 2012. Although Greenlight took a loss on the position, it is useful to comment on because it reinforces the need for investors to sometimes know when to cut their losses. Other notable value-oriented investment managers like Dodge & Cox and Southeastern Asset Management (Longleaf Partners) had larger stakes in Dell and did not seem to know when to cut their losses. In the case of Southeastern Asset Management, its stake in Dell Inc accounted for 4.3% of its firm-wide assets under management and was a significant contributor to the underperformance of the Longleaf Partners Fund.
CONCLUSION
In conclusion, we are not fans of the traditional personal computer segment and we believe that Dell and Hewlett-Packard (NYSE:HPQ) will continue to struggle. Although we believe that HP has a slightly better chance to turn itself around, we believe that HP beating Dell is on par with Warwick Leprechaun Davis saying that he's taller than Verne Mini-Me Troyer. Considering that both companies are basically midgets in comparison to the competition, it doesn't really matter which one wins this "epic struggle of sagging PC makers". We see both firms continuing to struggle due to the declining demand for traditional PC computers. The good news about investing in Dell is that it pays a dividend and has realized that it has gotten a bit long in the tooth. The bad news is that it things it can grow its way back to the top via acquisitions. We noticed that Dell does not issue pro forma financial results that show the results of the combined company assuming the acquisition took place at the beginning of the year. It's a good thing that it doesn't because we expect the results to be worse that what it reported. Not including this pro forma adjustment assuming the acquisitions took place at the beginning of the year is probably the one reason why we miss pooling-of-interests accounting because we believe that method of accounting had a valid use in that we could see how the combined enterprise would have performed at the beginning of the period assuming it combined then.
Disclosure: I have no positions in any stocks mentioned, and no plans to initiate any positions within the next 72 hours. I wrote this article myself, and it expresses my own opinions. I am not receiving compensation for it (other than from Seeking Alpha). I have no business relationship with any company whose stock is mentioned in this article.
Additional disclosure: This article was written by an analyst at Saibus Research. Saibus Research has not received compensation directly or indirectly for expressing the recommendation in this article. We have no business relationship with any company whose stock is mentioned in this article. Under no circumstances must this report be considered an offer to buy, sell, subscribe for or trade securities or other instruments.