On November 13th, Cisco Systems (NASDAQ:CSCO) announced better than expected earnings results and offered a conservative forward outlook with a revenue midpoint in line with expectations. Cisco's adjusted non-GAAP EPS of $.48 exceeded consensus analyst estimates by 4.35%, and the best part of the company's results was that it reported nearly $69M less in "adjustments to GAAP cost of goods sold and operating expenses in Q1 2013 versus Q1 2013 levels." The company generated 5.5% sales growth in Q1 2013 versus prior year levels. This was higher than the 4.4% achieved in Q4 2012, and this variance was due to the company completing the acquisition of NDS Group, Ltd. The company was able to generate positive operating leverage from its many corporate restructuring programs, and this resulted in flat growth in its operating expenses on a non-GAAP adjusted basis and declining by nearly 2% on a GAAP-reported basis. This enabled the company generate an 11.6% boost in its operating EPS and an 18.2% in its reported EPS, as well as minimizing the disparity between GAAP and operating EPS. CSCO increased its dividend by 75% after it released its Q4 2012 EPS and it took effect in Q1 2013. The company also repurchased nearly $255M worth of its shares during the quarter on top of its $744M in dividends paid, representing over 45% of its $2.2B in free cash flows.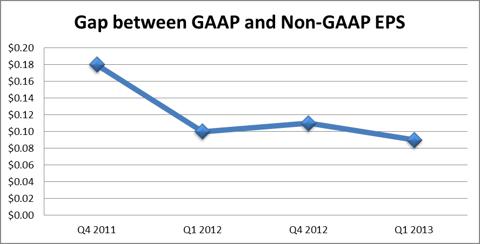 Sources: Cisco's Q4 2012 and Q1 2013 Financial Reports
Products and Services: CSCO's switching revenue declined by 2%, and we were pleased to see stability in this product's gross margins. Gross margin levels on CSCO's switching products improved in Q1 2013 versus Q1 2012 and have continuously improved over the last 12 months. Routing revenue declined by 2% due to weakness in EMEA, especially the service provider sector there and declines in optical networking due to product migration to faster speeds. Collaboration revenue declined by 8% in Q1 2013 due to elevated sales levels achieved in Q1 2012 as well as challenges in Cisco's TelePresence business. TelePresence saw declines in the mid-teens due to a 30% year-over-year decline in U.S. Federal TelePresence spending. Cisco's Wireless Product line had a very strong quarter, with revenue up 38%. Wireless product revenue benefited from strong growth throughout its portfolio led by the 3600 series, outdoor access points and high-end controllers. Security revenue was up 6%, reflecting the growing requirements of security and cloud, as well as BYOD deployment. CSCO's data center business had strong growth with revenues up 61%, bolstering CSCO's data center strategy by focusing on innovation and its convert stock architectural approach to meet the networking and computing needs of its customers.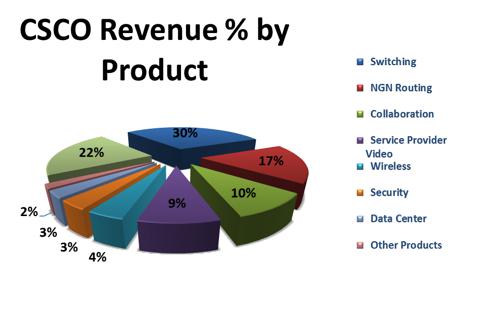 Source: Cisco Q1 2013 Product Revenue Supplement
Cash Management: We were pleased to see Cisco boost its per share dividend 75% from $.08 to $.14, and it explicitly stated that it would be returning a minimum of 50% of its annual free cash flows to shareholders through dividends and share repurchases. Although Cisco missed this target in Q1 2013, the company ended up returning 45% of its cash flows to shareholders through dividends and net share repurchases. If we were to measure Cisco meeting this target by taking into account gross share repurchases, then Cisco met the 50% target offering in its Q4 2012 conference call. We had a mixed opinion on the company's acquisition of NDS Group Ltd. Cisco's rationale for the deal was that it would add NDS' leading software solutions and systems integration expertise to accelerate the growth of the Cisco Videoscape platform. Despite the fact that Cisco's management says it would be accretive to Cisco's adjusted EPS in FY 2013, the $4.9B price tag seems a bit rich for our tastes. NDS' revenue growth was quite pedestrian from 2007 to the first half of its FY 2012, and interest expenses ate up more than half of its operating income in FY 2011 and FY 2012. Although Cisco paid cash and used foreign source cash to do the deal since NDS was incorporated in the U.K., we're amused that Cisco would spend $4.9B to pay 19.6X operating earnings in order to acquire NDS when its adjusted PE is less than 9.5X TTM EPS.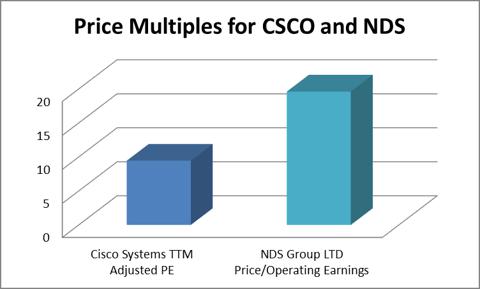 Source: Morningstar Direct and NDS's F-1 Registration Form
While the company has already been effectively paying 50% or more of its free cash flows to shareholders in the form of dividends and share repurchases since 2002, we appreciated the explicit guidance from management in its Q4 conference call. Cisco returned $1B in free cash flows to shareholders through $744M in dividends and $269M in net share repurchases during Q1 2013. We stress net share repurchases rather than gross repurchases because many companies use share repurchase programs merely to offset options issuance. We have no problem with companies replacing share repurchase programs with dividends because some firms sometimes buy back shares without regard for the intrinsic value of the shares. Cisco has $45B worth of cash, cash equivalents and investments as of the end of Q1 2013. Of this total balance, approximately $7.5B was attributed to its US domiciled operations.
Cisco's CEO John Chambers previously touched upon how the tax code encourages companies like Cisco and other tech firms to attribute as much resources as possible to captive foreign subsidiaries in offshore locations.however if the company repatriates the foreign source income to the US, the company is liable for up to 35% federal corporate profits tax, plus state and local taxes. That is why Cisco and other tech giants have large cash balances, yet are cautious with regards to returning cash to shareholders. We previously wrote about how sometimes some of these tech titans may want to bite the bullet and return foreign source cash to shareholders, even though it will be subject to up to 35% corporate income repatriation tax. Our thesis was that based on the poor returns associated with the foreign source cash, and based on the tendency to overpay for potential deals from hell (such as H-P's acquisition of Autonomy PLC), it might be worth it for shareholders of the tech companies to have the firms pay the taxes and return the net proceeds to shareholders.
Valuation: While Cisco's PE of over 125X EPS in 2000 was absolutely ridiculous and unsustainable, we cannot ignore the fact that its Adjusted PE is now 9.44X its trailing 12 month adjusted EPS and 9X its forward 12 month adjusted EPS. CSCO's adjusted EPS is expected to grow by 5% in FY 2013 and 9% over the next five years, according to Zack's Investment Research on the strength of a 4.5% revenue growth, positive operating leverage and net share repurchases during this period. Cisco increased its quarterly dividend per share distributions by 75% from $.08 in Q4 2012 to $.14 in Q1 2013, and although we don't believe that the company will repeat this percentage level of dividend growth in future years, we believe that it would be inexcusable for the company to increase its future dividends at a rate of less than 10% annually. Cisco's adjusted TTM PE is less than 9.5X, while Juniper Networks (NYSE:JNPR) is sporting an adjusted TTM PE of 19.6X. Although Alcatel-Lucent's (ALU) adjusted TTM PE ratio of 4.5X is significantly lower than Cisco's, Cisco did not post losses in its last two quarters, and Cisco's home market didn't just raise tax income tax rates to 75% like Alcatel-Lucent's home market of France.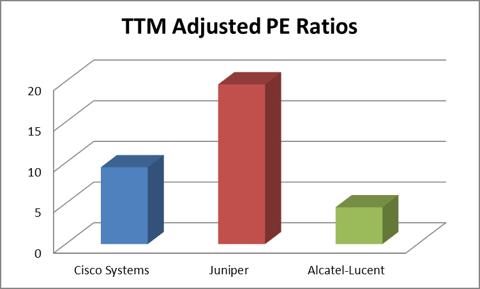 Source: Morningstar Direct
Conclusion: In conclusion, we are pleased that Cisco was able to generate nearly $2.1B in Net Income for FY 2012. Cisco's $8.041B in GAAP-basis net income was only $11M off its all-time high set in 2008. We can see why Cisco's stock was bid up by 9% on August 16th, which was the first day of trading for the company after it released its results. For years, we had been shocked at how Cisco has been stagnating and meandering as a company. While the Cisco Kid may not regain the youthful exuberance that it enjoyed during the 1990s, we believe that patient value investors should keep Cisco in mind. We were especially pleased to see it boost its dividend by 75%, and we believe that we will see more disciplined capital allocation by the company going forward. We also believe that while Cisco sees macroeconomic headwinds, it will continue to take steps necessary to enhance shareholder value. While Cisco circa 2012 isn't the Cisco Kid of 2000, at least it is still much stronger than Juniper and Alcatel-Lucent. We came to that conclusion because Cisco's most recent quarterly revenue of $11.9B is about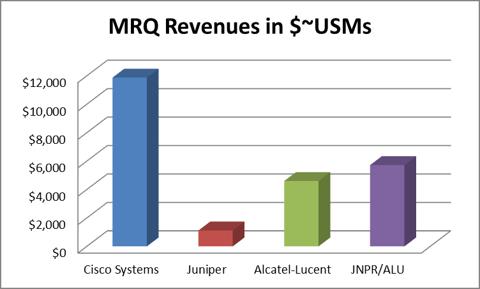 Source: Morningstar Direct
Disclosure: I have no positions in any stocks mentioned, and no plans to initiate any positions within the next 72 hours. I wrote this article myself, and it expresses my own opinions. I am not receiving compensation for it (other than from Seeking Alpha). I have no business relationship with any company whose stock is mentioned in this article.
Additional disclosure: This article was written by an analyst at Saibus Research. Saibus Research has not received compensation directly or indirectly for expressing the recommendation in this article. We have no business relationship with any company whose stock is mentioned in this article. Under no circumstances must this report be considered an offer to buy, sell, subscribe for or trade securities or other instruments.