Over $800 billion has left equities since the election, putting a bearish spin on the markets with the "fiscal cliff" looming and some poor data, the market became drastically oversold. Confidence that the US government talks will resolve the tax increases and spending cuts that will come due the first of year boosted the indices with a "risk on" atmosphere.
The Senate and House of Representatives embarked on their opening negotiations regarding the "fiscal cliff" and they were considered constructive at the November 16th meeting. From now until the year's end, budget negotiations will impact the sentiment in the markets. Of course, the plans will have to actually materialize before any real tension is taken out of the marketplace.
Without a compromise, it is possible the tax increases and spending cuts could cause the US GDP to contract 0.5% in 2013 and/or possibly increase unemployment to 9.1%. Fitch's credit rating agency has warned the US could possibly be downgraded next year unless the budget deal is finalized and the debt ceiling is raised in time. Standard & Poor's credit rating agency downgraded the US in August of 2011 creating quite an impact in the marketplace. Moody's credit rating agency warns that a convincing sustainable solution must be implemented for the US to keep their AAA with them.
US President Barack Obama has invited top leaders to the White House to discuss plans to thwart any nosedives from the "fiscal cliff". He is seeking about $1.6 trillion in tax revenue through increases. US Treasury Secretary Timothy Geithner remarked that it should be possible to avoid the "fiscal cliff". Any potential early agreements may possibly bring the allocations back from the Treasuries into the indices as we have about 41 days to go until we reach the "cliff".
The US Federal budget deficit widened to $120.00 billion in October while forecasts were for a $113.00 billion budget deficit. For 2012, the budget deficit was over $1 trillion for the fourth year in a row. US debt topped $16 trillion and the forecast for 2013 is at about $990.56 billion so far. Outlays for defense may have contributed to the numbers as the US military anticipated the contraction in outlays going forward and ordered more than usual.
The Federal Open Market Committee reviewed the minutes of the last policy meeting surmising that easing has helped the US economy. They simply confirmed their $40 billion purchases of mortgage-backed securities and Operation Twist is in effect until year's end. They want to keep interest rates low possibly through 2015 and noted any increase in inflation should be minimal. Their last policy meeting of the year is December 11th - 12th. It is possible that they may still extend Operation Twist into 2013.
To add to the recent concerns, Israel launched an airstrike in the Middle East killing a Hamas leader. Concerns over conflict in the Middle East may keep the marketplace in a cautious atmosphere for the near-term. The Israeli government is prepared to take further action against Gaza should trouble ensue. The Palestinian militants launched missile attacks into Israel which may trigger a reprisal of a ground attack by Israel. This potential conflict may have investors flocking to the safe-haven assets such as Treasuries.
Crude oil had fallen in light of light demand as growth has slowed in the US, Euro Zone and China. With the potential escalation of conflict, the energies may rally back to their previous levels. The European Union has called for a cease fire in the Gaza/Israeli conflict. Each side is open to negotiations but believes that any concessions must come from the other side. Casualties of civilians are growing and it is hoped that Egypt may negotiate a cease fire between the two.
US Existing Home Sales increased 2.1% to 4.79 million units annual rate while the previous reading was at 4.69 million units annual rate. The inventory on previously owned homes decreased to 2.14 million units which could portend a shortage for next year. The average sales price was $178,600, up 11.1 % from the previous $160,800 of last year. The National Association of Home Builders reported the housing market index increased 5 points to 46 in November. Anything over 50 would be considered good.
US Industrial Production decreased -0.4% in October while the previous month was +0.2%. US Capacity Utilization was at 77.8% for October while the previous month was at 78.2%. The last Institute for Supply Management showed an increase to 51.7 in October while the previous month was at 51.5. Any number over 50 points to expansion.
Last week, the US road to recovery hit another snag as US Initial Jobless Claims report increased by 78,000 people filing for unemployment benefits to 439,000. This may be in part due to Hurricane Sandy. The storm wreaked havoc on the eastern coast derailing transportation service, creating power outages and leaving destruction along its path which may take a while to total.
US Real Average Weekly Earnings decreased 0.2% in October. US October Consumer Price Index increased +0.1% while the previous reading was at +0.6%. The core index was at +0.2% while the previous reading was at +0.1%. The energy portion of the report was at -0.2% while the previous reading was at +4.5%. US New York Manufacturing Index Empire State Business Conditions increased to -5.22 in November while the previous reading was at -6.16. Anything under 0 is regarded as contracting.
The US Philadelphia Fed Economic Index decreased to -10.7 in November from 5.7 the previous month. US Retail Sales decreased -0.3% last month to a seasonally adjusted $411.59 billion perhaps due in part to Hurricane Sandy impairing shopping in the midst of disastrous weather conditions. Building material sales decreased by 1.9%. Automobile sales and parts decreased 1.5%. Ford Motor (NYSE:F) forecast lost sales of 20,000 to 25,000 vehicles while Toyota (NYSE:TM) expected losses around 30,000.
Increases were noted at gas stations +1.4% and food/beverage stores +0.8%. US Wholesale Prices decreased to -0.2%. US October Producer Price Index decreased a seasonally adjusted 0.2%. US September Business Inventories increased by +0.7% to a seasonally adjusted $1.613 trillion while the sales portion increased 1.4% to a seasonally adjusted $1.264 trillion. The business inventories increase put a more positive slant on the economy as retailers anticipate more demand by stocking the shelves.
Wednesday, US Leading Indicators is forecast at 0.2% while the previous reading was at 0.6%. US Consumer Sentiment is forecast at 84.0 while the previous reading was at 84.9. US PMI is forecast at 51.0 while the previous reading was 51.3. US Initial Jobless Claims is forecast at 415,000 while the previous reading was 439,000.The labor sector is still weak, but the dilemma of the fiscal cliff has taken a precedence in the marketplace!
The troika, made up of the International Monetary Fund (IMF), the European Central Bank (ECB) and the European Commission (EC) are now considering a moratorium on the repayments of Greece's debts for ten years. The European leaders meet tomorrow in Brussels to discuss how to keep Greece afloat. The Greek 10-year bonds have a yield of 17.22%. Price stability is the mandate for the ECB and both Spain and Greece have an unemployment rate over 25%. The Germans have skirted the issue of write-downs on the Greek loans to Greece, but now they may have to discuss the possibilities next week.
GDP in the Euro Zone decreased to 0.1% from the previous quarter as the recession intensifies. European Central Bank President Mario Draghi has reflected his satisfaction with the "visible progress" made noting his views on inflation remaining moderate or under 2 % potentially. Interest rates in the Euro Zone were kept unchanged at 0.75% by the ECB and 0.5% by the Bank of England. The Euro Zone industrial production for September decreased 2.5%. Greece has been granted their two-year extension until 2016 to bring their budget deficit down to 2% of their GDP.
Greece may be granted $44 billion euros. The full sustainable reform package has not been reached by the troika and Greece to date. The troika is made up of the European Central Bank, the European Commission and the International Monetary Fund . The troika imagines Greece's GDP to be made up of about 144% debt by 2020 if the resolve is not found. The IMF and Euro Zone have loaned Greece about $148.6 billion euros to date while the ECB has purchased bonds and private investors have been written off for about $100 billion euros or more to date.
On the stock side - last traded: JP Morgan Chase and Co. (NYSE:JPM) was up 2.71 % to $40.60. Citigroup Inc. (NYSE:C) was up 3.14 % to $36.08. Bank of America (NYSE:BAC) was up 3.95 % to $9.48. Alcoa Inc. (NYSE:AA) was up 1.71 % at $8.32. Boeing Co. (NYSE:BA) was up 0.68 % to $71.25. Caterpillar Inc. (NYSE:CAT) was up 2.01 % to $83.58. General Electric Co. (NYSE:GE) was up 2.33 % to $20.62. Halliburton Co. (NYSE:HAL) was up 2.92 % to $31.35. Hewlett Packard Co. (NYSE:HPQ) was up 3.74 % to $13.33. SPDR Select Sector Fund - Financial (NYSEARCA:XLF) was up 1.77 % to $15.55.
E-Mini S&P 500 Chart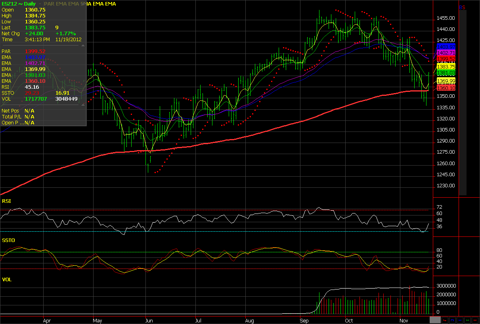 Click to enlarge
Tuesday, what to expect? We maintain a bearish bias unless the (December) E-Mini S&P 500 penetrates $1399.50. Tuesday, we anticipate an inside to higher day. Monday's range was $1385.75 - $1360.25. The market settled at $1382.50. Our comfort zone or point of control for this market is $1373.50. Our anticipated range for today's trading is $1395.50 - $1360.50.
Disclosure: I have no positions in any stocks mentioned, and no plans to initiate any positions within the next 72 hours. I wrote this article myself, and it expresses my own opinions. I am not receiving compensation for it. I have no business relationship with any company whose stock is mentioned in this article.