I can't help but say I was one of those that was surprised when Intel (NASDAQ:INTC) announced Monday morning that CEO Paul Otellini was retiring. The news appeared out of left field, and the stock was halted, not opening for trade until 9:45 AM. After a sharp drop that put shares at a new 52-week low, Intel shares rebounded a bit. After spending most of the day in negative territory, a late day rally helped shares finish up 6 cents, or 0.3%, to $20.25. There are certainly those out there that believe this is bad news for the company. Today, I'll recap some of the details behind the news and show where Intel stands currently.
Overview of the announcement:
Otellini was just the fifth CEO in the company's history, and took his job back in 2005. He will step aside at the company's annual stockholders meeting in May, meaning Intel has about six months to find a new leader. The following are just some of the highlights that the company was able to achieve under his leadership:
Delivered the first smartphones and tablets for sale with Intel inside.
Greatly expanded business partnerships and made strategic acquisitions that expanded Intel's presence in security, software and mobile communication.
Grew the vast network of cloud-based computing built on Intel products.
Intel also was able to rapidly grow the business under Otellini, with annual revenue growing from $38.8 billion to $54 billion. During that time period, Intel generated $107 billion in cash from operations. That allowed the company to pay $23.5 billion in dividend payments, and the quarterly dividend has increased from $0.08 to $0.225 over that time.
List of possible candidates:
With Intel needing a new CEO by May, I would think that Intel will use one of its next two earnings reports, mid-January or mid-April, to name the new leader. It might be a bit of a rush to conduct an entire search process in the next roughly two months, especially given the upcoming holiday season. The one advantage of naming a successor in January, especially if they are an external candidate, is that it would allow about four months for the person to transition into the position. But if Intel names someone already inside the company to the position, they probably are someone who knows the business quite well. At that point, making the announcement during the April earnings report would probably be fine.
So who will take over? Well, here's a good breakdown of the candidates. The internal candidates include the following:
David (Dadi) Perlmutter: The current Chief Product Officer. He seems to know the inside of Intel fairly well, but isn't the best person for the external relations part of the job.
Brian Krzanich: Currently serves as Chief Operating Officer. He would be the internal favorite, and every CEO since Andy Grove has been COO first. He's been with the company for 30 years.
Stacy Smith - Currently the Chief Financial Officer. Otellini had an economics degree and an MBA, and Smith has an MBA as well. He's the one you see a lot of times on CNBC discussing Intel's quarterly results.
Those three appear to be the inside favorites for the position. However, there are two powerful women to consider as well. Don't forget, IBM (NYSE:IBM) and Hewlett Packard (NYSE:HPQ) both have female leaders, so it wouldn't be a stretch for Intel to as well. Both of these names may not make the cut this time, but could be the next successor if they are still around for the next CEO change.
Renée James - Currently the head of Intel's software business, the chairman of both the McAfee and Wind River Systems divisions, two acquisitions of Intel. She has also been the point person on Intel's relationship with Microsoft.
Diane Bryant - Formerly the CIO, she is currently managing the Data Center and Connected Systems group. About the same age and having the same experience as James, she could be a good candidate down the road as well.
Those five names are the favorites considered currently. As the article above continues, here are the following external names that might be good fits as well.
Sanhay Jha - The former CEO of Motorola Mobility, which was acquired by Google (NASDAQ:GOOG). Also has been the COO of Qualcomm (NASDAQ:QCOM), and the President of Qualcomm CDMA Technologies.
Dave Donatelli - He's the Executive Vice President and General Manager of HP's Enterprise Group. He's a favorite to land the top job at HP when it comes available, but that isn't expected to happen for at least a couple of years.
The first three names I mentioned came up early Monday morning as the favorites for the job. I've seen Stacy Smith on CNBC several times, and he always does an excellent job of representing the company. Any one of these seven candidates could easily land the position, or a dark horse could emerge from somewhere else. I'm sure that there will be a great debate on who it should be, and when you are running a company of this size, there has to be. With Otellini giving six months notice, it gives the company time to search, rather than him just leaving right now. They'll use that time well, but I would think that they would like to make a decision sooner rather than later.
Current Expectations:
The announcement of this decision comes at a time where Intel's stock is near its 52-week low, as seen in the chart at the end of this article. Since my last update on Intel two weeks ago, when I mentioned the stock was a bit overvalued, shares have declined 7.3%. Yes, the markets have come down since then, but Intel is down more than twice that of the major US indices.
Why has the stock continued to come down? Well, it started with the company's third quarter earnings report. While Intel beat on both the top and bottom line, they only beat severely reduced expectations. When Intel reported Q2, they gave Q3 guidance that was light, and then warned during the quarter. Expectations were really low, and Intel came in a little above. They also had a decent size bottom line beat due to a reduced tax rate, something that many didn't expect.
But it has mainly been the Q4 forecast that did Intel in. Intel guided to a midpoint of $13.6 billion in revenues for the quarter, and analysts were expecting $13.78 billion. Current expectations call for $13.59 billion, which represent a 2.1% decline over the prior year period. Intel's first nine month revenues were down slightly year over year, so if they come in at expectations, Intel will post a 0.9% decline in revenues for the full year. That's not very good for a company that saw revenue increases of 23.8% in 2011 and 24.2% in 2010. Also, Intel was looking for revenues to increase in the mid to high single digits this year (at the start of 2012), so this year must be a disappointment to them. Current forecasts have revenues rebounding by 2.1% in 2013, but after that huge growth in 2010 and 2011, this two-year period is just spinning the tires.
The other culprit has to do with margin guidance. Intel guided to 57% gross margins, GAAP, and 58%, non-GAAP. That compares against 63.3% GAAP in Q3 of 2012, and 64.5% in Q4 of 2011. With a margin forecast weaker than expected, analysts have been forced to trim their earnings estimates for both Q4 and the entire 2013 year. Since Intel's Q3 report, the Q4 average has come down from $0.50 to $0.46. In last year's Q4, the company produced $0.64 in earnings.
But the larger issue is expectations for the year, as well as next year. In 2011, Intel reported earnings per share of $2.39. Current estimates call for a profit of $2.11 this year, followed by a continued drop to $1.97 next year. Just before the Q3 report, analysts were looking for $2.15 in 2013. Don't forget, this is a company buying back plenty of stock. Net income is falling at a much faster rate than earnings.
Dividend and the buyback:
With the recent decline in Intel shares, the dividend yield has jumped to 4.44%. That is the largest dividend among big cap tech names, and some might start to wonder if the dividend is safe. For now, I believe that the dividend is safe. Intel had almost $15 billion in cash and investments at the end of the most recent quarter, and nearly $11 billion in working capital.
The issue here is that Intel isn't producing as much cash from operations as it did last year, due to the above mentioned falling income. Through the first nine months of 2012, Intel produced about $1.5 billion less in cash from operations than it did in the same period of 2011. A lot of that cash goes to the dividend and buyback.
I, like the author states in the article linked above, believe Intel's buyback will be hit before the dividend, and this has been something I've mentioned in past articles. Intel won't cut the dividend unless it absolutely has to. In the third quarter, Intel bought back $1.2 billion of its own shares, down from $4 billion in the third quarter of 2011. I would not be surprised to see Intel's buyback drop to less than $1 billion per quarter during 2013 if the company's net income falls as expected. Remember, less of a buyback means the diluted share count won't fall as fast, could level off, or even increase. That could actually push earnings per share even lower than many currently are looking for, which would push Intel's valuation up a bit more.
Final Thoughts:
Intel's CEO retirement was certainly a surprise to many. It does add some short term uncertainty to the name, but I don't think that really should affect the stock. This stock should move on results, and right now, Intel is not meeting expectations. Intel still trades at a 10% or so premium to large cap tech names such as Microsoft (NASDAQ:MSFT) and Cisco (NASDAQ:CSCO). While offering a higher dividend than those two names, Intel doesn't offer as much growth. In fact, analysts expect Intel earnings to fall two years in a row. This is a name that grew revenues by about 24% in each year during 2010 and 2011, but now is expected to see just 1.1% growth over 2012 and 2013 (combined growth). Intel's dividend appears safe, but investors should expect the buyback to slow down a bit. Right now, expectations for Intel are low, which is why shares are close to their 52-week low, as seen below. Until Intel's results start to show some improvement, this stock remains in the short candidate bin.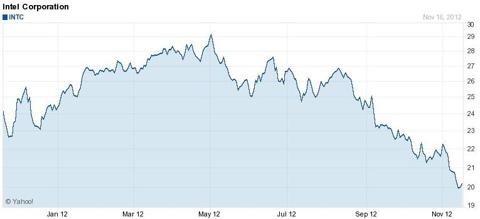 (Source: Yahoo! Finance)
Disclosure: I have no positions in any stocks mentioned, and no plans to initiate any positions within the next 72 hours. I wrote this article myself, and it expresses my own opinions. I am not receiving compensation for it (other than from Seeking Alpha). I have no business relationship with any company whose stock is mentioned in this article.
Additional disclosure: Investors are always reminded that before making any investment, you should do your own proper due diligence on any name directly or indirectly mentioned in this article. Investors should also consider seeking advice from a broker or financial adviser before making any investment decisions. Any material in this article should be considered general information, and not relied on as a formal investment recommendation.