The National Association of Home Builders (NAHB) reported Monday that builder confidence in the market for newly built, single-family homes rose in November to the highest level since May 2006, more than six years ago (see chart). The Housing Market Index (HMI) posted its seventh consecutive monthly increase in November, rising five points from 41 in October to 46 this month. The last time there were seven back-to-back monthly increases in home builder confidence was all the way back in 1995.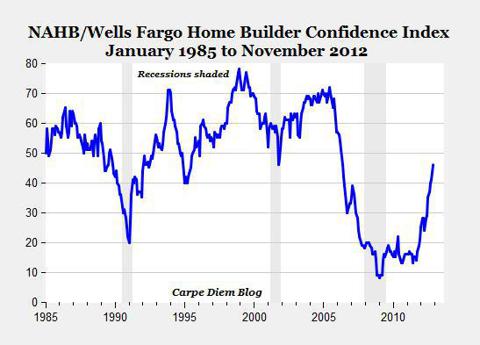 NAHB Chairman Barry Rutenberg, a home builder from Gainesville, Fla. commented:
Builders are reporting increasing demand for new homes as inventories of foreclosed and distressed properties begin to shrink in markets across the country. In view of the tightening supply and other improving conditions, many potential buyers who were on the fence are now motivated to move forward with a purchase in order to take advantage of today's favorable prices and interest rates.
NAHB Chief Economist David Crowe commented:
While our confidence gauge has yet to breach the 50 mark - at which point an equal number of builders view sales conditions as good versus poor - we have certainly made substantial progress since this time last year, when the HMI stood at 19.
The surge in builder confidence to a six and-a-half year high in November provides more evidence that the housing market is gradually recovering. For the month of November, builder confidence hasn't been this high since 2005. And except for a 6-point increase in July of this year, the 5-point increase for the HBI in November was the highest monthly gain in builder confidence since an 8-point jump in September of 2002.
In related housing news, framing lumber prices increased last week to $352 per 1,000 board feet, bringing spot prices for lumber back to levels not seen consistently since early 2006.