According to an article published over the weekend by the Italian financial magazine "Il Mondo", Mohawk Industries (NYSE:MHK) is in advanced talks to acquire the Italian based Marazzi Group, one of the world leaders in the design, manufacture and sales of ceramic tiles.
Some background for Marazzi Group and the Italian Ceramic Tile District
Marazzi Ceramiche was established in 1935 in Sassuolo, in the province of Modena, an area that later developed into the Italian ceramic tile district, where roughly 80% of all Italian tiles are produced in a relatively small region including nearby cities of Maranello, Fiorano (more famous as Ferrari is headquartered and has its testing circuit there), Castellarano and Casalgrande.
A particularly detailed analysis of the characteristics of this district has been carried out, in the past, by Professor Michael Porter of Harvard, who defined the Italian industrial ceramic area as a "cluster" that owes its success to the complexity of its interactions, such as cooperation and healthy competition between companies, to the availability of skilled workers and of a broad array of partners, including suppliers of raw materials and a strong local machinery industry (kilns and presses, mainly), all of whom play an essential role in manufacturing activities. (see "How the Diamond Works: The Italian Ceramic Tile Industry", 1990, pg 80).
At the time of Porter's analysis, Italy accounted for about 30% of world production and 60% of world export for ceramic tiles. More recent data show that the country still represents about 15.15 of world exports.
Nowadays, according to 2011 data collected by Confindustria Ceramica, Italy produces about 400 million square meters (4.3 billion square feet) of tiles per year, generating revenues of roughly € 4.7 billion ($ 6 billion). Another € 1 billion ($ 1.3 billion) in turnover is achieved by production plans located outside of Italy but owned by companies headquartered in the country.
The district remains a key location for the whole Ceramic Tile industry as most technological and design innovations are still developed and launched in this relatively small area, which also explains the ratio behind some recent acquisitions made by very large foreign producers like Kale (Turkey), the 12th largest ceramic tile producer as far as volumes.
Back to Marazzi, the Group currently boasts manufacturing plants in Italy, Spain, France, Russia and the United States, and employs over 6,000 people. The company sells its products to over 14,500 independent distributors in more than 130 countries, including its own shops located in Russia, the United States and China.
The Group is a leading player in the ceramic sector in many of the most important international markets: it has the largest market share in Italy, France and Russia, is number two in the USA, after Mohawk-owned Dal Tile brand, and among the top contenders in Spain, Germany, Greece and Scandinavia, among other markets.
The Group's products range from porcelain stoneware, crystallized stoneware and single-fired tiles to glass mosaics, from special floors to ventilated walls, and include the sale of marble, granite and other natural stone products.
Listed on the Italian stock exchange from 2006 to 2008
Marazzi Group listed on the Italian stock exchange in February 2006, at a price of € 10.25, at the lower end of its proposed price range (€ 10.25 to € 13). At that time, the company was valued at about 10 times its then current EBITDA (and had an EV/R ratio of 1.6), as shown in this chart: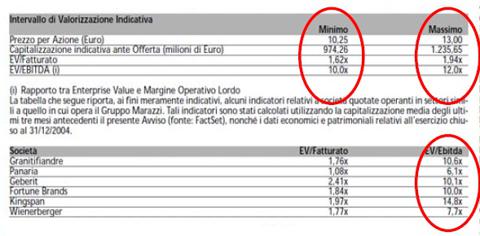 Click charts to enlarge - data from Marazzi's IPO listing
Italian competitors Graniti Fiandre and Panaria Group were also trading on the Italian stock exchange at that time, as reported in the second part of the chart, which highlights comparable multiples.
Marazzi's sales trend getting into the IPO was quite outstanding: from 1994 to 2004 the company more than doubled its revenues, as a result of both organic growth and a selective acquisitions campaign: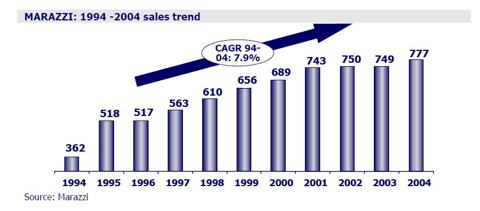 Chart from Mediobanca securities
After only 900 days, in August 2008, the company was delisted at a price of € 7.15 (or about 30% less than the IPO price). The same parties that sold shares at the IPO times (Marazzi family, Permira and Private Equity Partners) supported the delisting.
Here is a quick look at how the company performed on the Italian stock exchange while listed: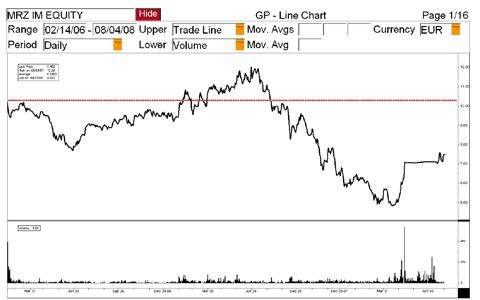 As you can see, the company traded above its IPO price for just a relatively short period of time, before starting a downtrend, that led to prices around €5 (or half its IPO price), at the very bottom.
Here is how Permira commented on the company's financial performance following the delisting:
The Permira funds' investment in Marazzi was motivated by the company's international leadership, which makes it well positioned to capture market opportunities through organic growth and acquisitions, as well as the proprietary nature of the deal and the fact that the management were well known to Permira. Marazzi's offering extends to both residential and commercial customers, and includes products ranging from floor and wall tiles to solutions for exterior wall coverings.

Marazzi has experienced challenging market conditions since the business was acquired by the Permira funds. All of the company's key markets experienced sales declines of between 20% and 40% by volume, while a devaluation of the Rouble (Russia is one of Marazzi's key markets) placed further pressure on the business. The nature of the tiles industry, which operates with long lead times and a continuous manufacturing process, means that Marazzi and its peers in the sector have a high operating leverage.

The combination of these factors meant that the company's profitability came under significant pressure throughout 2009.
As indicated in this quote, ceramic tile consumption, especially in the European Union, declined at an accelerated double-digit rate in 2009, with an obvious negative impact especially on Italian and Spanish companies, both in terms of revenues and margins. Most Italian and Spanish companies dramatically reduced their output, at least in their home plants, also because of competition from cheaper sources targeting the lower end of the market.
Marazzi Group Today
According to Tile International, Marazzi Group is now the 4th company as far as revenues in the tile and sanitary ware sector, and ranks 5th among the largest volume producers in the ceramic tile industry:


Marazzi's production for 2011 is indicated in the 95 million sq.mt. range (1 billion sq.ft.), spread worldwide among 12 factories. In the last few years, the company de-emphasized the importance of its Italian plants, by selective disposal of production facilities, like in the case of their Jano di Scandiano plant, which was sold to Gruppo Ceramiche Gresmalt, and has now been converted into a state-of-the-art facility with an output of about 9 million square meters/year (96 million square feet).
The company's 2011 turnover of € 832.5 million ($1.06 billion) is lower than the revenues achieved in 2005, 2006 and 2007 (€ 903 million, € 964 million and € 984 million, respectively, i.e. $1.16 billion, $1.23 billion and $1.26, respectively), and just slightly higher than what the company achieved in 2004, mostly thanks to the very positive performance of some of its foreign operations (USA, Russia), that balanced reductions both in the Italian and Spanish output. Today, markets outside Europe account for more than 50% of Group sales.
In the first half of 2012, Marazzi reported a consolidated turnover of € 428 million ($550 million), an increase of 2.5% compared to the first six months of 2011, with an improvement of 3.2% in the core business of ceramic tiles.
Mohawk's comments about potential acquisitions
Mohawk Industries has a history of several acquisitions, made in the last few years, including companies abroad.
Here is how management replied, during the latest conference call, to an analyst's question concerning future plans (emphasis added):
Susan Maklari - UBS Investment Bank, Research Division

A bigger picture, can you guys discuss -- has your appetite to do some acquisitions outside of flooring changed at all, especially as we start to see housing and maybe some general economic improvement coming through?

Jeffrey S. Lorberbaum - Chairman and Chief Executive Officer

Our primary focus on acquisitions are things within the categories that we know that we can get leverage from either knowledge, geography, the businesses, putting them together. On the other hand, in the right set of circumstances, we wouldn't rule out something else but the majority of our focus is leveraging the businesses we're in.

Frank H. Boykin - Chief Financial Officer and Vice President of Finance

And we think there's a good many opportunities for us to stay focused on flooring.
Ceramic Tiles consumption in the world
US consumers may not associate tiles with the most used flooring application, but the market for ceramic tiles worldwide is quite impressive, and growing fast. In 2010, world tile production amounted to 9.5 billion square meters (102.4 billion square feet).
Here is an interesting chart showing how production grew from 7.8 billion sqmt. in 2006 to 9.5 billion sqmt. in 2010:

It is interesting to note that North America represents only about 4.2% of world consumption: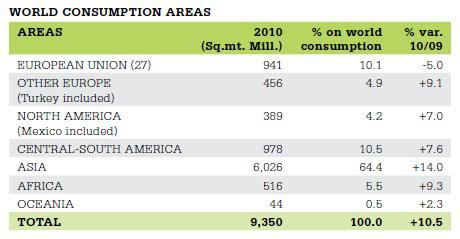 USA, however, represents the top importer, worldwide, of ceramic tiles: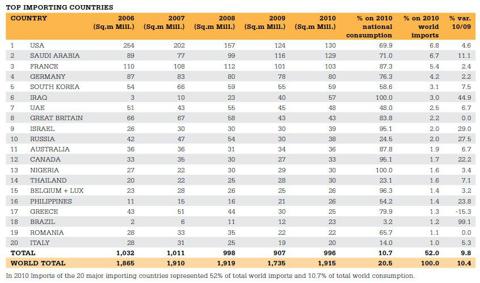 Conclusion
The rumors surrounding a potential acquisition of Marazzi Group by Mohawk Industries seem very substantiated. The financial magazine "Il Mondo" indicates that Mohawk has an exclusivity right to buy out the company over the next 4 weeks. Due diligence, according to journalists Daniela Polizzi and Carlo Turchetti, is under way at the Italian headquarters, and the articles contains also an indication of the advisers involved in these negotiations.
The purchase price is rumored to be in the $1.2 billion rage (roughly € 930 million, or slightly more than one times annual sales - as an indication, at the end of June 2012, Marazzi's net financial debt was € 326.2 million, or $417 million), carrying lower multiples than at the time of the 2006 Marazzi Group IPO. Right now, it's a buyer's market for Italian tile companies, and it is also difficult to find an apple to apple comparison in the sector: the only remaining listed company, Panaria Group, carries very low EV/R and EV/EBITDA multiples as it recently suffered from the selloff, in the open market, of a former 10% owner. Graniti Fiandre, in a similar fashion to Marazzi, was delisted well below its IPO price at the end of 2010.
In the past, Marazzi has been rumored to consider both a sale of some of its foreign assets, like Marazzi USA, or a listing of its Russian operations. A sale of the whole company would make perfect sense for both the Marazzi family, Permira and Private Equity Partners.
On the other hand, by acquiring the company Mohawk would strengthen its market leadership (and production capabilities) in the US market, acquire a strategic 28 million sqmt. (301 million sqft.) manufacturing operation in Russia (in a market still growing at double-digit rates), and a presence in several other key markets, as well as gain a recognized world leadership in the ceramic tile sector. On top of that, a physical presence in the most important ceramic tile district, where innovative technologies are developed and design trends are launched.
A presence in Italy can also allow Mohawk Industries, because of the ownership of production plans, to obtain synergies like reduced costs for the products that are now bought from other local manufacturers plus direct access to the very innovative local machinery industry.
Dal Tile's 8 facilities (7 in the U.S. and one in Mexico) and the company's joint venture in China would represent a perfect fit for the existing Marazzi manufacturing capabilities.
Considering all these potential synergies, the fact that Marazzi is quite unique as an Italian company, because of its large reliance to markets that do not suffer from the European crisis, and the relatively low multiples involved, this deal could end up strengthening Mohawk's competitive advantage in the tile sector and create value for the company (and its shareholders) over the long term.
Disclosure: I have no positions in any stocks mentioned, and no plans to initiate any positions within the next 72 hours. I wrote this article myself, and it expresses my own opinions. I am not receiving compensation for it (other than from Seeking Alpha). I have no business relationship with any company whose stock is mentioned in this article.
Additional disclosure: I have been working and consulting in the ceramic tile industry for over 20 years, but never for any of the companies mentioned in this article. I own shares of Panaria, listed on the Italian stock exchange.