Last week I was attending the annual REIT World conference in San Diego and I was fortunate to meet with many high-level CEOs, CFOs, analysts, investors, and Institutional Fund Managers. The event this year marked the four-year anniversary since the time that REITs were devastated by the events associated with the period known as the Great Recession.
As most remember, some REITs were forced to cut common stock dividends as part of a painful but necessary cash flow strategy. Most of these actions were necessitated by sudden and substantial declines in free cash flow resulting from recession-induced contractions in property cash flows and per-share cash flow dilution caused by the issuances of additional equity.
Industry-wide, the dividend cuts were painful. Despite the huge and painful decline in REIT shares during 2007 and 2008, REITs rebounded sharply in 2009, 2010, and 2011. REIT performance takes on special significance for income-oriented investors, such as retirees, because a steady income source prevents the erosion of purchasing power.
It was interesting talking with many institutional investors at REIT World as they seemed to be more interested in the concept of total returns (growth) than the more boring subject of dividends (income). In fact, the feeling seemed to be resonating that I was from another planet and there was a language barrier that was preventing me to communicate…
Men Are from Mars, Women Are from Venus
In the popular book, Men Are from Mars, Women Are from Venus, written by American author and relationship counselor John Gray, the central metaphor of the book stresses the fact that most of common relationship problems between men and women are a result of fundamental differences between the genders.
The best-selling book (sold more than 7 million copies) is pitched as an eponymous metaphor in which men and women are from distinct planets and that each gender is acclimated to its own planet's society and customs, but not those of the other.
Gray's book has become a "popular paradigm" for problems in relationships and it has spawned infomercials, audiotapes and videotapes, weekend seminars, and even theme vacations. But what about the investment world?
The Investment World and the Retirement World
It's not so much that men and women are from different planets, as that - if this is anything to go by - investors are. As mentioned above, dividends are the "holy grail" for retirees and accordingly, they place an extremely high value on income paying stocks. Alternatively, institutional investors are more interested in the total returns and index fund-based performance metrics.
It is clear that demand for high quality dividend income is become harder and harder to find - especially retirees searching for stocks that provide both durable income and strong growth. Although the investment universe is scattered with hundreds of alternatives, the dividend investor must carefully scout the list of filtered opportunities until he or she finds a company worth owning.
This involves consideration of the company's industry - its current competitive position within that industry - and the "economic moat" around the company; that is, a sustainable competitive advantage that helps preserve long-term pricing power and profitability.
Realty Income: These are the Voyages of the Starship, The Monthly Dividend Company
This introductory text was spoken at the beginning of many Star Trek television episodes and films:
Space: The final frontier
These are the voyages of the Starship, Enterprise
Its 5 year mission
To explore strange new worlds
To seek out new life and new civilizations
To boldly go where no man has gone before
Realty Income Corporation (NYSE:O) has ventured far away from where most REITs have never been before. The 43 year-old REIT, based in Escondido, has built a sound "margin of safety" (don't worry, I will discuss O's value below) by delivering one of the most diversified portfolios in REIT-dom. With 2,828 single tenant properties in 49 states, the triple-net landlord has grown its well-balanced flagship into a beacon REIT consisting of 144 different tenants and 44 different industries.
A few weeks ago, I wrote an article, Checking 'Under The Hood' Of The Great Repeatable Dividend Machine, in which I summarized the stalwart REIT's most recent financial results as follows:
There is nothing more enjoyable than watching the "great repeatable dividend machine" spit out monthly checks, especially since the power of compounding is the secret ingredient that helps you sleep well at night!
Last week Realty Income declared the 509th consecutive common stock monthly dividend. The dividend amount of $0.1514375 per share, representing an annualized amount of $1.81725 per share, is payable on December 17, 2012 to shareholders of record as of December 3, 2012.
To date Realty Income has declared 509 consecutive common stock monthly dividends throughout its 43-year operating history and increased the dividend 68 times since Realty Income's listing on the New York Stock Exchange in 1994.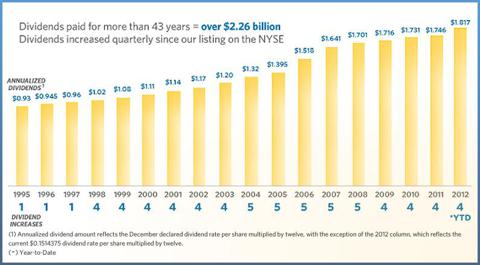 Is There a Margin of Safety?
In his million-selling classic The Intelligent Investor (Published by Harper & Row in 1949), Ben Graham wonders what his reply would be if he were to distill the essence of sound investing into a single phrase. In response to the self-directed challenge, Graham writes three words all in caps: "MARGIN OF SAFETY."
As such, even when selecting sound securities, one needs some kind of buffer to protect against market fluctuations. That buffer is the margin of safety - the difference between the real or intrinsic value of the business underlying the security and the price assigned to that security at the moment. As Graham defined it, the margin of safety constitutes a
favorable difference between price on the one hand and indicated or appraised value on the other.
In recent times, several Seeking Alpha readers have asked me to recommend an entry price for Realty Income, and during the past weeks, the price for the stock has dropped from around $41.55 (Oct. 16th) to a market price of $38.40. The current market cap is $5.12 billion with a dividend yield of 4.73%.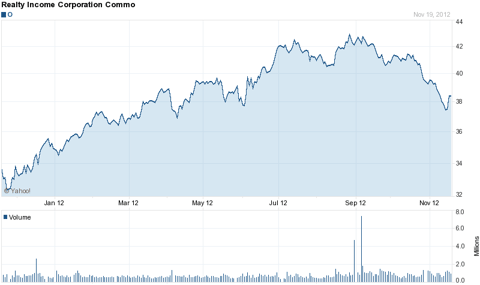 My first response (regarding valuation) is that the intrinsic value of the underlying business cannot be gleaned from a stock chart. Determining that value through a methodical analysis of the security is the central task of the Graham-inspired value process. A defensible intrinsic value deduced from a reasonable and dispassionate assessment of the facts enables one to determine the presence and size of the margin of safety. As Graham wrote,
A stock does not become a sound investment merely because it can be bought at close to its asset value.
Indeed much of the power of the "margin of safety" concept lies in its wide applicability. It is something of an "all purpose" risk minimization tool with which one can proceed with a fair degree of certainty that, regardless of day-to-day price fluctuations, one's principal is likely to be secure.
First, it is important to recognize the underlying business of Realty Income as Graham believed that to be an essential element to the irreducible core of value investing. What is the owner orientation? As Walter Schloss (did not attend college and a notable disciple of Benjamin Graham) explained:
Try to establish the value of the company. Remember that a share of stock represents a part of a business and is not just a piece of paper.
Most of my background and experience in commercial real estate has been in or around triple net investments. In fact, many years ago I developed (ground up) facilities for many companies like Advance Auto Parts (NYSE:AAP), O'Reilly Automotive (NASDAQ:ORLY), Dollar Tree (NASDAQ:DLTR), Family Dollar (NYSE:FDO), and Dollar General (NYSE:DG). Of course, I also built facilities for companies that failed like Blockbuster Video, Hollywood Video, Econo Lube n' Tune, and Goody's (now owned by Sage Stores).
With over 25 years of net-lease experience, I consider the standalone triple-net sector to be one of the safest real estate categories. Unlike many of the other sectors, standalone investments enjoys contractual long-term leases that usually provide for rental increases and to a certain degree, higher appreciation. Conversely, the biggest risk for the sector is the "all or one" proposition so maintaining strong occupancy levels and leasing to high caliber tenants is a must. Generally speaking, that is referred to as managing portfolio level risk.
By surveying the list of vetted investment opportunities, investors (like Graham) look at the businesses behind the companies as a prospective buyer would of the whole business. For example, Realty Income owns facilities leased to AMC Theatres, L.A. Fitness, B.J.'s Wholesale, Family Dollar, and The Pantry. When analyzing Realty Income, investors should consider the "Grahamian" approach of looking at the stock in relation to all of its individual businesses.
Graham looked at the businesses behind the securities as a prospective buyer would of the whole business. Only once he ascertained that did he look at the current price to determine what course of action would be the most advantageous.
The margin of safety is the essence of value investing because it is the metric by which hazardous speculations are segregated from bona fide investment opportunities. Stripped to the essence, as prominent value investor and Columbia finance Professor Joel Greenblatt framed the (margin of safety) concept in a 2011 Barron's interview,
It's about figuring out what something is worth, and then paying a lot less for it.
Now, as most know, Realty Income recently announced the merger of the smaller ($1.754 billion) triple-net REIT, American Realty Capital Trust (NASDAQ:ARCT). The deal, which is still subject to shareholder approval and is expected to close by the first quarter of next year, will create the world's largest net-lease real estate investment trust and the 18th-largest publicly traded REIT. The combined company will have a $7.6 billion market capitalization and an enterprise value of around $11.4 billion, a size that makes it a candidate for inclusion in the S&P 500.
Most analysts that I met with last week believe that the merger will close and that means that Realty Income's portfolio, with around 19% investment grade tenants (based on revenue), will jump to around 36% (investment grade) when the acquisition closes. Note that ARCT shares have declined since the announcement (ARCT closed at $11.07).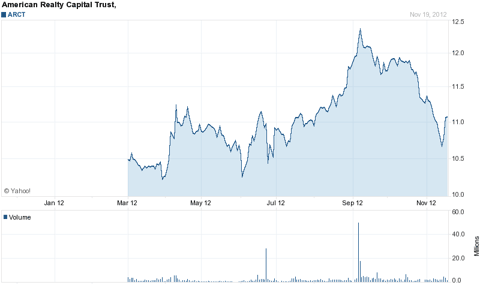 Utilizing data below, I prepared my own NAV model utilizing information obtained from the latest 10-Q. Also you can see that I used the latest net income data and annualized with a run rate of approximately $437 million. I then placed the assets into two buckets: investment grade (20%) and non-investment grade (80%). (Note: I should have included a third bucket of shadow rated or just below investment grade; however, the shorter version should be close). My conclusive results for Realty Income's NAV is $24.46 per share.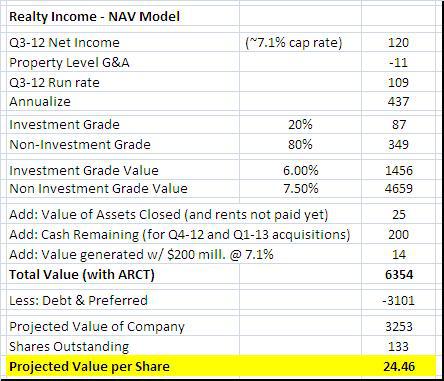 Now, I then decided to include the proposed (or expected) merger-related details. Accordingly, I conclude that the forward price of Realty Income is $31.08 per share. I think it is important to note that ARCT is being acquired as a stock ($46 mill. New shares) and mortgage assumption ($526 mill) deal and the cap rate is around 5.9%. As you may recall, I wrote an article, The Conundrum Of Triple Net Lease Valuation, a while back regarding Realty Income's valuation in which I explained that the company's "high multiple equates to being the 'low cost producer' and that means higher profits and higher margins." Simply put, Realty Income has the advantage of scale and accordingly, there are considerable efficiencies that make the proposed merger extraordinarily valuable (disgruntled ARCT shareholders: read this again because this is the most important benefit that you need to remember).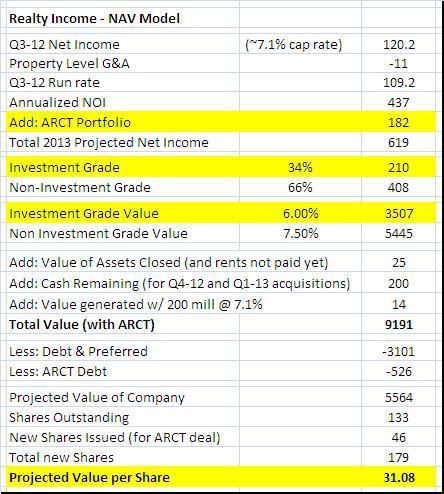 So as you can see, the merged NAV is $31.08 per share - a 27% increase in value… interesting stuff!
Mr. Market and Planet O
The parable of "Mr. Market" has helped transform many investors' perceptions of the stock market from a strictly computational paradigm to one on which psychology plays a prominent role. As Graham wrote in 1949:
Imagine that in some private business you own a small share that cost you $1,000. One of your partners, named Mr. Market, is very obliging indeed. Every day he tells you what he thinks your interest is worth and furthermore offers either to buy you out or to sell you an additional interest on that basis. Sometimes his idea of value appears plausible and justified by business developments and prospects as you know them. Often, on the other hand, Mr. Market lets his enthusiasm or his fears run away with him, and the value he proposes seems to you little short of silly.
When asked what keeps most individual investors from succeeding, Graham had a concise answer:
The primary cause of failure is that they pay too much attention to what the stock market is doing currently.
Now, let's bring this all down to planet Earth
There is a reason that individual investors differ from institutional investors and there is also a reason that men are different than women. Clearly, the differences also abound for dividend investors and growth investors.
At the end of the day, all of these pairs can survive and actually benefit from the paramount activities that make them uniquely successful. For me - a dividend investor and REIT proponent - I believe dividends are extremely critical and Ben Graham believed (in The Intelligent Investor) the same:
One of the most persuasive tests of high-quality is an uninterrupted record of dividend payments going back over many years. We think that a record of continuous dividend payments for the last 20 years or more is an important plus factor in the company's quality rating.
To me, the biggest value in owning shares in Realty Income is the fact that you receive monthly dividends of 4.73% (as of Nov. 16) and the underlying business model (2,828 single-tenant properties in 49 states) makes for a highly sustainable income platform. The risk-adjusted dividend (for Realty Income) offers a compelling alternative of full liquidity - just 180 basis points less than an underlying net lease property (i.e. a CVS paying 6.5%). As an income investor, I look especially hard at the risk associated with one stand alone asset compared with 2,828 stand alone assets.
Remember dividend investors, risk is a function of both price (Grahamian type discount) and other factors such as tenant credit, diversification, size, access to capital and management expertise. The market's appreciation and pricing of risk "ebbs and flows" depending on current expectations. Is Mr. Market happy or sad?
It's evident that the market pricing does not include an adequate appreciation of risks until things go wrong... Then all it appreciates is risk. The market seems remarkably sanguine about risk right now. Spreads between the cap rates on investment grade vs. non-investment grade tenants are quite tight given the economic risks of a double dip, low interest rates, the deficit, fiscal cliff etc. Wouldn't you rather buy risk protection today at the expense of a few basis points of additional yield?
Realty Income - Planet O - is a stalwart REIT that deserves attention in any retirement portfolio and, regardless of Mr. Market's feelings today or tomorrow, I see value in the company's durability and repeatability - especially its dividend. For I speak the language of the dividend investor and Realty Income's remarkable record - based on decades of consistency is what separates "the best from the rest." As Warren Buffett said,
The business owners approach is so fundamental that, unless it's ingrained as part of your basic philosophy, you're going to get in trouble in life when you do investments.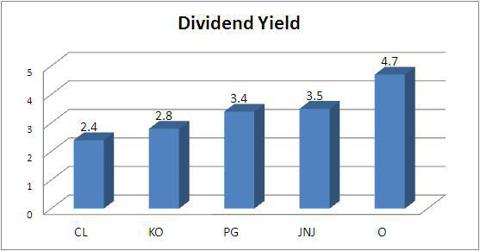 Peer Dividend Stocks include (NYSE:PG), (NYSE:CL), (NYSE:KO), and (NYSE:JNJ)
Disclosure: I have no positions in any stocks mentioned, and no plans to initiate any positions within the next 72 hours. I wrote this article myself, and it expresses my own opinions. I am not receiving compensation for it (other than from Seeking Alpha). I have no business relationship with any company whose stock is mentioned in this article.