I have seen many a bear led by a man, but never before saw a man led by a bear ~ James Boswell (1740-1795), Scottish Author
On Monday, November 12th, the new online news portal PropThink published a critical assessment of Galena Biopharma (NASDAQ:GALE), their stock structure, management team, and their lead immunotherapeutic vaccine named NeuVax. The article was titled "Galena: One of Biotech's Most Vulnerable Names", and upon publication PropThink proved their point to how vulnerable Galena's stock can be. Galena's stock opened for trading priced at $1.98, and closed the day down to $1.40, with 11,918,900 shares trading hands. On the previous trading session, 682,000 shares were traded. There was no other news related to Galena that could be attributed to any explanation for the sudden sell off.
On Thursday, November 15th, PropThink authored a subsequent article titled "The Other Side of Galena Biopharma". In this article, PropThink, the listed author, pasted a legal letter from Galena, where the company's legal representatives state the PropThink's original article "is rife with materially inaccurate statements, which constitute, among other things, trade libel". The letter demands that as "a first step, and as I asked you on the phone today, we demand that PropThink immediately take the article down from its website".
Undeterred, PropThink then provided a short outline, where they state "we will revisit our key findings and allow a community of informed investors to decide for themselves what is true and what isn't". However, for investors to make an intelligent decision, we need to investigate PropThink's bear thesis for NeuVax, which in large part revolves around the following claims:
Apthera, the company Galena acquired to gain ownership of NeuVax, presented at the 2010 ASCO conference a poster titled, Clinical efficacy of the E75 peptide vaccine: Cumulative findings of phase I/II trials. It clearly states that the Phase I/II study that was designed to see if NeuVax in combination with Herceptin would benefit breast cancer recurrence (i.e. delay recurrence) failed to show a meaningful benefit.
Cumulative results for all subjects enrolled in the Phase I/II studies of NeuVax failed to show a meaningful benefit p = 0.08.
While subjects with lower levels of HER2 saw a benefit, p = 0.045, the sub-groups were small, with the vaccine recipients totaling just 18 patients.
Galena essentially acquired a defunct company with a technology that failed Phase II studies but promoted a 'benefit' in a sub-segment of their patient population and designed a Phase III study around this claim.
There was an imbalance in the baseline characteristics of the vaccine and control group, which favored the NeuVax arm. The skews, while seemingly nothing more than mentions on paper, can have a very meaningful impact on the outcome of a study.
As a matter of data extrapolation, the benefit observed for HER2-1 and HER2-2 patients was completely random and unlikely to reoccur in an expanded study.
Galena claims that NeuVax benefits low to intermediate expressors of the HER2 protein. As researchers will point out, this is illogical, as an immune response would be expected to first attack cells over-expressing HER2, and then (hopefully) have an effect on cells with low expression of HER2.
A Counter View
I'd like to take this opportunity to offer a counter view on the claims, although I fully agree that investors should expect further dilution to support the ongoing Phase III study of NeuVax. To support my analysis, I reached out to an expert that has led the studies for NeuVax, Col George Peoples, who serves as the Chief of Surgical Oncology at the San Antonio Military Medical Center. Col Peoples is the founder and Director of the US Army's Cancer Vaccine Development Program. With his help, we can learn the truth about the vaccine.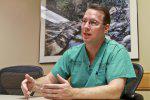 I have studied the developments of Col Peoples' team, as well as those of his colleagues at the MD Anderson Cancer Center, where various peptide based vaccines, including Galena's NeuVax, are the subject of clinical trials. I have great respect for their efforts. To be clear, Col Peoples has not read a transcript of my analysis, so he didn't approve of any comments not attributed to him. I'll be very careful to note when I am quoting him, otherwise all of the text is my own.
The Truth About NeuVax
The Phase I/II studies of NeuVax were NOT designed to see if NeuVax in combination with Herceptin would benefit breast cancer recurrence. NeuVax used concurrently with Herceptin is a separate study. In the Phase I/II studies, NeuVax is given as adjuvant therapy to prevent disease recurrence in clinically disease-free patients after standard therapy. Col Peoples explained that, "as you know, in exploratory Phase II trials, we are looking for an efficacy signal not definitive proof. Furthermore, it allows us to predict the response in the Phase III population for properly sizing the definitive study."
In the subset analysis of node positive and node negative low to intermediate (HER2 1+ and 2+) patients, there was a significant response to the vaccine when compared with the control group, p = 0.045. However, there were 50 vaccinated subjects, not 18, within this subgroup as you can see in this graph: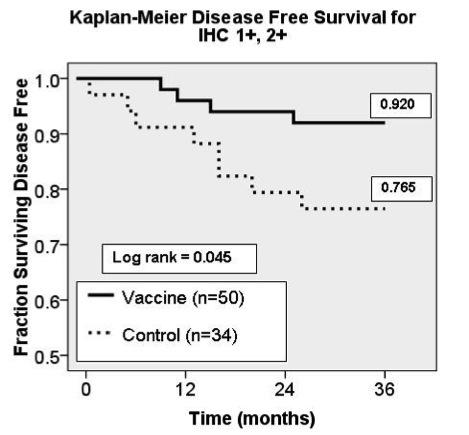 In a separate analysis of node positive, low to intermediate HER2 patients, that received the optimal dose of the vaccine, and the subsequently added booster regimen, there were 18 subjects. Disease Free Survival efficacy data at 36 months for this group shows significant benefit, p = 0.035. This represents the Phase III target patient population, and the FDA approved endpoint for the NeuVax SPA Phase III trial.
Baseline Characteristics
A main argument of the bear thesis concerning the baseline characteristics for the Phase I/II studies of NeuVax has to do with the amount of vaccine subjects that were being treated with Herceptin. Col George Peoples noted that the "difference in Herceptin treatment did not reach statistical difference. However, 11% of vaccine patients were treated with Herceptin, which is known to decrease the risk of recurrence by half in these patients. So, at the most, Herceptin treatment could only account for 5.5% of the 50% reduction in recurrences seen in the entire trial."
Col Peoples informed that the "only statistical difference between the vaccine and control arms is more ER-/PR-patients in the vaccine group. So, the only statistical imbalance favors the control arm p = 0.04." This fact is omitted in any bear thesis, but it's written right on the ASCO abstract referred to in the PropThink article. You can see the aforementioned abstract from 2010 by clicking the word HERE.
Phase III Design and the Researcher's Rationale for Treating HER 1+ and 2+ Patients
According to Col Peoples, his research team "did not select the Phase III population based on subset analysis. We chose the node-positive population because there is a higher recurrence rate, and we could keep the trial smaller (and less expensive). Likewise, we chose the HER2 low expressors because with Herceptin being SoC in the over-expressors, we would have had to run 2 different trials because of the timing of completion (1 yr for Herceptin). So, we chose the larger low-expressor population."
I asked Col Peoples to explain why NeuVax, and other HER2 targeting peptide vaccines, appear to bring greater benefit patients with lower HER2 expression. Col Peoples explained that:
The basic biology between HER2 0-2+ vs 3+ has been well-documented, and we use this distinction clinically when we subtype breast cancers. 3+ tumors are more aggressive/dangerous. We have shown that vaccines work best in less aggressive tumors.

The immune system can become tolerized against large quantities of antigen. More is not always better (contrary to the argument). We have shown an element of tolerance in the T cells from HER2 3+ patients relative to the T cells in lower expressors.

HER2 is sufficiently immunogenic that even the lower levels of HER2 expression can be recognized by highly-specific, vaccine-induced T cells. These CTL can recognize and destroy tumor cells with low and intermediate expression levels (hundreds of papers demonstrating this concept because there are actually only a couple of HER2 over-expressing cell lines available for experimentation. The vast majority of all of the lab work has been done on low- and intermediate-expressors).

Most importantly, one of the documented differences in the 3+ tumors, and probably related to their aggressiveness, is that these tumors down-regulate HLA expression, making themselves "invisible" to the immune system. Rolf Kiessling at the Karolinska Institute, Stockholm has written extensively about this phenomena (see attached paper by clicking HERE). We are currently trying to verify whether Herceptin treatment can restore the HLA expression, explaining our observation that the CTL-eliciting vaccines, such as NeuVax, may be useful in the 3+ patients in combination with Herceptin.
Considering Risk Vs. Reward
When considering all of the points I've noted above pertaining to Galena's NeuVax vaccine, I feel that this bearish thesis for Galena is faulty. While I agree that it's healthy and vital for investors to consider the risk side of any investment, consideration must be given towards making sure that risk assessment is based on fact.
Galena, like nearly all research and development biotechs, will eventually need to raise capital. That brings dilution, but also the cash to advance the pipeline. With that, Galena may help Col Peoples unleash a needed new weapon in the war against breast cancer.
Disclosure: I have no positions in any stocks mentioned, and no plans to initiate any positions within the next 72 hours. I wrote this article myself, and it expresses my own opinions. I am not receiving compensation for it (other than from Seeking Alpha). I have no business relationship with any company whose stock is mentioned in this article.