Derived from the aggregated analysis of thousands of actual trade ideas and data being sent in real-time from the sell-side to the buy-side, the First Coverage Weekly Street Sentiment provides a snapshot of market trends and a unique perspective of the mindset of the Street for the week ahead. The following data has been extracted directly from all information transmitted in the past week by sell-side representatives from more than 250 firms submitting information to portfolio and asset managers across North America via the First Coverage platform.
WEEKLY STREET SENTIMENT
Sell-Side would rather stay on the sidelines than suggest buy-side allocate more capital on either side of this market.
Sentiment is more bearish than last week; more bullish than last month.
No single industry currently has bullish sentiment associated with it.
Most Bearish industries by sentiment are Financials and Consumer Goods.
Most active sector for ideas is Technology.
PREVIOUS SENTIMENT INDICATED…
On September 22nd: "Sell-Side doesn't believe end-of-week market rally is for real and are indicating that trouble still lies ahead for broader markets."
What's happened since: The market falls more than 30%.
LOOKING AHEAD…
During the last week, the sell-side has been telling the buy-side the following three things:
If you can take your cash out of the market, take it out of the market.
If you can't take your assets out of the market and have to pick a bias, get short the market.
If you can't get out of the market or be short the market and you have to be invested, be invested in stocks that let you sleep at night.
Risk continues to be a four letter word and the sell side seems to be stuck in neutral for the second week in a row. While the general tone of the sell side could have been best described as apocalyptic three weeks ago, now the best word to define them might be exhausted. Instead of coming in the guise of a single defining event, 'capitulation' appears to be coming in the guise of 'death by 1,000 paper cuts'.
Every day industry professionals are showing up for work uncertain if they are going to witness history or be history by the time the closing bell arrives. Daily moves greater than 4% are more the norm than the exception now, and with buy-side clients suffering month-to-date losses of more than 25%, the sell side has probably found most aren't in the mood to be allocating capital in an October where every day has seemed like Halloween.
The volume of high-conviction ideas being communicated from the sell side to its buy-side clients remain well off peak levels. The sell-side is stating that in this environment it would rather play it safe than try to catch the knife, stand in front of the train or be a part of any other metaphor that normally ends badly.
Sell-side market participants not willing or able to move to the sidelines are finding it difficult to muster up a bullish sentiment on any single industry. Month-to-date sentiment levels find Financials, Consumer Goods, Utilities, Consumer Services, Basic Materials and Health Care all solidly in Bearish territory with no offsetting industries currently demonstrating bullish sentiment.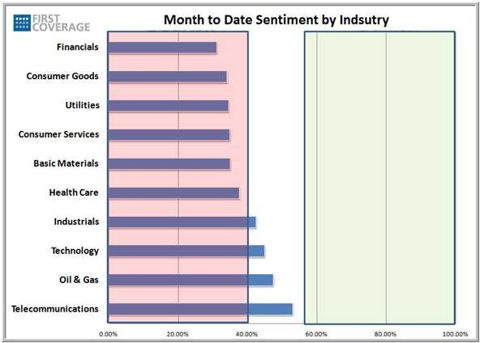 Click to enlarge
Finally, the sell-side is suggesting that if you have to allocate new capital to the long side of this market, go with what's worked in the past. And by the past, they are talking decades ago.
The most bullish stocks by sentiment so far during the month of October are GE, MSFT, DNA and IBM. The sell side is clearly suggesting to its clients that if you have to be invested, be sure it's in stocks with healthy balance sheets and sustainable earnings. Some of the stocks currently exhibiting bearish sentiment include SHLD, WFMI & BIDU.
Finally, for those spending more time than normal staring at their Blackberrys or iPhones, it may be of interest to note that RIMM has finally managed to gather some bullish sentiment from the sell side at these levels while the sell side continues to feel bearish about AAPL.