From St Louis, Anheuser-Busch Companies Inc. (NYSE:BUD) (56.93) makes and distributes beer in the United States and internationally. The domestic beers are Budweiser, Michelob, Busch, and Natural brand names.
BUD is in the process of being acquired by Belgian-Brazilian InBev at 70 in a deal that was agreed in July. Originally, they expected to close before year-end. Now, despite the management of both companies continuing to confirm the deal will close as expected, the stock price has declined and the option implied volatility is rising. 
Some analysts speculate there are problems in the financing, while others are saying the stock is declining simply because investors are under pressure resulting from other losses and need the cash. 
This week, BUD is number two in our in the IVolatiity.com Ranker for Top 5 stocks based on IV Index Mean vs 30D HV. With an Implied Volatility Index Mean of 73.53 and a current Historical Volatility of 46.48 it has an IVIndex/HV ratio of 1.58.
Here is a chart showing the volatility relationship and the wide positive volatility spread, which is the difference between the pricing of the options and the Historical Volatility of the stock. 
click to enlarge images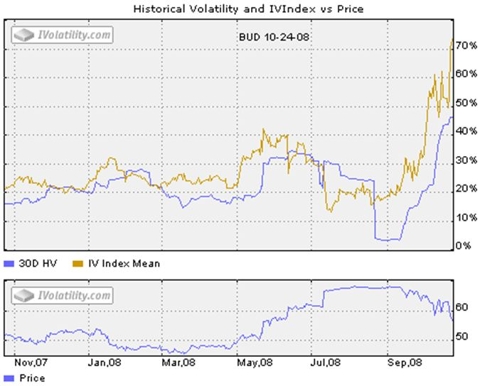 Based primarily upon the assumption that the current stock price is a function of the current market condition, and not because the deal is in trouble, here is an interesting put sale suggestion for those who are looking for long suggestions.
Sell BUD Dec 45 put BUDXI 3.10 IV 95.88 Delta .2101
The Implied Volatility of this option at 95.88 is considerably above the Implied Volatility Index Mean of 73.53 and well above the 30-day Historical Volatility of 46.48 or even the 10-day Historical Volatility of 68.33. 
If it were to decline below 45 at the December expiration, the basis in the assigned stock would be 41.90, considerably below the price it was before the InBev rumors began and a long way below 52-week stock price low. In the event this happened, you would then have the opportunity to sell calls against your long stock.
Here is the one-year chart showing the price if assigned (see arrow below) compared to the stock price.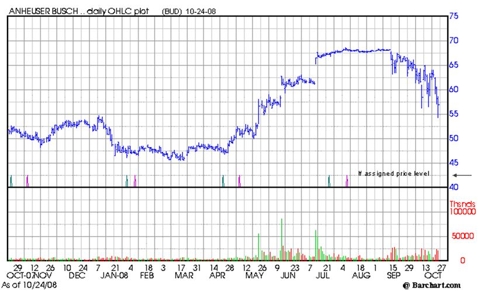 The suggested price above is based upon Friday's closing so today's prices will be about .15 less just from the loss in time decay, assuming no change in the stock price, so adjust you price expectations accordingly.
Assuming there are no financing problems with the deal, this appears to be an unusual opportunity.
Even if we do have a recession, will people stop drinking beer? Who knows, perhaps beer will even regain market share that it lost to wine in the last few years.   
Disclosure: none