I am always doing that which I cannot do, in order that I may learn how to do it. -- Pablo Picasso
It is looking like my call yesterday that Monday's fiscal cliff relief rally would be short-lived and that Hewlett-Packard (NYSE:HPQ) would greatly disappoint the market via its earnings report before the bell were good observations. I won't take credit for being prescient enough to know about the huge fraud at Autonomy that caused a massive writedown in Hewlett-Packard's report that will provide a significant headwind to the markets today. My options strategy on Apple (NASDAQ:AAPL) also had fortunate timing as the stock rose 7% yesterday in its best day since April. I am starting the day feeling pretty good that I will triple my investment on that play. As they say, timing is everything in life.
I believe my play on Apple also demonstrates the value of using options strategies in uncertain markets. By keeping your risk low and your possible reward high, you can use these options tools as part of an overall game plan to successfully navigate these turbulent times. The key is to have a theme to play and to structure your options to at least triple your money when you are right. Even if you are correct 40% of the time, it will be a profitable way to deploy a portion of your portfolio.
Today's options play comes courtesy of Research In Motion (RIMM). The stock has behaved much better recently. Over the last three months, the stock is up some 30% since bouncing off a technical support level at just over $6.50 a share. The stock has easily outperformed the overall market and is above its 100-day moving average (see chart).
Click to enlarge image.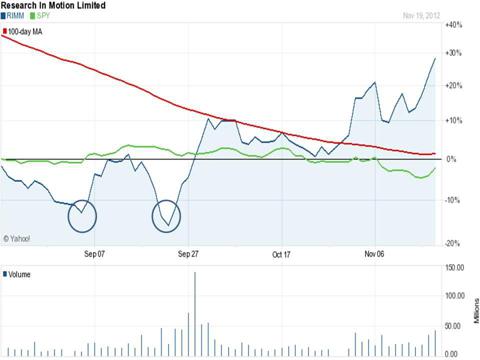 The company has several possible catalysts to provide a significant pop to the stock if things go well over the next six months:
Its long-awaited BlackBerry 10 operating system will be released early in the first quarter.
Already some analysts are saying this OS is getting good feedback from phone carriers, and Jefferies came out today raising its rating from "sell" to "hold." The telco analyst who made this call had been extremely bearish on the stock to this point, but changed his mind based on this carrier feedback. He now says the stock could go to over $40 a share if everything goes well.
I think it is also important to realize how much the phone carriers want to avoid a duopoly situation where Apple and Google are the only players in town. Whether a third solution comes from Microsoft with Windows 8 or from BlackBerry is irrelevant, as long as the carriers have a third option.
In addition to the operating system, RIMM still has a few things going for it. It still has a significant subscriber base, acceptance in corporate IT departments, more agreements with phone carriers than Apple, and approximately $2 billion in net cash (over 40% of its market capitalization). In short, the stock is worth a shot if you can structure the risk/reward properly.
Here is the options strategy I structured on RIMM yesterday that will more than triple my money should RIMM have a successful launch of BB10, and limits my risk.
Options Strategy: Buy the June 10 call while simultaneously selling the June 15 call for a net spread of $1.15.
Outcome 1: RIMM's new operating system disappoints and the stock never gets above the $10 level by my June expiration date, in which case I lose my $1.15 bet.
Outcome 2: The new operating system is even a modest hit and RIMM goes above $15 by the June option expiration date. In this case, I net a profit of $3.85.
Outcome 3: The stock gets to June expiration somewhere above $10 and below $15 a share. In this scenario, I get the difference above $10. Let's say the stock ends at $13 a share, which nets my play $1.85 ($3-$1.15).
Disclosure: I am long AAPL, RIMM. I wrote this article myself, and it expresses my own opinions. I am not receiving compensation for it (other than from Seeking Alpha). I have no business relationship with any company whose stock is mentioned in this article.