Excerpts from Gilford Securities analyst Ashish R. Thadhani's recent note to clients on Wipro (NYSE:WIT):
• • •
"In the winter of despair ...lies the spring of hope."
-- Chairman Azim Premji invoking Charles Dickens
Investment Conclusion. Based on delays in IT spending decisions amidst the ongoing global financial crisis – and material hedging exposure arising from recent rupee depreciation – we are reducing our estimates as follows: fiscal 2009 EPADS to $0.50 on revenue of $5.628 billion (14% YoY growth) from $0.59 on revenue of $6.056 billion; and fiscal 2010 EPADS to $0.55 on revenue of $6.195 billion (10% YoY growth) from $0.70 on revenue of $7.418 billion. Our model conservatively assumes no QoQ Services revenue growth in the next three quarters. Longer term, we believe that Wipro should deliver ~20% YoY Services revenue growth in fiscal 2011 and beyond. To reflect prevailing sentiment, we are also resetting our target price from $14.50 to $9. In 12-months, this would correspond to 15x forward EPS – a modest premium to the current valuation. These aggressive cuts enable us to accentuate 1) an upward bias to our estimates; and 2) inexpensive valuation of 14x forward EPS. While recent deterioration in the macro environment clearly poses short-term challenges, we believe that rising cost pressures could ultimately serve to accelerate offshoring initiatives.
2Q09 Results. EPADS of $0.12 vs. $0.14 a year ago on revenue of $1.380 billion (16% YoY growth) missed our $0.14 estimate on revenue of $1.463 billion. Revenue was held back by unfavorable currency swings (-$74 million impact). Results also included a sizable $25 million net currency translation/hedging loss (-1.5 cent EPS impact). Operating income rose 7% YoY. Highlights included 4.0% QoQ and 29% YoY revenue growth in the IT Services segment (based on realized and not quarter-end exchange rates); resilient growth in the U.S. region (+3.3% QoQ and +32% YoY) and Financial Services segment (+7.8% QoQ and +41% YoY); improved price realizations (+5% YoY); and six wins in the $30-100 million TCV category.
• Takeaways. Wipro recorded encouraging QoQ movement in price realizations (+1.8%), utilization (+1.0%) and wage inflation (low-end of prior range). However, it posted uninspiring trends in volume growth (+1.2%), operating margin (-50 bps), headcount expansion (+2.0%), employee attrition (+4.4%) and DSOs (+5) – and also suspended the interim dividend (INR 2 per ADS).
Management noted: rapid deterioration in the global economic landscape since September – combined with a currency headwind and fewer working days – to explain cautious 3Q09 IT Services revenue guidance of 1.0% QoQ and 14-15% YoY growth; although less than 2% of revenue is directly exposed to impacted organizations – given the uncertain environment – other clients are deferring decisions or placing discretionary projects on hold; surprising strength in the U.S. and Financial Services segments can be attributed to critical/continuity projects and ramp-up of a large client; and annual offshore salary increases (effective August 1) moderated to 7-8% vs. 12-13% in prior years. To counter a slowing economy, Wipro will focus on scalable transformational opportunities, particularly with existing clients; leverage its consulting and domain capabilities; and move steadily toward a more non-linear model, i.e., through IP creation and sharing in productivity gains.
• Revenue at the core Services segment advanced 15% YoY to $1.023 billion but fell short of our $1.086 billion estimate due to a currency distortion. Growth was driven by the Infrastructure Management practice (65% YoY), Manufacturing & Healthcare vertical (42%) and India & Middle East region (48%). Operating income of $220.0 million (15.9% margin) fell short of our $241.7 million estimate (16.5% margin) due to lower profitability in the Products segment, higher amortization expense and forex losses. Profitability on a QoQ basis was hurt by a scheduled salary increase for offshore employees (140 bps impact) – mitigated by improved price realizations and utilization. In the reclassified IT Services segment, operating margin dropped to 20.3% from 21.8% a year ago, primarily on account of the Infocrossing acquisition. Near-term, Wipro expects a stable operating margin in spite of an annual salary increase for BPO employees in 3Q09. Available levers for offsetting annual wage pressure comprise pricing (driven by performance on fixed-price projects and non-linear initiatives), employee/offshore-mix, utilization and acquisition performance.
• Hourly price realizations averaged $71.42 for onsite work (up 1.9% QoQ and 5.0% YoY) and $24.23 for offshore (up 1.8% QoQ and 4.6% YoY). Billed volume rose just 1.2% QoQ and 16% YoY. Utilization (excluding trainees) stood at 79.3% vs. 79.0% a year ago. Higher-margin offshore work contributed 45.9% of service revenue vs. 46.1% in the June quarter. Global headcount rose 2.0% QoQ and 10% YoY to 97,552 in September. Attrition deteriorated to 21.0% from 17.9% a year ago due to a spike in the involuntary component.
• By vertical, Technology, Media & Telecom ranked largest (30% of IT Services revenue), followed by Financial Services (26%), Manufacturing & Healthcare (19%), Retail & Transportation (17%) and Energy & Utilities (8%). Top-10 clients accounted for 20.4% of IT Services revenue, down from 20.9% in the June quarter. Wipro has 16 clients (vs. 14 in June) with an annual revenue run-rate of $50+ million, 34 (vs. 33) with $20-50 million and 35 (vs. 33) with $10-20 million. Wipro added 28 new IT Services clients compared with 31 in the immediately prior period. It exited the quarter with an active roster of 906, down from 928 in June but masking a shift toward larger names.
• Wipro generated CFFO of $159.7 million (or $0.11 per ADS) in the quarter. Major outflows comprised a dividend distribution ($147.0 million), capital expenditures ($93.9 million) and acquisition payment ($23.9 million). Wipro exited the quarter with net cash of –$1.4 million, down from +$158.9 million on June 30. Accounts and unbilled receivables slipped to 85 DSOs from 80 in June.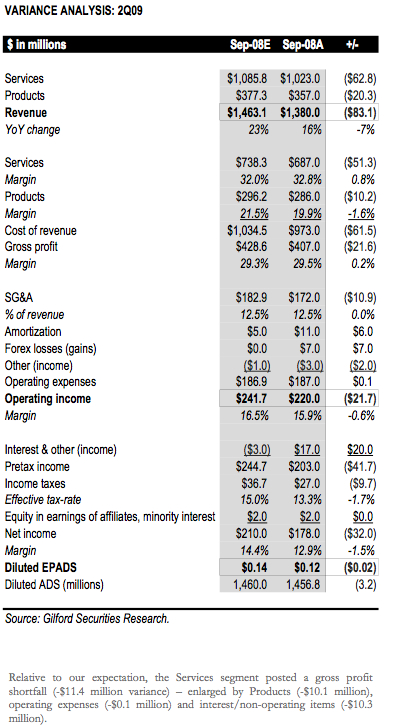 ANALYST CERTIFICATION
I, Ashish Thadhani, certify that all the views expressed in this research report accurately reflect my personal views of the subject companies. I certify that I have not and will not receive compensation with respect to the issuance of this report.