By Mitchell Hall
If Brazilian oil and gas titan Petrobras (NYSE:PBR) can somehow convince the Brazilian government, its majority shareholder, to lift the cap on petrol prices, it could be a strong signal to go long the stock.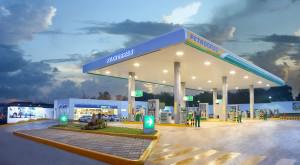 Unreasonably cheap?
The company's performance has been middling. It posted its first quarterly loss in 13 years in August, while third quarter results were flaccid. Profit slid 12% to 5.57 billion reais ($2.7 billion) thanks to fuel imports pushing up costs even as crude output fell.
Colombia's Ecopetrol (NYSE:EC) has now overtaken PBR as the leader in South America by market cap.
As The Economist neatly summarizes:
Political interference is the main source of Petrobras' woes. Since 2006, the government has capped petrol prices to combat inflation. To meet rising demand, Petrobras has been obliged to top up what it produces with imports, which it must then sell at a loss.
This puts PBR in the awkward position of doing better with lower international oil prices.
Despite increasing prices for gasoline and diesel by 7.8% and 3.9% respectively on June 25, and then lifting diesel another 6% on July 12, pump prices in Brazil still enjoy a 20% subsidy. Petrobras estimates international crude prices will trade around $100 a barrel for the next couple of years, and desperately wants retail prices to reflect that.
Its other key challenge is to increase local production output, which fell quarter after quarter in 2012 on a lack of new platforms, maintenance issues and the natural decline of existing reservoirs. Impatient investors may have to wait until 2014 to see production boosted while the company works on adding facilities and improving efficiency.
CFO Almir Barbassa explained various plans to boost capacity at an investor forum in New York last week organized by Brazilian bank Banco Bradesco, saying, "This is the main target of the current administration of Petrobras."
With 15 billion barrels of proven oil supply in the pre-salt Santos Basin, there are reportedly billions of additional barrels of oil in unproven fields buried beneath rock, 1.2 miles of shifting salt, and 1.2 miles of Atlantic seawater off the coast of Sao Paulo.
The company added a platform there in September, the Baleia Azul, which started with an output of 29,700 barrels per day and should hit a peak of 72,000 barrels per day in February, reports Fox Business.
Petrobras expects its new Cidade de Sao Paulo rig to start producing oil at the Sapinhoa pre-salt field (in the Santos basin) in January. It has the capacity to produce 120,000 barrels of oil and 5 million cubic meters (176 million cubic feet) of natural gas per day.
The company also today sealed a 20-year deal with SchahinPetroleo e Gas SA and Modec Inc. to rent a floating production, storage and offloading container in the pre-salt Santos Basin.
Accessing all that oil will require substantial cashflow, and the company may sell more assets if the government doesn't allow it to raise fuel prices to international norms. Petrobras plans to generate $14.8 billion from the sale and restructuring of assets, according to its 2012-2016 business plan.
Foster says the board, dominated by government-appointed directors, now gets that the company needs to concentrate on pumping oil if it wants to generate the revenues needed to invest in job-creating refineries and terminals.
PBR is 10.08% off of its 52-week low and has slid -11.64% from its 20-day moving average. Current earnings per share are down -24.07%, and the current quarter's performance is at -14.48%.
Investors should be skeptical that government appointed directors will have the backbone to raise petrol prices; especially given popular pressure on the government to tame persistently high inflation. If by some miracle they do, Petrobras stock will be a bargain sure to be scooped up fast.