S&P 500 futures traded limit down early Friday and indicated that the Dow Jones Industrial Average might fall 500 or 600 points at the opening bell. The nosedive in the index futures followed another round of selling in overseas markets, which left major averages across Asia and Europe reeling between 8 and 11 percent.
Fear was at an extreme and that didn't bode well for the start of trading in New York. It was another unnerving trading session, similar to one seen two weeks earlier. However, contrary to October 10, a panic sell-off never materialized. Instead, the decline was relatively orderly and the change in the market's underlying tone over those two weeks seems to reflect an interesting shift in investor sentiment: from fear and panic to despondency and despair.
Some traders looked at the October 10, 2008 trading session as a possible capitulation day that might serve as a cathartic moment for the equity market. On October 10, you will recall, the Dow Jones Industrial Average plunged almost 700 points in morning trading and volume in the equity market surged. However, a midday reversal pushed the Dow back into positive territory late in the day. Although the industrial average, which traded in a record 1,000-point range that day, closed down 128 points, stocks were able to overcome the early weakness and finish mixed. For example, the NASDAQ and the Dow Jones Transports finished the day with gains.
The dramatic reversal on October 10 had many of the characteristics of a wash-out trading session that many traders had been waiting for. It was a sign that fear and panic had reached extremes and occurred after a brutal 9-day 23 percent loss for the Dow Jones Industrial Average. Was it capitulation or that pivotal trading session many had been looking for?
The notion that October 10 marked an important bottom was clearly called into question Friday. Although the Dow sits roughly 500 points above its October 10 intraday low, it closed Friday at its lowest levels since April 25, 2003. The Dow Jones Transportation Average and the NASDAQ have already fallen below their October 10 lows. It doesn't appear that October 10 was a market bottom.
While the selling resumed last week and pushed the major averages to new 5-year lows by Friday, the sentiment was a lot different than on October 10. For example, volume was relatively light. While 7 billion shares traded on October 10, only 4.2 billion traded on the NYSE and the NASDAQ on October 24.
The action in the options market was uneventful as well. The Chicago Board Options Exchange [CBOE], which saw record amounts of index put volume on October 6 due to heavy hedging activity, is seeing a steady decline in volume. At the same time, the put-to-call ratio for trading on the CBOE has been easing as well. The ten-day average hit an extreme 1.255 on October 10, but has since edged down to 1.03 (see Figure 1). The decline in the ratio, which tracks the day's put volume compared to call activity on the CBOE, suggests that the surge in demand for index puts is diminishing, which also suggests that the period of panic seems to have passed.
click to enlarge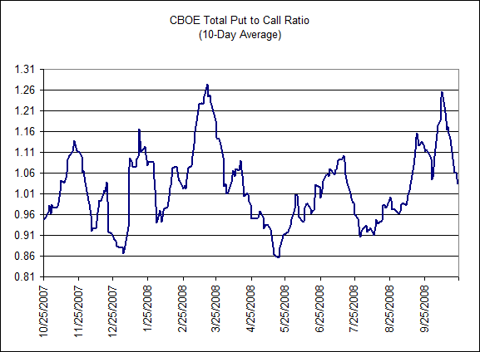 Click to enlarge
Figure 1: CBOE Put-to-Call Ratio (10/25/2007-10/24/2008)
Mutual fund investors are showing a shift in sentiment. According to AMG Data, equity funds (excluding ETFs) saw net inflows of $225 million in the week ended October 22. The flows follow $14.2 billion in redemptions during the week ended October 15 and a whopping $75.3 billion of outflows during the third quarter. The pace of selling on the part of mutual fund investors is slowing, which seems to offer another indication that sentiment is changing after the recent period of extreme panic.
The investor surveys showed little changed in the latest week. According to Investors Intelligence, 22.2 percent of those surveyed are bullish, compared to 22.4 percent the week before. Bearish sentiment rose to 54.4 percent from 52.9 percent. Meanwhile, the American Association of Individual Investors reports an even split of bulls and bears (38.74 percent), which compares to 40.94 percent bullish and 39.77 percent bearish the week before. The fact that the investment surveys aren't showing any real changes in bearishness or bullishness, but remain extremely lopsided in favor of the bears, seems to reflect a sense of despondency as well.
Being despondent is being in the state of having lost all hope. It reflects a sense of despair, a point where an individual ceases efforts to fight or resist. It is "giving in" and conceding defeat. The sentiment data from the most recent week of trading suggests that despondency is indeed the prevailing mood right now. It is no longer a sense of panic or extreme fear that might serve as a capitulation, wash out period, or "V-shaped" recovery. Instead, no one event is likely to end the bear market. It seems like it will probably take a series of events and therefore take a significant amount of time before investor confidence is restored and a legitimate bull market can begin.
Disclosure: None