Earlier this quarter Celegene (NASDAQ:CELG) was making news when they reported that Abraxane helped metastatic melanoma patients live longer than when treated with the chemotherapy drug dacarbazine. According to the World Health Organization, there are 132,000 new melanoma cases diagnosed annually. This was uplifting news as seen by many in the biotech industry.
Well, now they've made the headlines again. This time it wasn't so glorious. The Securities and Exchange Commission charged three health care company employees and four others in a New Jersey-based insider trading ring. These executive are allegedly high school friends who generated approximately $1.7 million in illegal profits and kickbacks by trading in advance (front running) of 11 public announcements involving mergers, a drug approval application, and quarterly earnings of pharmaceutical companies and medical technology firms. According to the SEC's complaint filed in U.S. District Court for the District of New Jersey, the scheme allegedly began back in late 2007 between executives at health-care companies; Celgene, Sanofi (NYSE:SNY) and Stryker (NYSE:SYK).
Daniel M. Hawke, Chief of the SEC Enforcement Division's Market Abuse Unit and Director of the Philadelphia Regional Office, in a statement said:
"This is yet another case where wrongdoers believed they could outsmart investigators by creating an elaborate smokescreen to hide their insider trading. Such tactics as using middlemen to pass inside information and compiling research to falsely justify illegal trades will not prevent lawbreakers from getting caught."
How many times have traders seen unusual options activity just days before a huge announcement? Don't these guys making these unusual trades realize that the SEC's stock watch division looks for unusual trading activity prior to big stock runs or announcements. Surely, traders must realize that the SEC gets notified of these unusual trades just like you and I can see on the trading screens.
Well, the SEC can ask the exchange what firm traded in front of the announcement, then have the firm tie the trade to the trading individual(s). Then the individual or individuals are then investigated to see how these trades tie back to the underlying security like Celgene for example. As the SEC looks into this further, one thing they may want to know is something like the following: Is it a normal trading habit of this person to be trading 1,000's of call options? Better yet, in their ongoing investigation, is buying 1000's of call options prior to a huge announcement fit with that person's usual trading habits? What is their success rate? Do they do this with only one or two stocks or several stocks all the time?
The SEC would want to establish the normal trading habits uncovered here. Maybe this individual only buys 100 shares here and there and then, voila, they trade 1,000 calls? These trades don't fit, which brings out a major "red flag." If red flag's appear, there is a great chance that some insider trading has been happening, and if found guilty all of the gains plus penalties will be returned along with a sentence of jail time for everyone involved.
While this activity by these few employees has not caused any severe damage to the trading of the three company stocks mentioned, it does offer a hard lesson. The lesson being that this type of activity can be detected and if caught will be punishable by fines and/or jail time if caught and convicted in a court of law. Monday, Celgene closed at $75.18 +0.85 or +1.14%, Sanofi closed at $43.27 +0.67 or +1.57% and Stryker closed at $53.00 +0.90 or + 1.73%.
If we just take a more practical view of Celgene by itself we see that stocks like this with a solid balance sheet and pipeline can recover or not even become effected by negative acts by employees. Such is the case here. The company itself didn't do nothing wrong. In fact, this stock has trended up since around July. One might call this a "V" bottom reversal with a Cup and Handle Breakout as signaled by the MACD technical indicator. Please the chart below.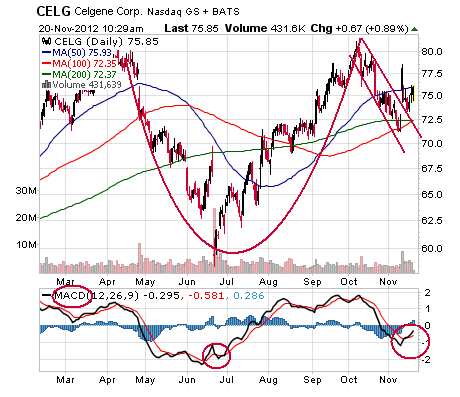 Earlier this year, as reported in March of 2102, an ex-FDA chemist named Cheng Yi Liang was busted for trading insider. He was very successful at using sensitive inside information to reap illegal profits in the lucrative pharmaceutical securities market. This is illegal and known as securities fraud. Liang reaped profits and/or avoided losses of almost $3.8 million from trading on confidential information about how drugs were faring in the FDA approval process.
The scheme spanned almost five years and involved hundreds of trades and more than 20 stocks, the government said. He stood before a federal judge and was sentenced to five years in prison followed by three years of supervised release for insider trading. Liang was also ordered to forfeit the $3.7-$3.8 million representing the proceeds of the insider trading scheme.
Disclosure: I have no positions in any stocks mentioned, and no plans to initiate any positions within the next 72 hours. I wrote this article myself, and it expresses my own opinions. I am not receiving compensation for it (other than from Seeking Alpha). I have no business relationship with any company whose stock is mentioned in this article.