Per the latest data on net asset value at their website, the premium for the Sprott Physical Silver Trust (NYSEARCA:PSLV) sunk to just 1.83 percent as of yesterday's close and long-time holders of this silver ETF may be scratching their heads as to how much longer this trend may last and how much lower the premium might go.
While it is surely painful for those investors who bought this fund when premiums were much higher in recent years - nearly 35 percent less than a year ago - premiums are sure to again rise at some point, though they may not ever reach their former highs.
Shockingly, as of yesterday's close, though the silver price was up almost 19 percent this year, PSLV was down almost 2 percent.
But, more importantly, with the premium now so low, this is an opportune time to enter new positions in PSLV since its unique qualities - redemption for relatively small amounts, potential tax advantages, and the metal being stored in Canada - are sure to push the premium higher when the next major leg up in the silver price gets underway.
As shown below along with the iShares Silver Trust ETF (NYSEARCA:SLV), since its inception in late-2010 until today, PSLV has tracked the price of silver relatively well.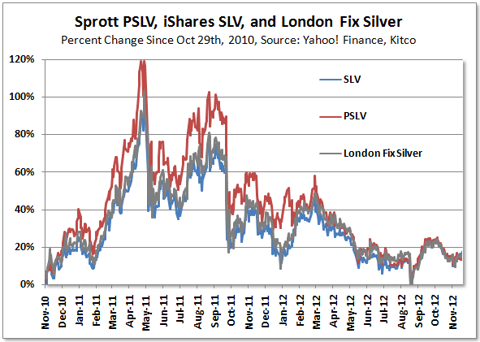 In fact, going back over two years, all three of these silver investments are within a couple of percentage points of each other, a rather remarkable feat given the poor performance of other commodity ETFs for energy and agricultural goods.
As an aside, I recently noticed how poorly natural gas ETFs have done this year in spite of what appears to be the first winning year for the underlying commodity in five years. While natural gas futures were up about 26 percent for the year as of Friday, here's what the related ETFs have done:
In any event, it is fortunate that metal ETFs don't suffer from the same problems as these funds do and a percentage point difference here or there in the PSLV premium shouldn't discourage anyone from taking a chance that this premium will rise substantially when the silver price again surpasses $40 an ounce and heads back to its early-2011 high near $50 an ounce, and then beyond.
Of course the PSLV premium dropped for good reason last week, that is, after Sprott announced they will purchase another $270 million in silver bullion as detailed in this press release.
Not having owned PSLV before August, I've been somewhat surprised at how it moves on a day-to-day basis, but, in the long-run, I think this investment choice will work out just fine.
Simply put, seeing the effect that a rising/falling premium has on the fund is just something that you have to get used to.
The November 9th dip - when the premium plunged from nearly five percent to just over two percent - was just one more occasion where the changing premium worked against current owners while, at the same time, offering better prices for new buyers.
When the silver price undergoes its next major move higher, I expect the PSLV premium to rise sharply and, that would be an excellent time to sell this fund and put those proceeds back into the SLV ETF from iShares.
This will "lock-in" the premium gains and continue to provide exposure to the metal without risking a loss due to falling premiums when investor enthusiasm fades.
Disclosure: I am long PSLV, SLV. I wrote this article myself, and it expresses my own opinions. I am not receiving compensation for it (other than from Seeking Alpha). I have no business relationship with any company whose stock is mentioned in this article.
Additional disclosure: I also own silver coins and bars