The Fiscal Cliff relief rally is struggling to sustain a third day of gains. Hewlett Packard's (NYSE:HPQ) bombshell that it got snookered to the tune of billions of dollars by Autonomy certainly is not helping sentiment. I don't think the market wins this fight today and I have initiated a new short this morning after having several short positions expire in the money on Friday during options expiration for November.
Splunk (NASDAQ:SPLK) provides software solutions that provide real-time operational intelligence. The company offers two main products; Splunk, an engine that collects, indexes, and harnesses machine data generated by physical, virtual or in the cloud IT infrastructure; and Splunk Storm, a cloud version of Splunk to analyze cloud based applications.
7 reasons SPLK is very overvalued at $28 a share:
Insiders have sold almost 70% of their shares since the company came public in April.
In this turbulent environment, stocks selling at over 17x annual revenues and 12x book value are highly vulnerable when the next "risk off" wave hits the market.
The company will lose money this fiscal year and is only forecast to breakeven in the next fiscal year.
Splunk has a non-diversified product line and faces increasing competition from industry heavyweights such as Oracle (NASDAQ:ORCL).
Corporations are cutting their spending plans at the fastest rate since the end of the recession. This is not good for companies that rely on this corporate demand like Splunk.
Government spending on IT will probably be another casualty in whatever happens during the aftermath of the fiscal cliff resolution or sequestration process. Another huge customer with a reduced demand outlook.
The stock is trading under its IPO price and under its 100 day moving average as well (See Chart). Now that employees have sold most of their shares, some will look for greener pastures given the demand for their specific expertise. This will not be helpful for productivity or morale.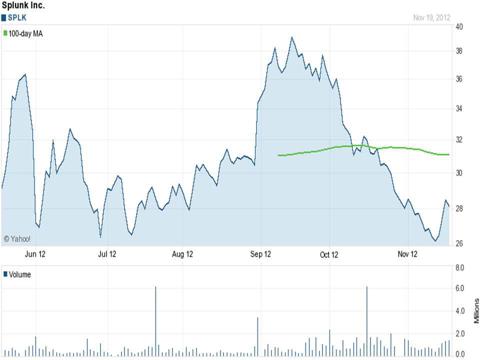 Note: I always short through bear market call spreads to limit downside if I am wrong or some large corporate player makes the mistake of overpaying for an acquisition (See Hewlett Packard/Autonomy)
Disclosure: I am short SPLK. I wrote this article myself, and it expresses my own opinions. I am not receiving compensation for it (other than from Seeking Alpha). I have no business relationship with any company whose stock is mentioned in this article.