Back in September I wrote an in depth article where I examined EBIX (NASDAQ:EBIX) with respect to investment quality and derived a valuation of $26.87 per share. To improve returns on an investment, I always attempt to purchase stock at a discount to its current value. Based on that strategy, I targeted to initiate a position at between $18.81 to $20.51 per share.
On November 5 Bloomberg published an article stating that EBIX is the target of an ongoing SEC probe into its accounting practices, citing four anonymous sources. The SEC has not confirmed nor denied these allegations, while EBIX's CEO Robin Raina responded immediately stating:
"The Ebix senior management team has not been advised of nor is it aware of any SEC investigation regarding the Company's previous filings. We stand behind the accuracy of our public filings. The Bloomberg article is inaccurate and misleading in many respects and we intend to evaluate all avenues of recourse."
As a result of this article, EBIX shares have dropped from around $22 / share on November 5 to a recent low of around $16 / share over the past week - a 27% drop. This is well under my target entry price, but is my original thesis that EBIX is a quality company still valid in light of the recent reports?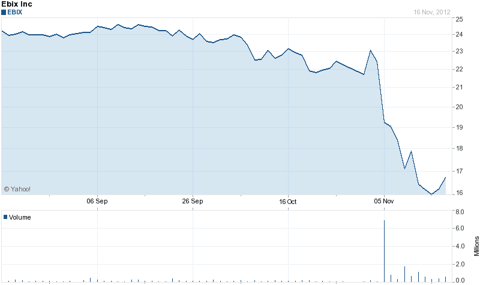 Analysis
The question now becomes whether or not there is truth to these allegations. There are some that say that the report is completely false and that this is an attempt by short sellers to incite panic to profit on the resulting decline. There are obviously others who believe the reports and have closed their positions (hence the steep decline in share price). I believe, as is usually the case, that the truth probably lies somewhere in the middle.
EBIX reported earnings on November 8, with revenue reported to have increased 26% YoY, while net income grew 9%, however excluding a one-time gain in Q3 '11 net income grew 18% YoY. Management also announced a 50% dividend increase to $0.075 per share for a yield of 1.8%.
I still feel that EBIX is a quality company and believe that even if there are some accounting discrepancies to be found, the sell-off has been overdone and this presents a buying opportunity. I initiated a position during the sell-off on November 5th, entering at $18.81 and added to the position again on November 16th at $16.23 per share.
For tracking purposes, let's assume the following (my actual trade sizes were different):
| | | |
| --- | --- | --- |
| Date | # shares | Value |
| Nov. 5 | 1000 | $18,810 |
| Nov. 16 | 1300 | $21,099 |
| | | |
| TOTAL: | 2300 | $39,909 |
This represents an average cost per share of $17.35 and based on Monday's (Nov. 19) trading price of $16.81 I am currently showing a loss of $1,242 or 3.2%.
If my theory is correct and EBIX does at some point in the future return to my valuation of $26.87 per share, and assuming I do not add to or remove from the position in the meantime, we would achieve a profit of $21,896 or 54%. Let's see how this plays out going forward.
Disclosure: I am long EBIX. I wrote this article myself, and it expresses my own opinions. I am not receiving compensation for it (other than from Seeking Alpha). I have no business relationship with any company whose stock is mentioned in this article.