This article is trying to build an investment case for luxury brands with the data showing income segregation and uneven growth in after-tax income, which could ultimately result in stronger demand for luxury brands in the long-term. While there are near-term concerns about global economic slowdown, certain luxury brands had proved themselves as powerful "risk mitigators" in the latest financial crisis. Lastly, a list of companies and ETFs for luxury brands investing will be presented for investors to research further.
Income Segregation Rises in the U.S.
The middle class is shrinking, and income segregation is rising in the United States. In 2010, 28% of lower-income households were located in a majority lower-income census tract, up from 23% in 1980. 18% of upper-income households were located in a majority upper-income census tract, from up 9% in 1980, according to the research conducted by PEW research center with the graph provided below.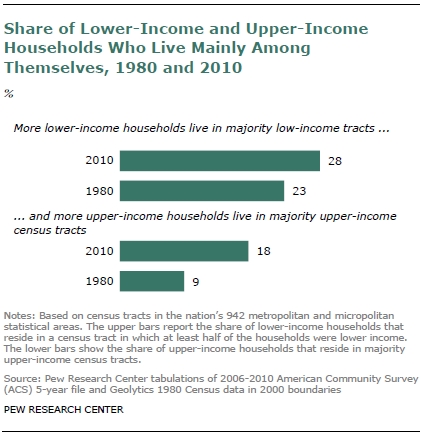 Source: PEW research center
Uneven Growth of Income for Americans
According to the report for trends in the distribution of household income, 1979-2009 from Congressional Budget Office, households in the top 1 percent experienced very rapid growth in after-tax income over the 1979-2009 period. By comparing peak to peak (1979-2007), their after-tax income grew by over 300 percent. The slide from CBO with numbers is provided below.
Source: Congressional Budget Office
Despite the recent recession (2008-2009), where the income for the highest income households fell by over one-third, their cumulative growth in average income was still much higher than the rest, as shown from the graph below. Moreover, there are evidences suggesting a rebound in 2010 for high-income households.
Source: Congressional Budget Office
Power of Luxury Brands and Investment Implications
With the global economic slowdown and the upcoming fiscal uncertainty in the U.S., the consumption maybe slowed; however, the effect will not be permanent. With the growing of income inequality, it is likely for riches to focus and spend more on luxury brands. A quote from Interbrand well stated the power of luxury brands,
"In the wake of the recent crisis, brands that have chosen to reclaim their history and uniqueness have shored formidable assets against any future economic downturn. They have based their brand promises and performance upon drivers of choice that are, by definition, less sensitive to a dampening economic climate.

When we look at the financial landscape, stabilization is what everyone seems to be seeking. A true luxury brand-one whose offer is really about undying currencies such as heritage and excellence-may well be the treasury bond of tomorrow's competitive world, yielding the financial multiples and business continuity that represent the real luxury of today's economy."
The power of luxury brand can be supported with the recent performance of Michael Kors Holdings Ltd. (NYSE:KORS), whose share price had more than doubled since its IPO on December 16, 2011.
Below is a list of global luxury brands for investors' reference:
For investors who would like to track above companies, two U.S. listed ETFs are provided below:
SPDR S&P International Consumer Discretionary Sector ETF (NYSEARCA:IPD)
SPDR S&P International Consumer Staples Sector ETF (NYSEARCA:IPS)
Investors are recommended to do their own due diligence and research before making any investing decisions. Above companies and ETFs are provided only as a starting point for interested investors to research further.
Disclosure: I have no positions in any stocks mentioned, and no plans to initiate any positions within the next 72 hours. I wrote this article myself, and it expresses my own opinions. I am not receiving compensation for it (other than from Seeking Alpha). I have no business relationship with any company whose stock is mentioned in this article. Long Luxury Brands