Good day, readers. This is the second week of our $1,000 portfolio dedicated to trading weekly options. Last week, Apple (NASDAQ:AAPL) behaved like a company going bankrupt, touching $505.75 on expiration day, but finishing the day at $527.68.
So if you followed last week´s article, you know the spread went deep-into-the-money, something I hope never happens again. If, however, this does happen, a trader must be able to "roll" his position.
Rolling
"Rolling" your position is essentially buying back your current position and re-opening at another strike price and/or expiration date, for credit or debit, depending on how the market values your current position and the one you are trying to open again. The great advantage of "rolling" is that it gives you more time for your trade to work. For example, taking last week´s trade -- when we were short two Apple weekly 520 strike-price puts and long two Apple weekly 515 strike-price puts -- if you had decided that Apple was not going to recover from its low price, you would simply:
1) Buy to close 2 Apple 520 weekly puts
2) Sell to close 2 Apple 515 weekly puts
This effectively closes your position, but at a huge loss. Let´s say you would pay around $4 debit for each contract, making buying it back very costly at $400 per contract (4x100).
If you "roll" your position into next week keeping the same strike prices, you would place another two legs for the same trade:
3) Sell to open 2 Apple 520 weekly (Nov Week 4) puts
4) Buy to open 2 Apple 515 weekly (Nov Week 4) puts
This is normally done at a small debit, as prices for options expiring very soon (as on Friday) are worth more than the same option strike prices for next week.
This trade would have had a cost of around $0.30-$0.70 in debit per contract.
You see how this is much cheaper than just closing your entire position.
Do not roll if you do not see a reason why the trade will keep working, so you must admit when you are wrong and close your position instead of trying to roll into eternity, as you might probably have to take the same decision next week. Only "roll" when you think the chances of another week or month will greatly improve your chances of the trade you initiated working out profitably for you, after re-evaluating the market´s recent behavior, lack of enthusiasm for your stock, crowd psychology (as measured by AAII Investor Sentiment), put/call ratio, and technical analysis, among other market gauges.
And now, on to this week´s trade:
If you followed last week´s trade, you now have around $1,100 to trade weekly options.
I waited for Monday evening to write this article as I wanted to see a "face-ripping" rally happen first to shake out the weak shorts. And yesterday, Apple closed at $565.73, so a 7% advance for a behemoth stock like this is huge.
What to do now?
I would suggest selling greed. This is done by initiating a "bear call spread," which is the same as selling call spreads. If you combine this with selling put spreads, you initiate what is called an iron condor.
Here is what the iron condor looks like: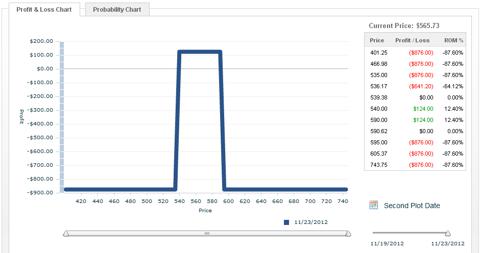 The trade should look like this:
Sell to open 2 Apple weekly puts at the $540 strike price
Buy to open 2 Apple weekly puts at the $535 strike price
Sell to open 2 Apple weekly calls at the $590 strike price
Buy to open 2 Apple weekly calls at the $595 strike price
Notice how you profit if Apple ends this week between $539.38 and $590.62, which gives the stock some room to keep moving after its gigantic $38 move made Monday.
For this trade to not work, the stock would need to move around $25 more to the upside or $25 to the downside. This pales in comparison to yesterday´s move, but such a huge move up regularly ends up with option buyers buying a lot of out-of-the-money calls and seeing them expire worthless. I expect smaller price moves the rest of this week, and that´s why I chose these strike prices. However, there´s another choice.
Less Risk=Less Credit
If you feel uncomfortable with this position, you can widen the strike prices. For example, if you think Apple will rally above $590 but below $600 this week, you would sell to open 2 weekly calls at the $600 strike price and buy to open 2 weekly calls at the $605 strike price -- for less credit, of course.
Technical Picture
Currently, Apple looks like it needs to fill the gap it left on the way up to Monday at around $535. Gaps usually fill in a few trading sessions, and then continue their past trend.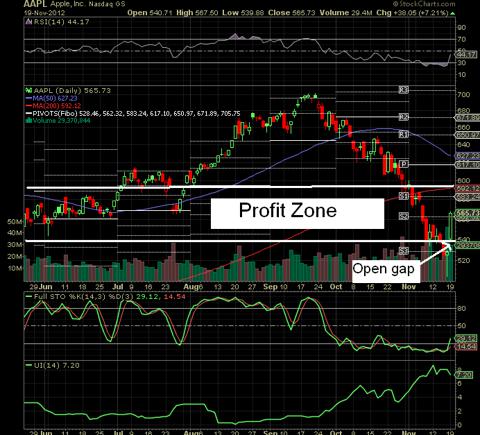 So my final thoughts for going into this trade are: If you have a lot of time to monitor your positions, place the short call spreads today and wait for Apple to go down to at least $550 to place the short put spread, in order to get more credit per put spread.
Always sell calls on green and sell puts on red, or at least try to. Iron Condor puritans will say to place the iron condor as it is, and I have no problems with that, so you can do either.
But for portfolio comparison purposes, you should place the trade today, I will be patiently waiting for Apple to fall (if it does) and fill its gap. Check out my Stock Talks, where I will be posting the price if I sell more put or call spreads, or decide to "roll" the position.
Be careful when placing this trade, because of the wide bid/ask spread. At the moment of writing, the bid is $0.58 and the asking price for each spread is $0.83. Never sell at "market" price.
You should aim for getting at least $0.70 credit per spread, which would be $70 per contract minus commissions.
Feel free to ask questions if something is not clear enough.
Disclosure: I am short AAPL. I wrote this article myself, and it expresses my own opinions. I am not receiving compensation for it (other than from Seeking Alpha). I have no business relationship with any company whose stock is mentioned in this article.
Additional disclosure: I am delta-neutral AAPL, having weekly AAPL Iron Condors.