Commodity Chart Of The Day

Daily Corn
(click image to enlarge)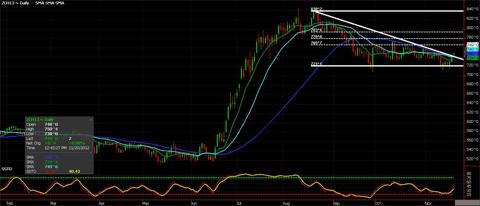 For the last two months, it has been like watching paint dry with sideways action in corn as the 50 day MA has capped every upside attempt. However, that changed yesterday in March futures as prices closed above their 50 day MA. Then today, we have probed the down sloping trend line that has held since August.
My suggestion has been to gain bullish exposure, as I am targeting a trade north in the coming weeks. I've advised clients to use the Fibonacci levels in the chart above as their targets. My favored play is back ratio spreads. Just like I have advised traders to scale in, I would also advise them to scale out on the way up.
Cash markets are firm across the board in Ags, which is supporting calendar spreads and helping outright futures move higher today, as I think this could be a reversal in the making. Farmers are not interested in selling, and the only way for that to change is for the market to trade higher. Another rationale as to why I opted for corn instead of soybeans -- even though the soybean chart is attractive -- is that corn does not have the weight of a hefty South American crop coming on.
Risk Disclaimer: The opinions contained herein are for general information only and not tailored to any specific investor's needs or investment goals. Any opinions expressed in this article are as of the date indicated. Trading futures, options, and Forex involves substantial risk of loss and is not suitable for all investors. Past performance is not necessarily indicative of future results.
Disclosure: I have no positions in any stocks mentioned, and no plans to initiate any positions within the next 72 hours. I wrote this article myself, and it expresses my own opinions. I am not receiving compensation for it. I have no business relationship with any company whose stock is mentioned in this article.