In line with my ongoing coverage of these sectors, this article will go over a few of the most recent developments in the iron ore and steel markets.
As always, we need to keep a keen eye on what happens in China regarding steel and iron ore. After all, China alone controls almost half of the world's steel production, so what happens there sets the tone for these two markets worldwide.
Chinese steel prices stagnated, sliding down
After having had a strong recovery on the back of a new Chinese stimulus program plus renewed monetary easing in the West, iron ore and steel prices in China have once again stagnated. Below, we can see how the steel rebar contract has been slowly sliding down (Source: Bloomberg).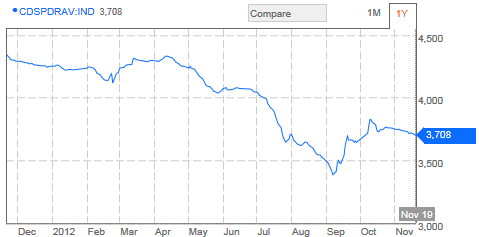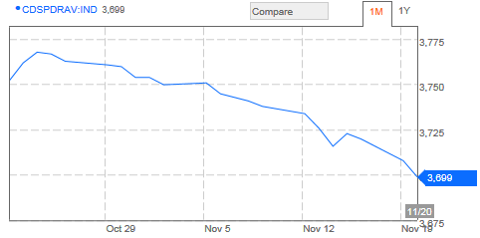 Steel never recovered much in the London Metal Exchange (LME)
Underscoring the market's weak faith -- even though we saw some rebound in Chinese steel prices -- the prices for the steel billet contract in the LME never recovered much. The market basically seems to be expecting that any Chinese recovery will be temporary, while European weakness will be enduring (Source: LME):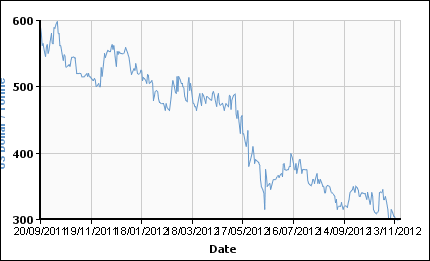 This and the stagnation and sliding of steel prices in China continue to present a bleak picture for Western steel producers such as U.S. Steel (NYSE:X), AK Steel Holding Corporation (NYSE:AKS), Nucor Corporation (NYSE:NUE) or ArcelorMittal (NYSE:MT).
China expected to lower taxes for its iron ore sector
Also relevant, Chinese sources indicate that the Chinese Finance Ministry is getting ready to lower the tax burden on the Chinese iron ore sector by half. This would be less relevant if it focused only on income taxes, but that's not the case, with the sources speaking about the aggregate tax burden and encompassing such things as VAT on fuel. As such, this has the potential to make the Chinese iron ore sector a bit more competitive cost-wise.
This is relevant, because the Chinese iron ore cost structure is usually seen as the support that keeps iron ore around $120/ton. It is thought that the Chinese producers' cost curve has a large percentage of its production around these levels, so when iron ore goes lower, these producers go offline and, by limiting supply, lend support to iron ore prices, which claw back towards those levels. If the costs of these producers are lowered by means of a lower tax burden, then it might be possible for iron ore to find a lower support level, even without any change in demand. Thus, this is negative for foreign iron ore suppliers such as Rio Tinto (NYSE:RIO), Vale S.A. (NYSE:VALE) or BHP Billiton (NYSE:BHP).
Cliffs Natural Resources (NYSE:CLF) curbs expansion and idles mines
Yesterday, Cliffs Natural Resources announced that it was suspending part of its Phase II expansion plan in its Bloom Lake Mine in Eastern Canada. This will bring the expected 2013 production from Cliff's Eastern Canada operations down to 9-10 million tons from the previously expected 13-14 million tons.
Cliffs Natural Resources also announced that it was idling two of the four production lines at Northshore Mining in Minnesota, while keeping its estimated 2013 U.S. production at 19-20 million tons.
These moves by Cliffs Natural Resources highlight its rather uncompetitive cost structure in a weaker iron ore market. The situation is particularly perilous in CLF's Canada operations, which have already been selling iron ore below cost, in spite of CLF's efforts to lower such costs. This can be seen below (Source: CLF's latest earnings report):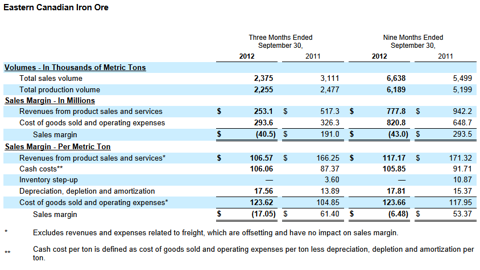 Goldman Sachs downgrades Cliffs Natural Resources
Today, Goldman Sachs slapped Cliffs Natural Resources with a rare "Sell" rating and a $25 price target. This is related to CLF's moves, since they led Goldman Sachs to believe Canada will have further difficulty to control costs on lowered production. Again, CLF's uncompetitive cost position -- particularly in Canada -- under a weak iron ore market context leads to doubts regarding its ability to sustain its large dividend.
Conclusion
Overall, the developments continue to be negative for both iron ore producers and steel producers. However, I must also add that I'm seasonally positive for the market as a whole going into year-end, so I wouldn't see these companies as short candidates at this point. Still, it's important to know how their fundamentals are evolving, and right now, such evolution continues not to be favorable.
Disclosure: I have no positions in any stocks mentioned, and no plans to initiate any positions within the next 72 hours. I wrote this article myself, and it expresses my own opinions. I am not receiving compensation for it (other than from Seeking Alpha). I have no business relationship with any company whose stock is mentioned in this article.