In North America the first eight months of 2012 were the warmest on record. That has been bad news for the maker of the comfy, cozy UGG branded boots and shoes, Deckers Outdoor (NASDAQ:DECK). In the June 2012 quarter sales grew 13% year-over-year, but in the September quarter sales declined by 9.2% compared to the same quarter last year. This was particularly troubling, since consumers seemed to have gone through some sort of shoe angst in the Fall 2011, weakening sales and making that year-ago period seemingly easy to hurdle. In turn these particularly sluggish sales have made it difficult for Decker to shrug off dwindling margins.
Investors reacted to the recent news by slashing the stock price and driving DECK to a new 52-week low in late October 2012. Is it time to buy an oversold stock?
Staging for Disappointment
Recent price erosion in DECK can also be attributed to disappointing guidance. Decker Outdoor management recently revised guidance for the fourth quarter and year 2012, trimming back their revenue prognostication for the year to 5% growth over 2011 (from 14% growth). Guidance for the fourth quarter is now 6% growth over the same quarter last year. Investors can choose 2012 sales levels between $640.0 million and $650.0 million implied by these guidance perspectives.
As easy as third quarter 2011 should have been to top, the more challenging it will be for Deckers to surpass its performance in the final quarter last year. By the winter holidays last year consumers shook of their worries and started buying Decker's trademark UGG sheepskin boots with an enthusiasm that seemed to go beyond seasonal interest. This allowed Deckers to report record sales in the fourth quarter 2011.
Can DECK shareholders expect a repeat performance of the 2011 holiday magic? This year consumers have better employment reports to boost their spirits, but uncertainly over tax rates in 2013 could cause some to hold back on spending in the last weeks of 2012.
Three weeks after management issued revised guidance, the consensus estimate for 2012 remained at $1.56 billion, implying $764.0 million in sales expected in the fourth quarter 2012 - well above the new, muted prospects management says are on the horizon. Decker's is not likely to deliver a 'beat' or even an 'in-line' performance against this consensus benchmark and that could trigger a cry of "Sell, sell, sell."
Summer Outdoor Shoes
In an earlier article on Deckers Outdoor in late May 2012, I was looking for a good play on consumer interests in heading outdoors for Summer 2012. It was Deckers' Teva and Sanuk brands that impressed. Unfortunately, Teva sales in the first nine months of 2012, have turned out 4.3% lower than the previous year. The same comparison for Sanuk is uninformative since Deckers acquired the brand in July 2011. However, in the third quarter 2012, Sanuk sales were 10.8% higher than the same quarter last year. To be fair, the third quarter was a success for Teva as well, with sales rising 23.6%. So even though the extended hot weather eroded UGG boots sales by 11% so far in 2012, Decker's attempt to diversify its shoe portfolio is paying off.
The graph below shows quarter sales for the last sixteen quarters. Historically, Decker's seasonal sales cycle peaks in the fourth quarter corresponding to the peak purchase period for warm boots and slippers and then sinks back to a seasonal low in the second quarter when temperatures rise. Decker's Teva and Sanuk branded summer shoes are relatively new to the portfolio, but could eventually boost sales in the first and second quarters. However, that has not happened yet.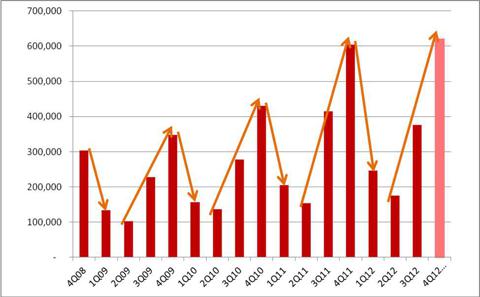 Back in the May 2012 article, I identified excess inventory as a potential cause for concern. A build up in inventory in early 2012 foretold a 'building' problem with sales. Inventory is added to the graph and even though it is a bit messy we can see the annual inventory build-up ahead of peak sales in the fourth quarter. Inventory was at a record $486.2 million at the end of September 2012. Based on Deckers' historic sell-through and order patterns, that level of inventory could support sales as high as $900 million. No one believes there is enough demand to create sales at that level. It is clear the company needs to burn off inventory.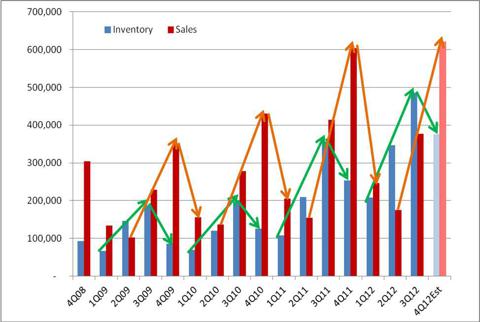 Rising Costs and Profit Margins
Along with lower sales expectations, management has also disappointed shareholders with grim news on profit margins. As early as last year Deckers management began complaining about rising costs for materials, particularly sheepskins for UGGs boots. So far Deckers has addressed the problem by raising selling prices, but there are limits to consumer tolerance. In the first nine months of 2012, the gross margin slipped to 43.4%, well below the 47.9% margin in the same period last year. Guidance for the gross profit margin in the fourth quarter 2012 is a whopping 430 basis points lower than 2011, suggesting a profit rate of 46.7% in the final quarter this year.
At the beginning of 2012, Deckers management was predicting a 40% increases in sheepskin prices, its principal raw material. Ample inventory on hand would be a blessing for investors worried about margins and rising costs. However, by the middle of 2012, livestock producers in Australia had a worry of their own. As sales for UGGs boots fell off, so too did Deckers' orders for sheepskins. According to the Australian Lamb Skin Processors, by third quarter 2012, the industry had experienced a 70% decline in sheepskin prices compared to highs in 2011. It appears Deckers is its own supply chain nemesis - driving up sheepskin prices with continued fast-paced ordering. Now when consumer demand appears weak, Deckers warehouses are chock full of inventory stitched up with high-priced materials.
Summary
It is tempting to pick up a beaten down stock and Deckers has made some compelling strategic moves in acquiring complementary brands. However, Deckers may be poised for further disappointment in the near-term, as analysts are forced to bring estimates into line with the realities management laid out for the fourth quarter 2012. There is little to celebrate about Deckers and that means there are few catalysts to jolt the investor psychology from the present 'boo, hiss' to 'hurray.'
Neither the author of the Small Cap Strategist web log, Crystal Equity Research nor its affiliates have a beneficial interest in the companies mentioned herein.
Disclosure: I have no positions in any stocks mentioned, and no plans to initiate any positions within the next 72 hours. I wrote this article myself, and it expresses my own opinions. I am not receiving compensation for it (other than from Seeking Alpha). I have no business relationship with any company whose stock is mentioned in this article.