We have to tip our hats to McDonald's Corporation (NYSE:MCD) for its performance since it hit its "rock-bottom" in 2002. Although there was no question that MCD was still the top burger chain in the world and probably the world's leading quick-serve restaurant chain regardless of the product served, it was obvious that McDonald's was serving up stale performance at that time. Thanks to a turnaround engineered by Jim Cantalupo, Charlie Bell and Jim Skinner, McDonald's had regained its sizzle and generated tasty performance from 2002 to the first quarter of 2012. We analyzed MCD's recent performance against its two largest burger chain competitors Burger King Worldwide (BKW) and Wendy's (NYSE:WEN) in August and November. We were able to conclude that although McDonald's has a commanding lead over Burger King and Wendy's, Burger King and Wendy's are nipping at the heels of McDonald's. It remains to be seen if MCD's new CEO Don Thompson can maintain the performance momentum created by his predecessors. When we consider the recent performance of McDonald's versus Yum Brands (NYSE:YUM), we would say to Don Thompson and the rest of the McDonald's executive management team "Don't look back, Yum Brands, Inc. is definitely gaining on you.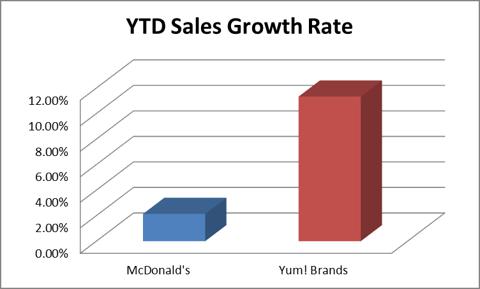 Source: Morningstar Direct
If we were to analyze and evaluate McDonald's in comparison to Yum Brands, we can see that McDonald's is a larger company in terms of absolute size. McDonald's revenue in the first nine months of FY 2012 was $20.6B while Yum! Brands checked in with $9.5B. McDonald's is different than Yum Brands in that YUM has three core brands (KFC, Pizza Hut and Taco Bell) while McDonald's Corporation's only current brand is McDonald's. McDonald's is primarily a burger chain with an emerging array of "healthy alternatives" while YUM offers fried chicken, pizza and Mexican food. We were surprised to see that YUM actually has 10% more restaurant locations than McDonald's and both companies rely heavily on franchisees and licensees in terms of actually operating the restaurant locations. McDonald's generates more revenue per location than YUM and actually has a higher profit margin (19.7%) than YUM (13.3%).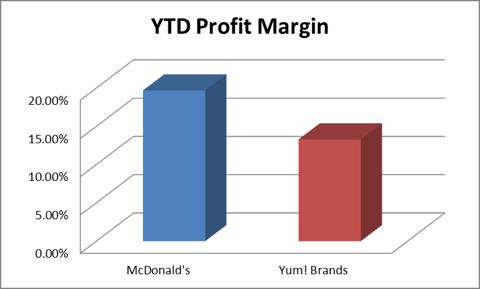 Source: Morningstar Direct
On a valuation basis, McDonald's dividend yield of 3.665% is almost double the 1.88% of YUM. McDonald's PE of 15.8X expected 2012 EPS is significantly lower than the 22X adjusted 2012 EPS for YUM. However, Yum Brands' EPS estimates for FY 2012 and FY 2013 have held steady over the last three months while MCD's estimates have sagged by at least 2% for each year according to FactSet analyst consensus. FactSet also reports that analysts are expecting YUM to generate long-term growth of 12% versus 9.5% for McDonald's. YUM is 3.5% off its 52 week highs while MCD recently made a 52-week low of $83.61/share before settling at $84.12/share. McDonald's recently increased its annualized dividend by 10% while YUM topped it with 17.5%. McDonald's has made $1.9B in share repurchases in FY 2012 while YUM made $609M during the same period.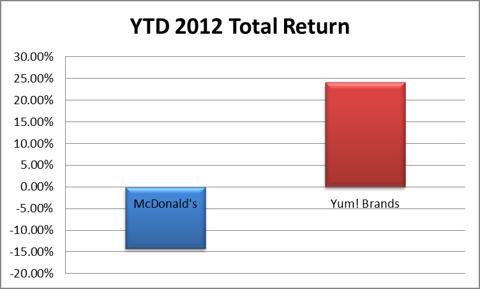 Source: Morningstar Direct
McDonald's performance in 2012 has been a bit of a mixed bag. In the first quarter, it posted a solid 7% revenue and profit versus prior year levels. MCD's solid performance was due to a strong 7.3% same-store sales growth rate achieved in Q1 2012 and was partially offset by currency headwinds due to the strong US Dollar. In Q2 2012, its performance was a bit flat as its comps receded to 3.7% during the quarter and negative year-over-year effects from currency were greater in Q2 2012 than in Q1 2012, resulting in an EPS decline of 2%. These trends were exacerbated in Q3 2012 as the company's comps declined to 1.9% during the period and its operating income declined by 4% year-over-year. Although negative currency headwinds impacted the company's performance in Q3 2012, we are concerned about the deteriorating same-store sales growth performance as same-store sales (comps) are measured on a constant currency basis.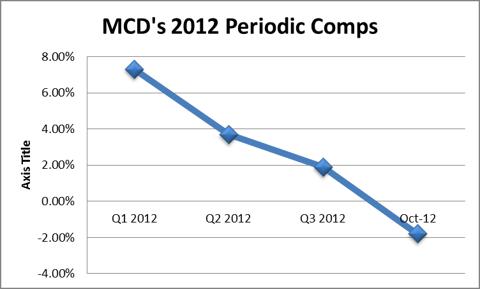 Source: McDonald's Investor Relations
Despite facing the same global challenges that McDonald's faced with regards to a volatile and precarious macroeconomic environment and negative currency headwinds from a stronger US Dollar, YUM was able to succeed where McDonald's failed. In terms of same-store sales growth in the US, YUM's 6% comps in Q3 2012 were five times greater than the 1.2% that McDonald's achieved in the period. YUM's Yum Restaurants International Division consists of its operations in Asia excluding China and India, Latin America, the Middle East, Europe and Africa and has the lowest same-store sales growth of YUM's four major geographic reporting segments due to the European debt crisis. However, that did not stop YUM's YRI Division from posting comps of 2% in the quarter, which exceeded the 1.9% that McDonald's saw throughout its geographic footprint. YUM's Chinese reporting segment posted 6% comps in Q3 2012 and YUM India checked in with 5% comps. Although McDonald's had 1.9% in Q3 2012, the only geographic segment for MCD's to see comps exceeding 1.9% during the period was its "Other Countries and Corporate" segment. This segment represents McDonald's Canadian and Latin American operations and it posted comps of 5.5%.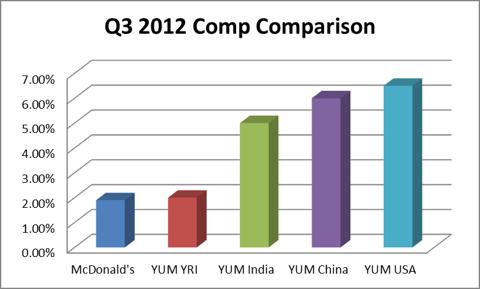 Source: McDonald's Investor Relations
YUM's Q3 2012 revenue grew by 9% due to its solid same-store sales growth throughout its geographic footprint as well as the addition of new restaurant locations in its foreign markets. YUM's EPS increased by 25% on the strength of its revenue growth and positive operating leverage as well as the absence of $100M in losses due to restaurant closures and refranchising activities. These cost efficiency gains were partially offset by a 75% increase in its average effective corporate tax rate (from 14.6% in Q3 2011 to 25.1% in Q3 2012). The company's adjusted tax rate excluding special benefit items was 25.1% for both Q3 2011 and Q3 2012.
In conclusion, we find a lot to like about both companies. While McDonald's has proven itself to be the quick-serve industry's King of the Mountain, we believe that Yum Brands is looking to execute its own brand of modern day regicide in the industry. We believe that both companies offer a similar risk/return profile as MCD's lower PE and higher dividend yield is offset by YUM's stronger recent growth as well as long-term growth potential. We believe that both companies are the top two quick serve restaurant companies in the industry and we believe that both firms dominate their respective segments in the industry, whether we're talking about burgers, pizza, Mexican food or fried chicken. We also like that both companies operate in different segments and are not necessarily direct competitors of each other. Although McDonald's has significantly larger size, scale and profit margins than YUM right now, we believe that MCD's shouldn't look back because YUM is definitely gaining on McDonald's.
Disclosure: I have no positions in any stocks mentioned, and no plans to initiate any positions within the next 72 hours. I wrote this article myself, and it expresses my own opinions. I am not receiving compensation for it (other than from Seeking Alpha). I have no business relationship with any company whose stock is mentioned in this article.
Additional disclosure: his article was written by an analyst at Saibus Research. Saibus Research has not received compensation directly or indirectly for expressing the recommendation in this article. We have no business relationship with any company whose stock is mentioned in this article. Under no circumstances must this report be considered an offer to buy, sell, subscribe for or trade securities or other instruments.