While a majority of clinical lab work is still done overnight at hospitals and independent laboratories including Quest Diagnostics (NYSE:DGX) and Laboratory Corporation of America (NYSE:LH), over the past five years, there has been an increasing move to be able to test the patient on site in areas such as cardiac and infectious disease.
While the traditional market for clinical tests has grown at less than 2% per annum since 2007, the cardiac point of care market has doubled. The number one complaint that people have upon entering the emergency room is chest pain. While Electrocardiogram has been one of the historical methods used to determine whether or not an emergency is present, there have been an increasing number of tests that are more sensitive and specific to whether or not a person is at serious risk for a near term heart event, the most significant of which is to test for troponin levels. The main players in the point of care cardiac market are currently Alere (NYSE:ALR), Roche (OTCQX:RHHBY) and Abbott (NYSE:ABT). Considering the significant size of Roche & Abbott, as well as the fact that sales of these products make up a small percentage of their respective overall sales, we would not recommend these stocks as a way to profit from the increasing trend of cardiac point of care testing. While Alere has grown significantly since 2007, the company has spent nearly $4 billion in that same timeframe acquiring new technologies, with little-to-no GAAP net income to show for it.
There have been smaller companies including BG Medicine (NASDAQ:BGMD) that have been developing their own technologies to sell in to the point of care market. BG Medicine is still in its infancy of introducing its product to the market, with merely $2 million in trailing twelve month sales. The company's main product measures levels of Galectin-3, a biomarker which the company's studies have shown to play a role in heart failure in some patients. Management is in the middle of seeking approval for the test on a large clinical platform which would significantly raise both awareness and availability in the market. Additionally, management announced in the latest quarterly release that it is opening a lab to conduct testing in house and accelerate adoption. With that being said, it appears as if bringing the test to a significant point of care market will take a number of years. Considering its single product focus and low sales to date, BG Medicine should be looked at as a high risk/high reward type of investment.
Since 2007, the market for point of care infectious disease testing has grown by 80%. Popular tests in this segment are indicated for HIV and C. Difficile, among many others. The primary players in the non-HIV infectious disease P-O-C market are Meridian Bioscience (NASDAQ:VIVO) and Alere. Meridian had been a consistent 10%-15% top line growth company until 2010 when a competitor took share in the C. Difficile market which it had dominated. Since then, the company has developed a new platform in Illumigene, a diagnostic platform that the company claims to be faster and simpler than prior versions. The new platform has helped the company return to sales growth and with 700 placements, time will tell if its customers take up the product in a meaningful way. Sporting $28 million in cash, the company has flexibility to make acquisitions if it feels it needs to protect its share or purchase new technologies, however, much of the cash flow of the company is currently committed to paying a 3.6% dividend. We are confident with current management as they have managed the business well over various business and industry cycles. However, as the stock is trading at 20x and participating in a competitive market, we would wait for a pullback before initiating a position.
Point of Care HIV, an approximate $60 million U.S. market, has gotten a fair deal of attention of late as the leader in the space, Orasure (NASDAQ:OSUR), has launched the first over the counter HIV test. Other industry participants include Trinity Biotech (NASDAQ:TRIB) and Chembio (NASDAQ:CEMI). Orasure has traditionally led in this space because at the moment, it has the only FDA approved saliva point of care test for HIV. As these products are primarily sold into clinics, there is emphasis on getting the patient to want to take the test, which gives an advantage to Saliva vs. blood drawing. We are attracted to this space for one primary reason. The limited size of the P-O-C HIV market makes it undesirable for a new entrant to come in. The process of getting FDA approval and then creating the proper sales channels is significant. As a result, we see potential profits in the space.
Historically, Orasure has been marginally profitable at best, mainly due to its significant investment in research and development and high corporate overhead. While the company pegs the potential market for their new HIV over the counter product at upwards of $500 million, we think anything close to that would be an extremely optimistic scenario. An investment in Orasure at this moment is an investment in the idea that millions of people will be using the company's new product in the U.S. each year. For investors that believe that is feasible, maybe its worth paying 4x sales with no earnings. However, with an uncertain funding mechanism in their core U.S. professional P-O-C HIV market, we would recommend waiting until the stock comes in to the $5-$6 range before initiating a position.
Most of Chembio's total revenue has and will likely continue to come from the sale of point-of-care HIV tests. What makes Chembio an interesting story is that it is a small and growing player in the market with the strategy to succeed. At the moment, the company only competes in the market with its blood based HIV product. However, it recently completed a study for a saliva test and is working towards FDA approval. Currently, the saliva market is a $33 million market which Orasure has to itself in the United States. Considering Chembio's sales are at $23 million currently, if it were able to take any significant share from Orasure, it would have a significant impact on the bottom line. Additionally, while the company has relied on licensing lateral flow technology to produce its U.S. tests to date, it is in the middle of getting its own technology for the test approved which would increase profit margins over time as the company would not have to pay out licensing fees. The company has done a good job growing overseas with an expanding presence in Brazil. Additionally, management has dedicated R&D dollars to developing tests for new indications including HCV and syphilis. Concerning the possibility for over the counter HIV testing, the company has maintained that if Orasure is successful, it will dedicate the resources to entering the space.
Management owns approximately 16% of the shares at Chembio, ensuring that investor interests are aligned with those managing the company. As a result, the company has been profitable 12 of the past 15 quarters with a relatively low base of revenues. With new product launches slated and a management team that continually strives for improved profitability, we think Chembio is a low cost way to invest in point of care technology. However, there is scant liquidity in the stock, so, as usual with micro cap names, investors should proceed with caution.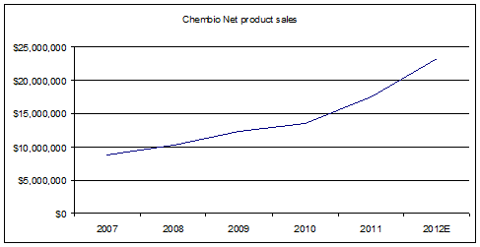 The final name for investors to consider in the space is Trinity Biotech. Trinity currently collects revenue from the professional lab market and point of care HIV. However, multiple tests are in development for the company to expand its offering in the infectious disease and cardiac markets, respectively. In the clinical market, Trinity is already a leader in Lyme disease testing and is growing rapidly in testing for diabetes A1c. Trinity currently attains 20% of its sales from point of care, but that will increase as the company's newly developed tests come to market over the next 18 months. We think the company is in a good spot to benefit from limited competition in all of the markets it is expanding in. Competitively, the company has the advantage of being based in Ireland, where the tax rate is significantly less than in the United States. With $75 million in cash on the balance sheet and no debt, we think the company stands ready to capitalize on any opportunities ahead. And as a kicker to income oriented investors, the stock sports a 1% dividend which is likely to increase if the company's commercialization strategy proves successful.
In conclusion, there are many opportunities to profit from in the rapidly growing point of care market, but not all diagnostic companies are created equal. Those with the largest share in the markets they serve, including Orasure, Alere and Meridian Bioscience, must work diligently and possible compete on price going forward to maintain share against new and growing entrants in the space including Trinity Biotech and Chembio.
Disclosure: I am long BGMD, CEMI, TRIB. I wrote this article myself, and it expresses my own opinions. I am not receiving compensation for it (other than from Seeking Alpha). I have no business relationship with any company whose stock is mentioned in this article.