We previously published our research report on how Tesla Motors (NASDAQ:TSLA) was racking up losses, burning through cash as if it was an arsonist and its production difficulties. We recalled how the company was burning through so much money it had to seek fresh equity capital through the sale of nearly 8M shares of stock as part of a secondary stock offering at the end of Q3 2012. Despite the fact that Tesla had to dilute its current shareholders by 7.5%, the company's share price has increased by 4% since it announced its 8M share secondary stock offering on September 25th. The secondary offering was settled at the beginning of the fourth quarter and Tesla received $222.1M net of underwriting discounts from the deal. Tesla Co-Founder and CEO Elon Musk bought a whopping $1M worth of Tesla's stock as part of the secondary offering. We think that was real big of him for chipping in $1M and we hope it didn't force him to skip meals. Part of the reason why Tesla's shares have held up over the last 8 weeks even though the market has seen a significant level of volatility is because Tesla's CEO is forecasting that Tesla will be profitable in FY 2013.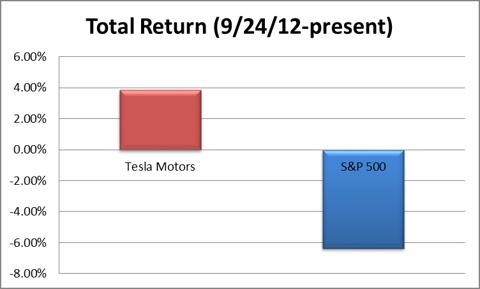 Source: Morningstar Direct
Tesla was in serious need of funds when it announced its secondary offering. The company was barreling towards a loss of $111M and negative operating cash flows of $95M in Q3 2012. This was compounded by the company's need to spend $70M in capital expenditures and other business investment related expenditures. The company covered this quarterly cash burn through existing cash holdings as well as $40M in new financing cash inflows. Taxpayer funded loans represent 98% of Tesla's debt capital and the other 2% relates to capital lease obligations. Tesla had a negative book value of $27M as of the quarter end and even though it received $222M net of underwriting discount in the secondary offering, the company is still trading at 18.65X book value.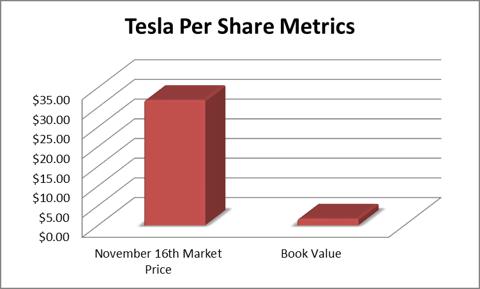 Source: Morningstar Direct and Tesla's Q3 2012 10-Q
When Tesla announced its secondary offering near the end of September, it also announced that it was cutting its revenue target from $560M-$600M to $400M-$440M for the 2012 fiscal year and that it was taking longer than it anticipated with regards to delivering on its target of 5,000 vehicle deliveries to customers. Tesla originally anticipated delivering 500 Model S vehicles in Q3 2012 and it ended producing 350 and delivering 255. The good news is that it is expecting to produce and deliver between 2,500 and 3,000 Model S vehicles in Q4 2012 and 20,000 in FY 2013. At first, we were surprised that respected media outlets like TIME Magazine, AUTOMOBILE Magazine, Motor Trend and Yahoo! Autos would name the Model S as the car of the year or an invention of the year. However, after going back in time and finding out that the Corvair won Motor Trend's Car of the Year award in 1960, the Chevy Vega was Motor Trend's 1971 Car of the Year and the Chevy Volt was the 2011 winner of Motor Trend's Car of the Year, maybe winning Motor Trend's Car of the Year isn't exactly something to crow about.
Even if the company is successful in producing the 23,000 Model S vehicles it is projecting over the next 5 quarters, it still has to deal with its reservation backlog. The company has over 13,200 reservation holders and it would take at least 6 months for the company to satisfy its backlog assuming that it meets its projected production targets and no one else makes a reservation. Tesla saw 2,900 in new gross reservations in Q3 2012 and delivered 255 cars but when it asked its first several thousand customers on its reservation list to configure their cars for delivery or risk losing their production slot, 1,000 customers decided to cancel their reservations. The Model S requires a $5,000 deposit and customers would have to wait at least six months to get their Model S. When they are able to finally purchase the car and take delivery, they have to pay another $45,000 on top of the $5,000 reservation deposit. Considering that the global economy is facing significant headwinds due to the slowdown in the emerging markets, the eurozone debt crisis and the potential recession in the US, we are not that optimistic about customers plunking down $50K to wait 6 months for a car.
We think that electric vehicle bulls need to approach the industry with a touch of healthy skepticism. Fortunately for investors, we at Saibus Research are here to lend a helping hand with regards to providing a full, fair, balanced, objectively dispassionate analysis of the company. Even though we don't have any shares of Tesla or any other automaker, we have a sympathetic interest in Tesla and other alternative energy related companies. We wish all of those firms all the success in the world for at least two reasons. The first reason is that if these companies are successful, then it means that America doesn't need to import OPEC oil and doesn't need to develop its oil and gas resources. The second reason is that because so much of our tax dollars have gone to fund these boondoggles, we hope that success for these firms will result in these companies paying back the funds that the taxpayers were coerced into providing.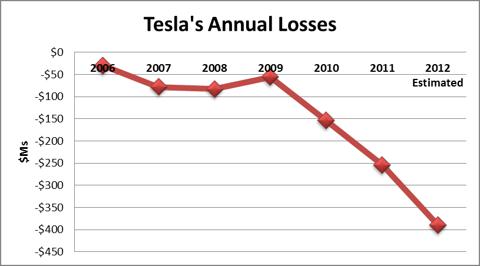 Source: Morningstar Direct
Researchers at Carnegie Mellon University conducted a study with regards to the environmental benefits of electric cars and the conclusion of their study provided some unexpected results. The researchers found that although electric cars have low emissions than traditional internal combustion engines with regards to motor vehicle operations, the emissions expended in the manufacture of a basic Tesla Model S with a 40 kWh battery pack are 2.5 to 3 times the manufacturing emissions for a conventional vehicle and all the incremental emissions come from manufacturing the batteries. While life-cycle emissions are effectively a wash with a 40 kWh battery pack, increasing battery emissions by 50% for the 60 kWh battery pack, or by 112% for the 85 kWh pack, creates a pollution deficit that can never be overcome. One benefit of electric vehicles and hybrids that hasn't been discussed as much is that they give their owners a heightened sense of smugness.
We're not impressed with Elon Musk's recent purchase of $1M worth of the newly issued shares. Even though Musk owns 28% of Tesla's stock and is the largest shareholder, we think that the 36K share purchase was an insult to the intelligence of Tesla's stakeholders, as well as the investment community. We also think that consider Musk is a billionaire for Obama, he shouldn't be asking the taxpayers to pay $500M in low interest loans to his speculative startup. In Massachusetts, we call this a "public-private partnership". We the public risk $500M of our capital with no real choice in the matter and if it is successful, we get the return of our money plus a few kopecks of interest while Elon Musk (private special interest) rakes in millions and billions of dollars. If it isn't successful, we're out $500M and Elon Musk is still a billionaire. We find it amusing that Elon Musk joined Warren Buffett's Giving Pledge campaign in which he pledges to give his wealth to charity. We believe that instead of giving his wealth to charity, he should be giving that money to the taxpayers so they don't have to risk $500M of their hard-earned money for a few pfennigs of interest.
In conclusion, we're still not fans of Tesla. Although we believe it has the best chance to succeed versus the rest of the well-known taxpayer funded green energy boondoggles (Solyndra, A123, Fisker, Chevy Volt etc) we're cautious about the company's investment prospects. We think paying nearly 19X book value for a money losing startup that relies on taxpayer funding in order to pay its bills. We think that Tesla's stakeholders are being overly optimistic if they think that Tesla will meet the goal of delivering 20K Tesla Model S vehicles to customers next year. The company was originally targeting production of 5,000 Model S vehicles in 2012 and will be lucky to reach half of that this year. We think that investors should take advantage of this bounce back in the company's stock price and reduce their exposure to the Solyndra on wheels. Considering that the environmental benefits of the electric car fail to live up to the claims of the environmentalist wackos and considering that there is no such thing as man-made global warming, the rationale for electric cars dissipates quickly.
Disclosure: I have no positions in any stocks mentioned, and no plans to initiate any positions within the next 72 hours. I wrote this article myself, and it expresses my own opinions. I am not receiving compensation for it (other than from Seeking Alpha). I have no business relationship with any company whose stock is mentioned in this article.
Additional disclosure: This article was written by an analyst at Saibus Research. Saibus Research has not received compensation directly or indirectly for expressing the article's recommendation. We have no business relationship with any company whose stock is mentioned in this article. Under no circumstances must this report be considered an offer to buy, sell, subscribe for or trade securities or other instruments.