Stryker Corporation (NYSE:SYK) is the world's most admired company in the medical equipment industry as reported by Fortune CNNMoney. SYK is a medical technology company, offering a diverse array of medical technologies and operates in three business segments: Reconstructive, MedSurg, and Neurotechnology and Spine. SYK generates most of its revenue from reconstructive implants, such as knees and hips, but serves a variety of other orthopedic niches, including spine. While SYK excels in several orthopedic and medical equipment niches, the firm is expected to continue launching innovative new products to help expand these niches and its own profitability even further in the long-term. With the recent pull-back, investors should take a look at this medical devices company with solid fundamentals and strong cash flow, which will be also benefited with the growing aging population.
Ready for Medical Device Exercise Tax
SYK will cut 1,170 jobs, or five percent of its worldwide workforce in anticipation of coming costs associated with ObamaCare. As reported by FoxNews.com on Nov. 16, 2012, a "medical device exercise tax" included in the mandate imposes a 2.3 percent levy on medical device manufacturers and suppliers, which could raise prices on everything from pacemakers to prosthetics to stents. Companies will be required to pay the tax regardless if they have a profit or loss for the year and which is estimated to cost the medical device industry $20 billion. As told by Stryker spokeswoman Yin Becker,
"The targeted reductions and other restructuring activities are being initiated to provide efficiencies and realign resources in advance of the new Medical Device Excise Tax scheduled to begin in 2013, as well as to allow for continued investment in strategic areas and drive growth despite the ongoing challenging economic environment and market slowdown in elective procedures."
Expanding in the Neurovascular Market
According to a report from Zacks.com on Nov. 15, 2012, SYK recently launched its latest Trevo Pro Vue stent retriever in the global. This one-of-a-kind fully visible stent retriever device is used to treat acute ischemic strokes. SYK entered the ischemic stroke market with the acquisition of Concentric Medical in October, 2011. Concentric Medical's Trevo Pro Vue stent retriever further expands SYK's Complete Stroke Care portfolio under neurovascular division and is expected to be the latest growth driver for SYK's neurovascular segment. Furthermore, as reported by Reuters on Nov. 1, 2012, SYK completed the acquisition of privately-held Surpass Medical, Ltd., which is developing and commercializing the NeuroEndoGraft family of next-generation flow diversion stent technology to treat brain aneurysms using a unique mesh design and delivery system. As quoted from Kevin A. Lobo, President and CEO of SYK, "With the acquisition of Surpass Medical we are continuing to expand our global product portfolio in the fast growing and highly innovative neurovascular market by offering patients and caregivers differentiated products focused on Complete Stroke Care." However, this transaction is expected to be neutral to SYK's 2012 earnings per share excluding acquisition and integration-related charges. In the last reported quarter, revenues from this neurovascular division jumped 10.8% year-over-year to $205 million.
Fundamentals Overview and Technical Analysis
With the data gathered from MorningStar, SYK's key stats will be compared to its competitors in the medical devices industry, including Johnson & Johnson (NYSE:JNJ), Zimmer Holdings Inc. (ZMH), and Smith & Nephew PLC (NYSE:SNN). Despite its trailing EPS growth of 7.5, as compared to the average of 8.4, the revenue growth (3 year average) of 7.3 for SYK is higher than the industry average of 4.0. SYK also demonstrated a strong operation with its operating margin of 21.0%, ttm, and net margin of 16.7%, ttm, as compared to the averages of 11.0% and 7.4%, ttm, respectively. With stronger ROE of 18.0 and lower debt-to-equity of 0.2, comparing to averages of 7.8 and 0.9, SYK has a strong balance sheet and continues to generate consistent cash flow. With current P/E of 14.2, SYK is under-valued as compared to the average of 36.9. A detailed product review and user experiences report can also be read here, as written by an insightful SA contributor.
SYK closed at $53 with 1.73% gain on Monday. The volume of 2.34M is slightly more than the 30 day average of 2.15M. In the past 52 weeks, SYK had been trading in the range of $45.44 - $57.15. The trend indicator, MACD (12, 26, 9) had been showing a bullish sign since Nov. 1, 2012. The momentum indicator, RSI (14), is currently at 51.10, near 50 the middle-line. While SYK is currently trading below its 50-day MV of $53.72 and 200-day MV of $53.21, SYK will soon test its 200-day MV as major resistance. The next support for SYK will be $50.97, S1 pivot point, and $49.33, S2 pivot point, as seen from the chart below.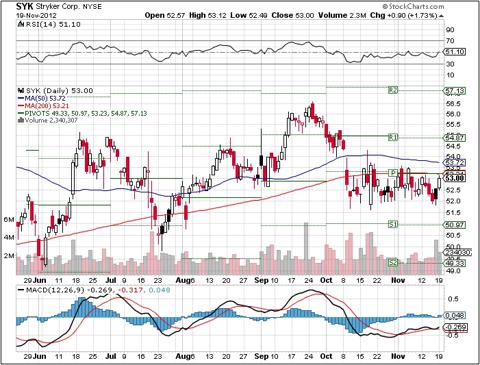 Source: StockCharts.com
Options Play
While the long-term growth outlook for SYK continues to be solid, the near-term concern of ObamaCare with Medical Device Exercise Tax will remain a selling pressure for SYK. Below, a credit put spread will be reviewed for investors who would like to gain some potential upside profit while having a plan to acquire the stock at a discounted price.
Short 1x March 16, 2013 Put at the strike price of $50.00 for the credit of $1.50
Buy 1x March 16, 2013 Put at the strike price of $45.00 for the cost of $0.60
The maximum profit is $0.90 and the maximum risk/margin requirement is $4.1 ($5 loss - $0.90 credit received). If SYK closes above $50.00 on March 16, 2013, the return on the margin used will be 21.95%. If SYK falls below $50.00 upon options expiration, the acquisition cost for the SYK stock will be $49.1, which is 7.36% lower than the current trading price. However, for more conservative long-term investors, it will not hurt to stay sideline until the U.S. Fiscal Cliff is settled with a clearer picture.
Note: All the prices are quoted from the closing of November 19, 2012 and all calculations are before fees and expenses. Investors and traders are recommended to do their own due diligence and research before making any trading/investing decisions.
Disclosure: I have no positions in any stocks mentioned, but may initiate a long position in SYK over the next 72 hours. I wrote this article myself, and it expresses my own opinions. I am not receiving compensation for it (other than from Seeking Alpha). I have no business relationship with any company whose stock is mentioned in this article.