Investors nearing retirement need to find ways to boost income and capital for their portfolios. The following income and high-yield exchange traded funds have a payout worthy of most retirement portfolios.
"So, where do you hide out when the markets are plagued with uncertainties like the potential of driving straight off of the fiscal cliff? The answer is in exchange-traded funds that pay you to ride out the storm," Traders Reserve wrote on InvestorPlace.
Retirement investors can benefit from dividends within a retirement portfolio. Dividend-yielding stocks are important because they are considered lower risk and provide a means for capital appreciation. The stock market is riddled with uncertainty due to the possibility of the fiscal cliff in January and the low yield climate that has taken over on the Federal Reserve's low-rate pledge. Established dividend-paying stocks can help investors get through tough times with a steady income stream.
Many of the following dividend-focused ETFs contain companies that have solid cash balances, increasing free cash flows and low dividend payout ratios.
The iShares Dow Jones Select Dividend Index (NYSEARCA:DVY) yields 3.48% and tracks some of the most well-established large cap stocks. Lockheed Martin (NYSE:LMT) and Chevron (NYSE:C) are two top quality stocks of mention. DVY is up 6.3% this year. The iShares S&P US Preferred Stock Index (NYSEARCA:PFF) yields 5.71% and is up 7.9%.
Other dividend ETFs with decent yield:
Guggenheim S&P Global Dividend Opportunities Index ETF (NYSEARCA:LVL) yield 7.59%
Vanguard Dividend Appreciation (NYSEARCA:DWX) yield 2.11%
WidsdomTree Equity Income (NYSEARCA:DHS) yield 3.85%
iShares Dow Jones Select Dividend Index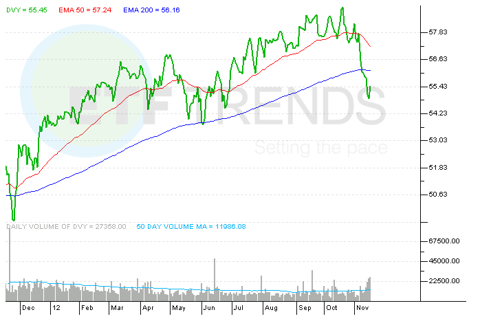 Tisha Guerrero contributed to this article.
Full disclosure: Tom Lydon's clients own DVY.
Disclosure: I am long DVY. I wrote this article myself, and it expresses my own opinions. I am not receiving compensation for it. I have no business relationship with any company whose stock is mentioned in this article.
Additional disclosure: Mr. Lydon serves as an independent trustee of certain mutual funds and ETFs that are managed by Guggenheim Investments; however, any opinions or forecasts expressed herein are solely those of Mr. Lydon and not those of Guggenheim Funds, Guggenheim Investments, Guggenheim Specialized Products, LLC or any of their affiliates.