VIX - Market Sentiment:
Tuesday S&P futures attempted to digest the large move higher in yesterday's trading session. Futures initially traded as high as 1387 before meeting resistance and being sold down back below the 1377 level. The markets were heavily weighed down early by negative news out of Hewlett-Packard (NYSE:HPQ) and Credit Suisse (NYSE:CS). HPQ reported a massive 8.8B write-down, causing shares to dip more than 10%. Other poor earnings came from Urban Outfitters (NASDAQ:URBN) and Agilent Technologies (NYSE:A), sending both stocks lower. Overall, the market feels as if we are in limbo, as we are now between the 10 and 20 dma. Again, tech giant Apple (NASDAQ:AAPL) confirmed this, as the market rose and fell with AAPL sentiment today. Confirmation the oversold continues to burn off is the NYMO, which yesterday had a reading of just -7.36 -- down from -92.71. The NYMO Oscillator can be seen here.
The spot CBOE Volatility Index (VIX) continued lower in early trading before rising back towards the 15.50 level. Volatility ETF (NYSEARCA:VXX), 2x ETF (NASDAQ:TVIX), and alternative 2x ETF (NYSEARCA:UVXY) traded lower even as spot VIX went higher, as November futures settle tomorrow, putting extreme pressure on these ETFs. Tomorrow will be interesting, as effectively VXX will trade only the December futures, which could be very profitable for those either long or short depending on your thesis. The VIX pits were again very active, trading more than 473K contracts before 2:30 ET today. Some protection was finally being bought, as puts were overall sold and calls were bought taking home another 3M in net premium. More than likely, this is investors who are taking profits on short call positions, and we will need to keep an eye on open interest for any upcoming volatility "tells." A pin near the 16 line for tomorrow's VIX settlement would be most profitable for option sellers, although it must be noted more than 160K of puts mostly sold traded on the November 15, 17, and 19 strike puts.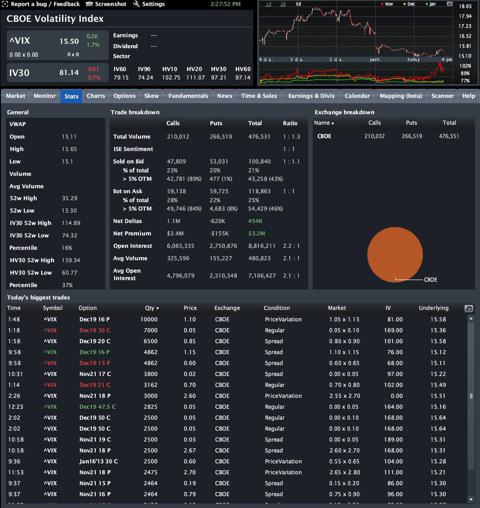 Statistics and Screenshot Provided By LiveVol
VIX futures are below.
Yesterday
· November VIX futures 15.27
· December VIX futures 16.63
· January VIX futures 18.85
Today
· November VIX futures 15.40
· December VIX futures 16.50
· January VIX futures 18.20
Options Paper:
Paper was mostly mixed in Tuesday's trading session. However, a few block trades did catch my eye. One block trade came in just three minutes after the bell, as Informatica (NASDAQ:INFA) saw a purchase of 3.5K of the March 25 strike calls. This single trade cost the trader more than 1.4M in premium, betting INFA will run past 29.40 prior to March expiration. Options in this name typically only trade 2.2K contracts per day, with today exceeding more than 6.5K. Call options were bought 74% on the ask and outnumbered calls more than 7.5:1 in today's trading session. For those who follow my trades on Twitter, I am looking at entering this trade, as those calls bought between 4.30 and 4.50 are now trading for just 4.00 ask. I'm looking at selling front month diagonals to reduce cost.
Another trade that piqued my interest and that I put an order in for today was Estee Lauder (NYSE:EL). EL typically only trades 1.5K options in a day. Today was not typical, as EL traded more than 7.6K contracts total, with a large synthetic long position being opened on the December 57.5 strikes. Today, more than 2.5K of the December 57.5 puts were sold. At the same time, 2.5K of the 57.5 calls were purchased against very little existing open interest. This is probably a play for a bounce after Black Friday. I joined in on this by executing this exact trade for a credit of .20. Options in this name continue to be very bullish and therefore, I joined in. I will set a very tight stop, as market weakness or poor sales numbers could be very bad for this name.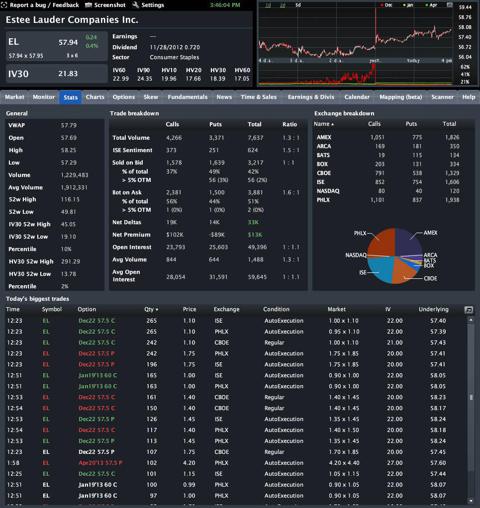 Statistics and Screenshot Provided By LiveVol
Popular ETFs and equity names with bullish/bearish paper:
Bullish Option Flows - ISE and % OTM calls bought on offer
JDS Uniphase (JDSU) 8.9K OTM calls bought on offer
Forest Oil (NYSE:FST) 4.3K calls bought on offer
Avon Products (NYSE:AVP) 78% OTM calls bought on offer
Vodafone (NASDAQ:VOD) 69% (I cannot believe how many calls have been bought in this name)
NVIDIA (NASDAQ:NVDA) 65% of 7.6K bought on offer
Nationstar (NYSE:NSM) 55% bought on offer, but puts also bought (looking like straddle)
SandRidge (NYSE:SD) 3.9K OTM Calls bought on offer
Bearish Option Flows - ISE and % OTM puts bought on offer
Nationstar 2.1K puts
International (NYSE:IGT) 88% of 6K puts bought on the offer
ISIS Pharma (ISIS) 2,078 OTM puts bought
News Corp (NASDAQ:NWSA) 2K of the 3K OTM puts were bought at or above the offer
Celsion Corp (NASDAQ:CLSN) 63% bought as stock continues to rip higher as hedges continue to increase
McMoRan (NYSE:MMR) almost 4K OTM puts bought
EMC Corp (EMC) 55% bought on offer
Volatility ETF 2.3K puts bought as people continue to bet everything is just fine in the world
Yahoo! (NASDAQ:YHOO) 7.5K puts bought on ask
Disclosure: I am long AGNC, APC, EL, INFA, KERX, MTGE, WLL, and short FXE, SPY.
Trades today:
Entered and Exited AAPL short, bought SPY puts, bought INFA calls, bought EL calls, short EL puts.
I wrote this article myself, and it expresses my own opinions. I am not receiving compensation for it (other than from Seeking Alpha). I have no business relationship with any company whose stock is mentioned in this article.
Disclaimer: The opinions in this document are for informational and educational purposes only and should not be construed as a recommendation to buy or sell the stocks mentioned or to solicit transactions or clients. Past performance of the companies discussed may not continue and the companies may not achieve the earnings growth as predicted. The information in this document is believed to be accurate, but under no circumstances should a person act upon the information contained within. I do not recommend that anyone act upon any investment information without first consulting an investment professional as to the suitability of such investments for his or her specific situation.