Recently, the price of Apple (NASDAQ:AAPL) stock has declined from a high of just over 700 dollars a share to a recent intraday low of around 505, a decline of nearly 30%. The chart below shows the year to date performance of the stock and the dramatic sell-off that is now running into its second month.
Apple Stock Performance YTD (click to enlarge)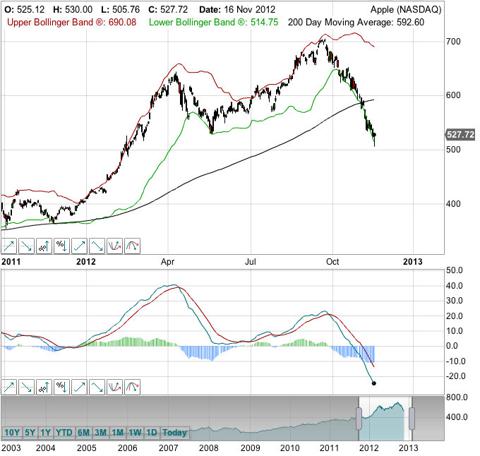 Whenever the price of a stock declines significantly, there will be attempts to explain why. In this particular case, one explanation is that margin compression during Apple's most recent quarter could be the source of further weakness ahead. This explanation appears to be undue nervousness concerning the business model. Apple's margins are relatively volatile and oscillate, with improved margins during the final quarter of the year (see below). While the last earnings report was not a great success, the current sell off is more than discounting any fundamental weakness.
In the market, anything that appears to be a sure thing most likely is not. Recent weakness in Apple's stock could be attributed to many factors:
Investors may be selling to lock in capital gains taxes before a possible increase in the coming calendar year.
Investors with short time horizons may be cashing out after the stock failed to continue on its upward trajectory.
Hedge funds and mutual funds may have become over invested in the stock (either by buying to pad performance or due to the large price appreciation).
Apple's incredible success may have left investors wanting more. While EPS growth of greater than 20% was realized last quarter, the rate of growth has slowed. Slower than expected growth, even for a seemingly undervalued stock, is a reason for investors to sell.
Certainly additional explanations could be given, however, the most important thing for an individual investor to ascertain is whether the decline is discounting weakness in Apple's business model. The factors listed above are likely temporary and mean-reverting, while fundamental weakness, such as margin compression, could be the sign of a more ominous trend.
The chart below plots several metrics against the price of Apple stock over the previous five years. The first metric is the TTM PE Ratio, which bottomed in late 2011 as the growth of Apple's EPS greatly exceeded the share price appreciation of the stock. Interestingly, the recent decline has brought the PE back to that minimum value. Also listed is the trailing quarter's profit margin along with the TTM operating margin. While the profit margin has declined in the prior quarter, it should be noted that Apple's profit margin has always declined in the third quarter. Margins are highest during the Christmas buying season and interestingly, with the exception of 2008, Apple's stock has jumped each year during the fourth quarter as margins expanded. On a longer time frame, the TTM operating margin seems to indicate that while margins may have peaked, there is certainly not a huge decline to be afraid of. The yearly average is more or less stable and the supposed decline in margins brings them back to where they were one year ago. Earnings growth is still excellent, which sets Apple above its peers, most of whom have had difficulty growing on the bottom line during the past calendar year.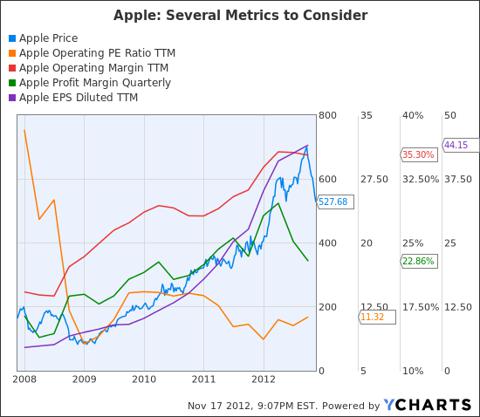 A Google trends search also confirms that Apple's two main products (the iPad and the iPhone) have seen continued growth in interest over the past year. Naturally, iPhone and iPad searches have peaked when new products were released. The recent release of the mini iPad should be a very favorable catalyst, while it is not a new innovation it does expand the product base and should allow continued growth.
Google Product Searches of the iPad and iPhone

Apple's business model does not appear to be in jeopardy, therefore it is proposed that the recent decline represents a buying opportunity. As selling pressure has begun to subside the current time represents a strong entry point. Apple has done so well over the past several years that many portfolio managers and hedge funds have over invested in the stock. This component of padding performance through investing in a "sure thing" comes with the draw back that sell offs have been and may continue to be more severe than had been the case previously. However, it is expected that money managers who have sold out of their positions in Apple will soon return. As long as the growth story of the stock remains intact it will be dangerous for managers to be under invested.
A successful investor should "attempt to be fearful when others are greedy and to be greedy only when others are fearful." At this moment there is a reasonable amount of fear baked into the price of Apple stock. As outlined above there does not appear to be a good argument that this fear is discounting any real change in the business model.
Disclosure: I am long AAPL. I wrote this article myself, and it expresses my own opinions. I am not receiving compensation for it (other than from Seeking Alpha). I have no business relationship with any company whose stock is mentioned in this article.
Additional disclosure: The article above should not be considered a solicitation to buy the mentioned security. As always do your own due diligence before taking a long position in any stock.