Monday was the classic trading day that can absolutely drive investors crazy. Since the Fed announced QE3 in mid September, the performance for stocks has been murky at best, having fallen by nearly -9% through late last week as measured by the S&P 500 Index. Following the November 6 election in particular, it appeared that the stock market was as done as a popper on a Thanksgiving Day turkey, with stocks picking up speed to the downside with an over -6% drop in stocks alone in the first six trading days after the polls closed. But just like we have seen happen so many times now over the last few years since the outbreak of the financial crisis, stocks suddenly turned on a dime and exploded higher to start of the Thanksgiving holiday week. This raises an important question. Was Monday's rally just a fluke in a continuing downtrend? Or did the rally to start off the week mark the beginning of a new short-term bull phase for stocks?
Investors certainly would have good justification to be not only puzzled if not maddened by the Monday rally. For one, the U.S. economy is not only slowing but faces some form of fiscal austerity beginning in 2013 regardless of how the fiscal cliff debate plays out in the coming weeks. The crisis in the Euro Zone continues to deteriorate with Spain, Italy and Greece all under the microscope and supposedly healthier France just getting downgraded by Moody's. The corporate earnings outlook is challenged to say the least with earnings already in decline and companies lowering forward guidance with profit margins already at historical peaks. And geopolitical tensions remain elevated, particularly in the Middle East. One if not all of these factors would normally suggest a stock market that should be moving lower for a sustained period. But such is not the market we live in today. For when the liquidity flows from the Federal Reserve, the stock market seems to always find a way to get hopped up on hope and adrenaline to bounce back to new highs. And in one single trading day on Monday, stocks wiped out all of the losses incurred since the day after the election.
So did Monday mark such a turning point for the market? Several factors suggest this just might be the case.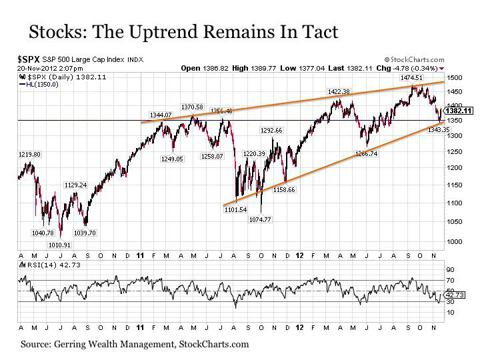 From a technical perspective, the stock market had the convergence of several support levels from which it bounced in the 1340 to 1350 range on the S&P 500 Index. First, this level represented the lower trend line on the upward sloping trading channel that the market has been traveling in since early 2011. Second, this level also had once served as stiff resistance for the stock market throughout the early part of 2011 and has since served as support on several occasions during 2012. Lastly, the stock market had reached an oversold reading of below 30 on the Relative Strength Index (RSI). Thus, the stock market was set up well for a bounce heading into Monday's trade.
Another recent trend suggests that the stock market may have cast off the bear and is putting on a new bull as we head into the Thanksgiving holiday. Since the end of QE1 back in April 2010, the stock market as measured by the S&P 500 has experienced a decline of -8% or more on nine different occasions prior to the current situation today. And in every past case as well as today, a variety of fundamental factors supported the idea that the stock market was set to drift further to the downside. But in every one of the past nine episodes, once the market experienced rally of +2% or more in a single trading day, this very event marked the end of the pullback and the beginning of a sustained stock rally. This fact is particularly notable because the stock market as measured by the S&P 500 Index rallied by +2% on Monday.
Although these sudden sharp rallies were often dismissed for a variety of reasons, they ended up being the start of a larger upturn every single time. And once the bottom was in place, stocks as measured by the S&P 500 went on to rally by +15% on average with a maximum of +26% and a minimum of +7%. The duration of these rallies lasted three months on average, although it should be noted that two of these nine past instances in May 2010 and September 2011 saw the market effectively hit back to back bottoms before entering a sustained rally phase. In other words, if Monday was indeed a bottom, it could be choppy at first before a sustained up move begins.
Whether Monday's rally holds remains to be seen. After all, historical patterns like this are made to be broken. But with hopes that policy makers will reach a compromise on the U.S. fiscal cliff along with the flood of Fed liquidity set to begin seeping its way into financial markets at any time now during the seasonally strongest month of the year in December, we may just see a sustained market rally take hold once again even if the market has to thrash back and forth a bit in the near-term to find its footing. Of course, any such rally will make little sense from a fundamental perspective, but that certainly hasn't stopped the market from soaring to new post crisis highs before.
If you believe the market is set to move higher from here, it remains a prudent strategy is to take a hedged approach. From a stock perspective, positions such as S&P 500 Low Volatility (NYSEARCA:SPLV) and McDonald's (NYSE:MCD) as well as fixed income offerings such as High Yield Bonds (NYSEARCA:HYG) provide the opportunity to participate in any stock market upside with less volatility relative to the broader market. For those inclined toward more beta, the S&P Mid-Cap 400 (NYSEARCA:MDY) is an attractive alternative with higher growth potential and without the heavy top end weightings found in the large cap S&P 500 Index. As for individual names, focusing on securities that stand to benefit most from balance sheet expanding monetary stimulus from global central banks stand to be rewarded. These include Occidental Petroleum (NYSE:OXY), BHP Billiton (NYSE:BHP), Apache (NYSE:APA) and Potash Corporation (NYSE:POT) as well as emerging markets such as China (NYSEARCA:FXI) and Brazil (NYSEARCA:EWZ). Beyond stocks, the best opportunities continue to reside in the precious metals with gold (NYSEARCA:GLD) and silver (NYSEARCA:SLV). While owning the physical is the best option, exchange traded securities such as the Central GoldTrust (NYSEMKT:GTU) and Central Fund of Canada (NYSEMKT:CEF) are also ideal choices.
This post is for information purposes only. There are risks involved with investing including loss of principal. Gerring Wealth Management (GWM) makes no explicit or implicit guarantee with respect to performance or the outcome of any investment or projections made by GWM. There is no guarantee that the goals of the strategies discussed by GWM will be met.
Disclosure: I have no positions in any stocks mentioned, but may initiate a long position in FXI, EWZ, APA, OXY, BHP, POT, MCD, GTU, CEF, MDY, SPLV, HYG over the next 72 hours. I wrote this article myself, and it expresses my own opinions. I am not receiving compensation for it (other than from Seeking Alpha). I have no business relationship with any company whose stock is mentioned in this article.